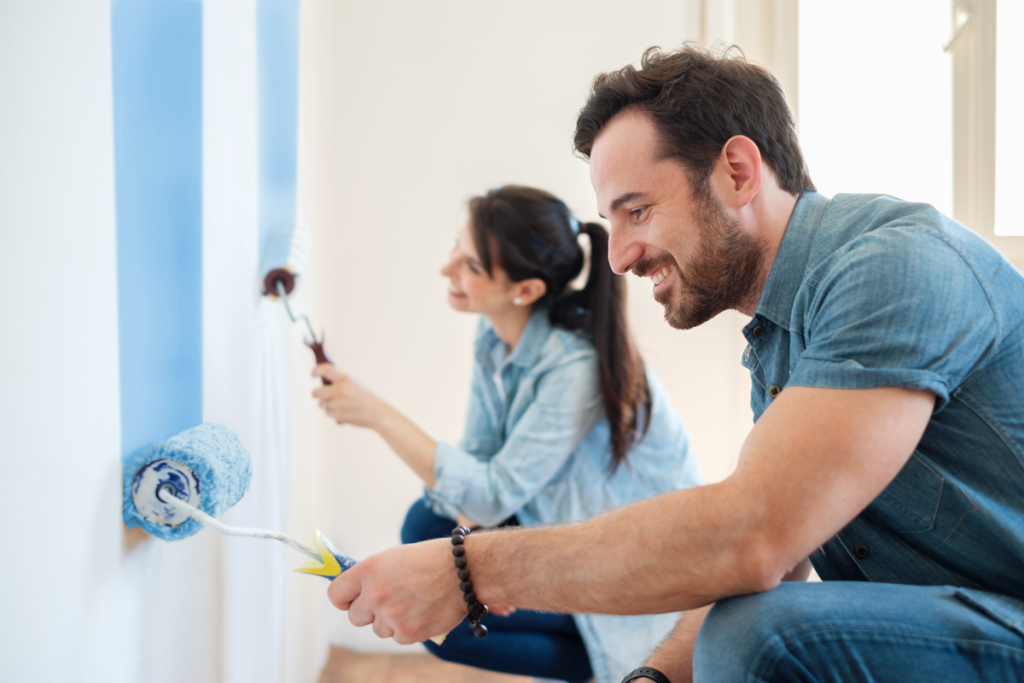 By Sydni Ellis
Royal blue paint is splattered all over my arms, jeans, and front porch, where I'm standing admiring my newly painted front door. It was in need of a refresh — and a pop of color — and I decided to buck tradition and go for a hue that would make me happy every time I saw it. Enter a bright blue that instantly elevates the front of the house.
Painting is the fastest way to upgrade your home. Just one coat of ballet pink turns a regular room into a nursery, and a new application of light yellow is all it takes to fill your kitchen with sunshine. Not to mention, painting is relatively inexpensive, can be done over a weekend, and is an effective way to change a room's whole aesthetic.
Whether you want to paint a door, a wall, or your entire house, start with the best part, picking a color!
Looking through Behr's, Benjamin Moore's, and Sherwin-Williams' 2021 paint trends, it's easy to see a theme — warm neutrals and bold colors. Yes, it's still ok to go with a soft gray or sand. But if you want to mix it up in 2021, now's your chance to go for it!
Popular paint trends include creamy coffee, teal blue, soft white, deep yellow, rosy peach, strong gray, earthy green, pretty lilac, bold pink, and gorgeous periwinkle. If you're painting your entire house, choose a couple of shades of white, sand, or gray neutral colors as your base. Think hallways, bathrooms, guest rooms, and living room. Then, find two or three colorful shades that make your heart sing. It's your home, so you want to enjoy it! Paint these bolder shades in your kitchen, den, dining room, bedroom, or anywhere else that needs a refresh.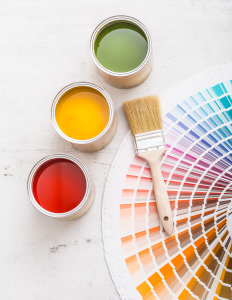 Another thing to consider before you start painting is what kind of finish you want to have. Most colors come in various options, from glossy to matte. Below you'll find a quick guide on choosing a finish:
Glossy
Often, you'll see glossy paint on trim, molding, and doors. This type of paint is shiny and pretty, although it could be blinding if it covers an entire wall.
Satin
Also known as semi-sheen, satin paint isn't quite as shiny as the glossy paint, but it's more illuminating than matte paint. Keep in mind, the higher the sheen, the easier it is to clean. Choose this finish for areas that are more likely to get dirty, such as the kitchen, bathrooms, bedrooms, and playroom.
Eggshell
This finish is warmer and more muted than satin. Eggshell tends to absorb light rather than reflect it like satin or glossy finishes, giving it a cozier feel. This type of finish is excellent for living rooms, hallways, entryways, and other areas that are less likely to get scuffed.
Matte
Matte is the flattest finish you can get. While it does look smooth on a wall, it can be challenging to clean. One of the benefits is it requires fewer coats to look good (meaning it's less expensive), and it's easier to touch up if you do get a few marks on the wall.
Repainting your house can seem daunting, but it's a great way to add new life to your space. Bright colors, shiny new trim, scuff-free neutrals, and more can transform your house — and leave you smiling every day.