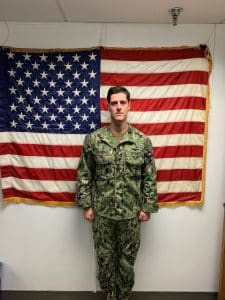 A police officer in Elizabeth City, North Carolina had a little something extra to be thankful just before Thanksgiving when the quick actions of a U.S. Navy Sailor from Forney helped save his life. George Parsons III, who was spending time at his North Carolina residence, noticed a police officer in pursuit of an assailant, and initially watched from afar so as not to interfere, before he noticed a scuffle had broken out after a foot chase.
"I saw that the cop was outsized and that the assailant was trying to disarm him, and he was making threats against the officer's life," said Parsons. "I just knew that if I did not intervene something bad was going to happen." Running from his residence and through an irrigation ditch he successfully apprehended the assailant.
The mayor of Elizabeth City took notice of the Sailor's actions and awarded him for his bravery during a city council meeting. "I was just trying to help out," said Parsons.
"I am not surprised that he did what he did," said Cmdr. Steve Yargosz, commanding officer of HSC-9. "AWS1 Parsons truly represents what we look for in every Sailor. As a rescue swimmer he is accountable for not only the lives of those he flies with but the lives of many of his fellow Sailors and on a daily basis he embodies the rescue swimmer ethos of 'So Others May Live.'"
COURTESY: Kayla Turnbow/Navy Office of Community Outreach, STORY: Cmdr. Jennifer Cragg/Naval Air Force Atlantic Public Affairs