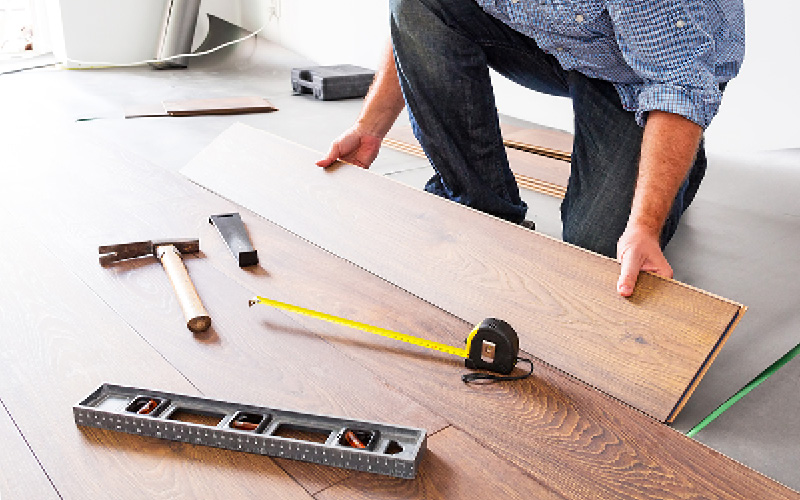 Tried-and-true flooring trends for every room in your home.
With home improvement options galore, it's easy to overlook your floors in favor of more obvious upgrades. But revamping outdated flooring is actually one of the quickest and easiest ways to boost your home's value, giving it a fresh, updated vibe. According to the World Floor Covering Association, there are numerous flooring trends to consider—and with a little research, you'll find flooring that's right for every room in your home.
Don't Knock Carpet
Advances in carpet fiber technology, as well as stain prevention and removal, have made caring for carpet easier than ever. Newer, synthetic materials also emit lower levels of toxic vapors than the carpet of yesteryear. With a vast array of colors, patterns, and textures, carpet allows you to create a look that goes beyond the ordinary. Consider carpeting for cozying up spaces where underfoot comfort and low noise is a priority, such as in the bedroom or media room. With lower costs on average for materials and installation than other options, carpet is a great way to update without breaking the bank.
Wood is Here to Stay
Nothing beats the timeless look of hardwoods. Wood floors are as popular and practical as ever, with comparable alternatives to the real thing popping up everywhere. The surprising range of wood-inspired styles and materials makes this classic flooring a viable option for most rooms of the house.
One of the fastest ways to get that warm, hardwood feeling is by installing a floating floor, which consists of planks that are placed or "floated" over existing flooring. Sturdy, stable planks can be glued down over most solid, flat surfaces. Finishes, textures, and sizes vary widely and almost all are suitable for high-traffic areas. Consider laminate wood flooring for a durable, cost-friendly option. Easy-to-install engineered wood is a favorite among flooring experts, with a look and feel almost identical to old-school hardwoods. Wood-style porcelain tiles offer a great alternative to hardwoods, especially for high-moisture bathrooms.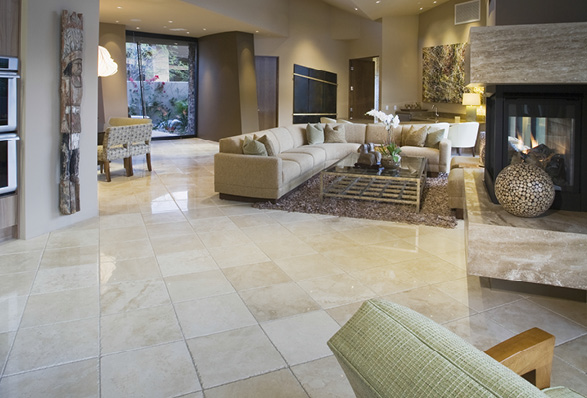 Give Tile a Try
Tile flooring is one of the most versatile options around. Not only does it come in a variety of materials, but the decorating potential of tile is almost endless, with combinations of shapes, patterns, and textures that are only limited by one's imagination. But the beauty of tile flooring goes beyond aesthetic appeal. When installed properly, tile floors are resilient and low maintenance. Popular tile types include easy-to-clean natural stones such as marble, travertine, or granite, porcelain tile with indoor and outdoor durability, and ceramic or glass tiles—best suited for indoor use.
It's Easy Being Green
Retailers are wising up to renewable materials. Local flooring outlets can help you identify green-certified products and assist with unique installation requirements. Bamboo has become a green-flooring favorite. Technically a sturdy, hollow grass, bamboo comes in diverse patterns and sizes to complement any décor. Like hardwoods, bamboo flooring is offered in both solid and engineered varieties and is similarly installed.
Sustainable cork is also quickly rising to the top of eco-friendly lists. Cork is durable yet cuts the cold in ways other solid floors cannot. Best of all, cork is one of the easiest flooring systems to install, with panels that simply snap together. Other eco-friendly trends to investigate include reclaimed wood, salvaged stone, refinished concrete, and verified Green Label carpet.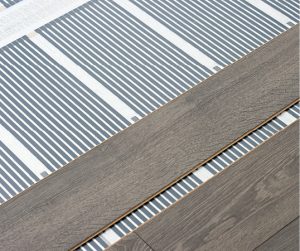 The Warming Wow Factor of Radiant Floor Heating
Long gone are the days of cold feet. That's because radiant floor heating systems are on the way up, providing warmth and comfort to homeowners from the ground up. With demand increasing, the luxury of radiant floor heat is more affordable than ever. In fact, CostHelper.com reports most consumers can expect to pay anywhere from $6 to $16 a square foot.
The World Floor Covering Association describes radiant floor heating as an underground, silent, invisible radiator distributing uniform warmth and comfort throughout a home year-round. Another benefit is that not only do radiant heating systems get floors toasty, but they also transfer warmth throughout the entire house without blowing allergens around the way central systems can.
Almost any floor covering can be installed over radiant heating systems, including engineered and laminated wood, traditional hardwoods, laminate, cork, carpet, and stone, among others. But distinct flooring types transfer heat uniquely, and different radiant heating systems are available. Hydronic systems utilize hot water to warm floors, while other systems combine electrical components to heat up floors and are typically controlled via thermostat. Get with a local specialist to determine what combination of flooring and radiant heating system is right for your home.
By Amanda Blair