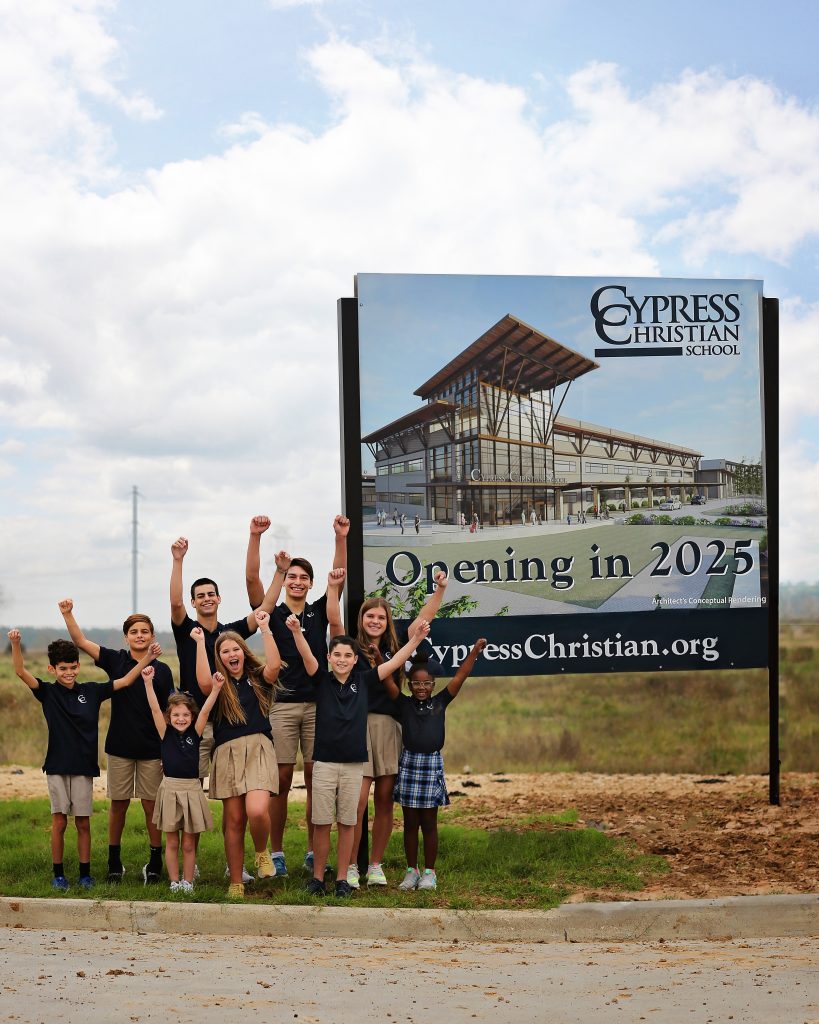 By
Melissa Gautier
|
Photos by
Karen McConaughey and Rachael Lechman
---
Founded in 1978 as a K-12 private Christian preparatory school, Cypress Christian School has grown by leaps and bounds. After 45 years of increasing enrollment, Dr. Jeffrey Potts, president of CCS, is leading the way, excitedly announcing future plans for building a larger, state-of-the-art campus to better serve a growing community.
The proposed 40-acre campus will be almost twice as big as the current campus and will be located in the heart of Bridgeland's master-planned community on Bridgeland Creek Parkway. The new facility will offer an opportunity to reach a broader area, uniting even more potential Warrior students and their families.
Plans to build the impressive campus accommodating up to 1,000 students in two distinct phases is currently in development. Phase I will kick off the construction with grades K-12 that will enable enrollment for more than 700 students. Phase II will round out the expansion project with capacity for up to 1,000 students. Not only will the expansion and move provide more room for more students, but it will also ultimately afford a contemporary landscape of innovative fine arts buildings fostering further student enrichment.
Architects and general contractors are collaborating to develop an innovative facility that feels comfortable and relaxed. Although the proposed campus is larger, a small-town feel is the driving component to the interior and exterior design of the new campus. Details familiar to quaint hometowns include a cobblestone drive leading to the school's entrance. Inside its doors will be a family of Warriors ready to welcome students in August 2025.
One-Heart Culture
Expansion in today's world can often correlate to a diminished focus on service and commitment. Dr. Potts is quick to emphasize otherwise. "Our mantra is 'Bigger is not better. Better is better.' Our incredibly tight-knit community is hallmarked by an excellent one-heart culture," he explains.
Particularly, the CCS culture unites every aspect of the school's life to include faculty, students, parents, co-curricular activities, and the surrounding demographic area. "We will zealously guard our one-heart culture and maintain our Christ-centered community to serve others."
Academic, Fine Arts, and Athletic Distinctions
CCS is accredited by the Association of Christian Schools International (ACSI) and Cognia. As an independent school, CCS provides a well-rounded focus in academics, fine arts, and athletics. Dr. Potts is proud to proclaim the 63 seniors of last year's graduating class earned more than $7.5 million in merit-based scholarships to various top schools including West Point Military Academy, MIT, Rice University, Texas A&M University, and other private, SEC, and Big 12 schools.
When it comes to athletics, CCS Warriors excel. The football program has competed for the state title for the past three consecutive years, winning the state championship in 2021. Additionally, both the girls and boys track and field teams have won state championships in 2021 and 2022. Out of the 63 graduating seniors, 13 letters of intent were signed by CCS students for athletic scholarships. Dr. Potts also states the Texas Association of Private and Parochial Schools (TAPPS), the governing body of private schools, has rated CCS as the number one 4A school in Texas for the past two years. CCS's additional claim to fame is the individual academic and fine arts team state championship wins last year.
Academic Excellence with a Biblical Focus
Since the school's inception, the community culture and environment of CCS has always been passionately dedicated to conservative, family values with a biblical world-view focus. "It is our mission and Christ-centered commitment to academic excellence and strong Christian values that drives what we do every single day," Dr. Potts explains. Education is approached from a biblical perspective that recognizes the sovereignty and authority of God. Daily Bible curriculum engages students with Scripture memorization. Weekly chapel services allow students and faculty members to experience worship, praise, instruction, and fellowship.
Outstanding Faculty and Staff
The power of a cooperative effort between home, school, and church is second to none for the purpose of providing a strong foundation for young lives. "One of our best assets is our incredible faculty and staff who believe our mission has eternal significance," Dr. Potts says. Students are taught by instructors committed to academic excellence and Christian faith. CCS's exceptional leadership has continued to be a mainstay throughout its 45 years of service.
Student Life
Life as a CCS Warrior reaches beyond the classroom. Students can impact their community for Christ by living out the academic excellence and biblical values that have been taught and learned through education. The aim is to create a cultural impact not only in the community but in students' lives through a wide range of activities during and after school hours. Participating in school-wide events encourages a sense of community within the student body.
Future Enrollment
CCS currently has 768 students enrolled with a growing waiting list. According to Dr. Potts, CCS enrollment has increased by 24 percent within the past two years. He encourages parents to get on the waiting list now to ensure their child has a seat in August 2025 when the new campus opens.
"We are Warriors in every sense of the word – Warriors for Christ, strong in faith, and ready to tackle the world," Dr. Potts says. "We're excited to train and produce future Christian leaders and Warriors that exude our passionate mission in life."
You can learn more about CCS's mission, vision, and desire to partner with parents in honoring the Lord by visiting their website, scheduling a campus tour, or calling them directly. They are ready to welcome you with open arms and open hearts.
---
Contact
11123 Cypress North Houston Road
Houston, Texas 77065
(281) 469-7745
CypressChristian.org