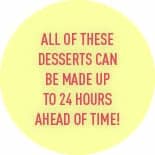 No Oven Required!
Turning on the oven in the Texan summer is something you want to avoid just about as much as a sunburn. As much as I would love to bake up a warm pie for dessert, the idea of adding sweltering heat to my kitchen in the dead of August is less than appealing. That's why I head for these cool, creamy, and insanely indulgent no-bake treats. They're quick and stress-free, and I promise you won't miss any of those traditional baked goods once you take your first bite.
No Bake Peanut Butter Caramel Oreo Cheesecake
Nutella Banana Pudding Parfaits
Chocolate Raspberry Icebox Cake
---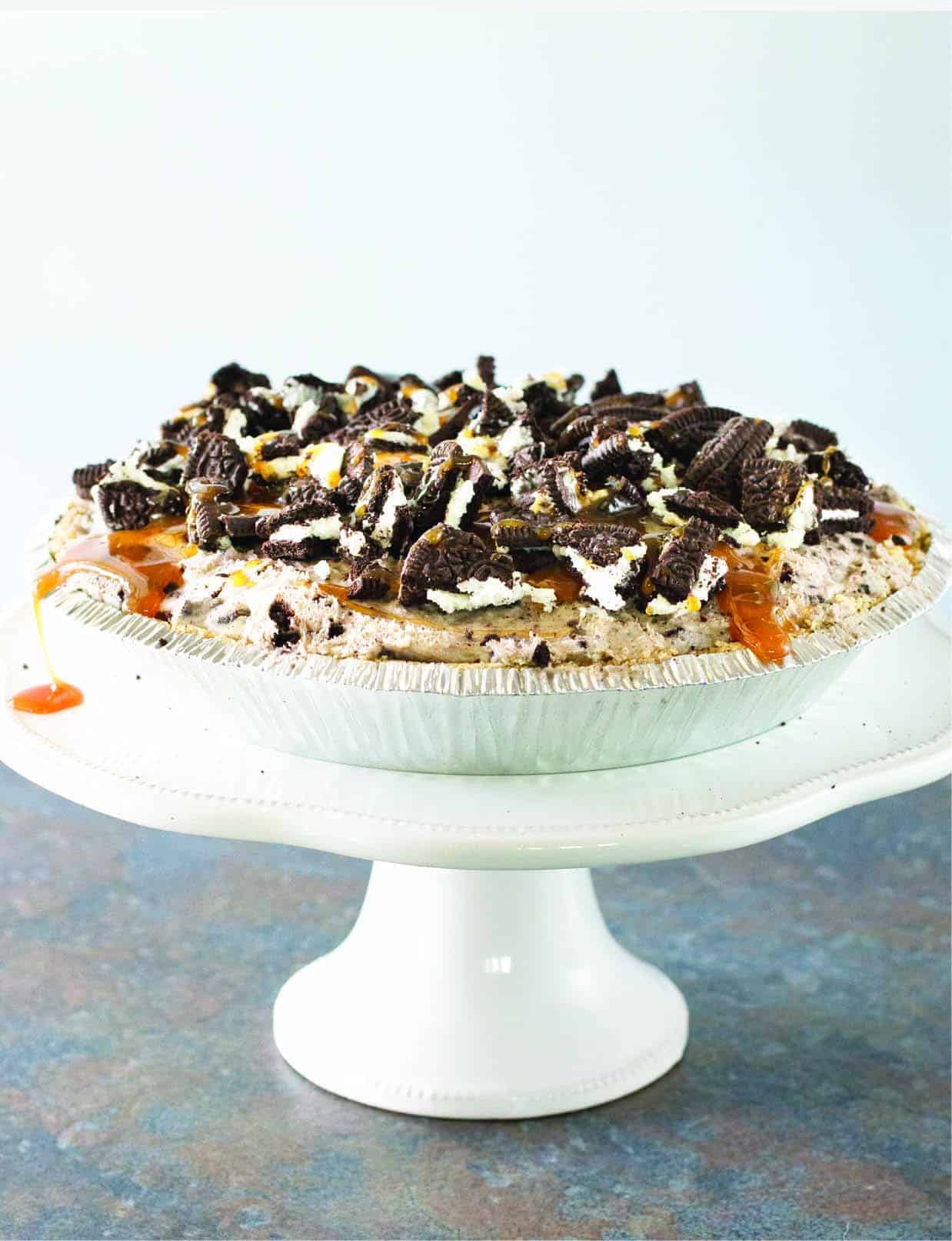 No Bake Peanut Butter Caramel Oreo Cheesecake
Serves 8
1 prepared pie crust

1½ cups heavy cream

3 tablespoons smooth peanut butter

½ teaspoon vanilla extract

12 ounces cream cheese, room temperature

¼ cup granulated sugar

1 package Oreos, crushed

Caramel sauce
In a large bowl, beat together heavy cream, peanut butter, and vanilla until stiff peaks form. Add in the cream cheese and sugar, beating until completely combined.
Fold 3/4 of the crushed Oreos into the cream cheese mixture.
Pour mixture into the prepared pie crust, smoothing over the top with a rubber spatula. Cover and refrigerate at least 4 hours before serving.
Top with the remaining crushed Oreos & drizzle with caramel sauce when ready to serve.
---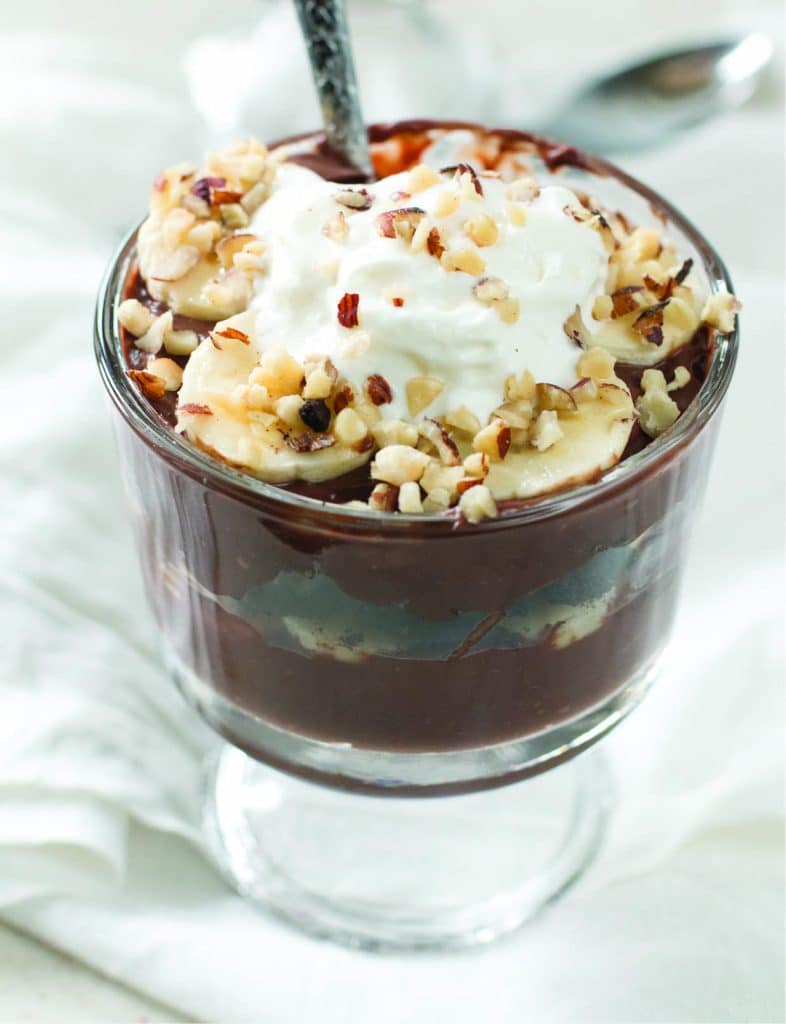 Nutella Banana Pudding Parfaits
Serves 4
3 tablespoons cornstarch

3½ tablespoons granulated sugar

1½ tablespoon cocoa

2 cups milk

5 ounces bittersweet chocolate, chopped

½ cup Nutella

1 tablespoon unsalted butter

Chocolate wafers, roughly chopped

3 bananas, sliced into thin rounds

Chopped hazelnuts

Whipped cream
In a medium bowl, whisk together cornstarch, sugar, and cocoa powder.
In a medium saucepan over medium-high heat, heat the milk until hot. Whisk 1/4 cup of the hot milk into the cornstarch mixture, then return to the saucepan of milk. Stir frequently over medium heat until the mixture is thick and boiling.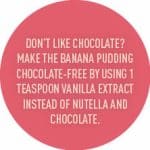 Remove the pudding from heat and stir in chocolate, butter, and nutella. Chill the pudding for at least 4 hours before serving.
To build the parfaits, start with a layer of pudding, followed by a layer of wafers, then a layer of bananas, and a final layer of pudding. Top with more banana slices and chopped hazelnuts, then top with whipped cream.
---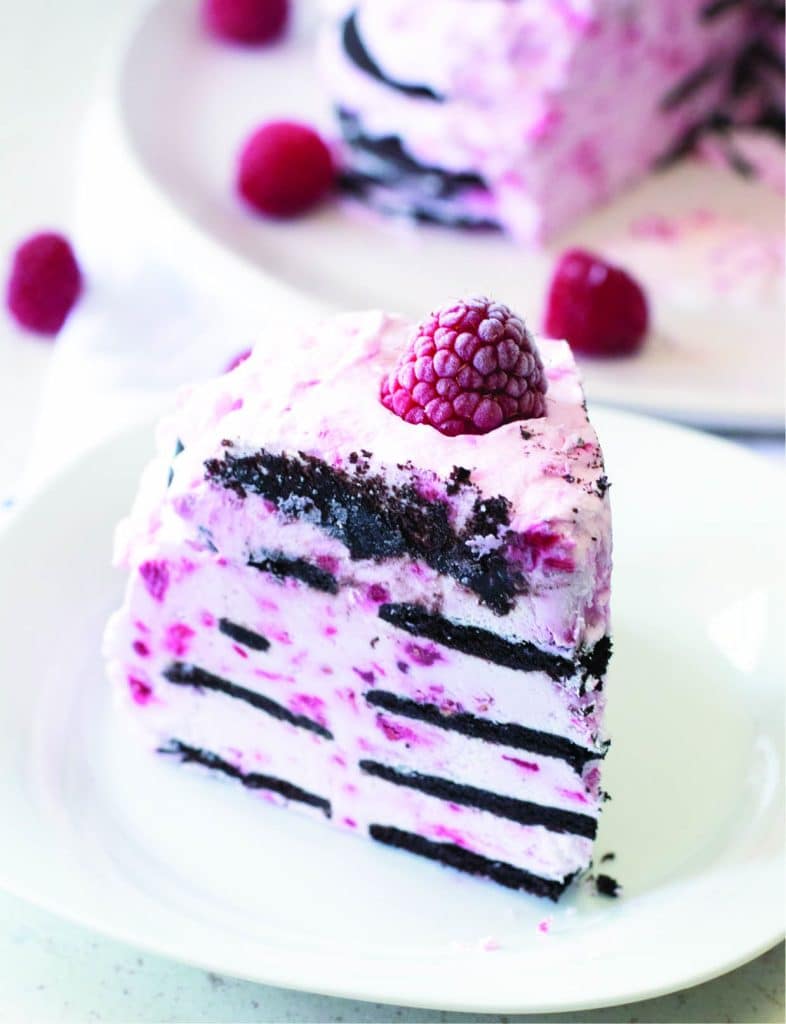 Chocolate Raspberry Icebox Cake
Serves 8
2 cups heavy cream

¹/

³

 cup granulated sugar

1 box chocolate wafer cookies

For the raspberry puree:

1 pint raspberries

¼ cup granulated sugar
In a small saucepan, combine raspberries and 1/4 cup sugar over medium high heat. Cook, breaking apart the raspberries with a spoon, until the puree is smooth. Cool completely.
Once the raspberry puree is cooled, whip the heavy cream with 1/3 cup sugar until it forms stiff peaks. Gently fold in the raspberry puree with a spatula until fully incorporated.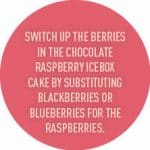 To build the icebox cake, put a small amount of the whipped cream on the bottom of 6 wafer cookies. Form a circle with the cookies on the plate, placing an additional wafer in the center. Add a layer of the raspberry whipped cream, and alternate between layers of wafers and whipped cream. The final layer should be the whipped cream.
Decorate with fresh raspberries and chocolate wafers as desired. Freeze for at least 6 to 8 hours, or overnight, before serving.
By Meghan Bassett