Do something different this year and head to our nation's oldest city for an unforgettable holiday getaway.
By Abby Hoeffner
Though the night was mild and free of snow and ice—Florida rarely sees either—few places I've visited are so thoroughly ensconced in the Christmas spirit. Trolley loads of merry folk circled the historic square, each trying to out Christmas carol the other. Over two million twinkling white lights bedecked centuries-old oak trees from whose branches swung curtains of Spanish moss, a St. Augustine tradition called the Nights of Lights. Evergreen garlands draped light posts and columns, perfuming the salt-tinged breeze with the unmistakable scent of the holidays.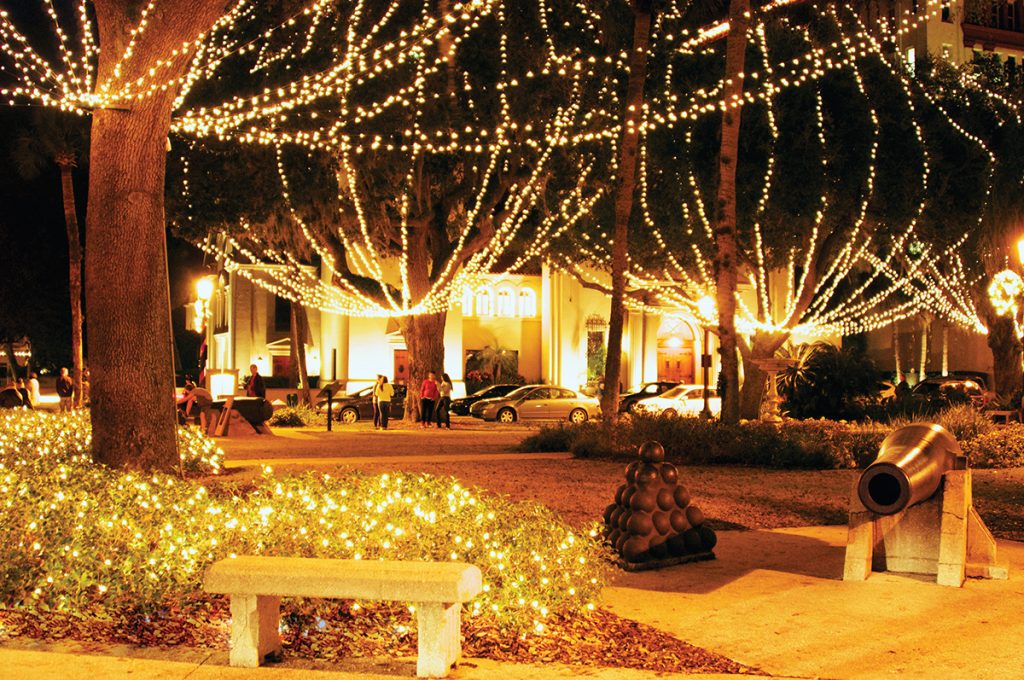 STAY
Those who visit should stay at the Casa Monica Hotel, a 125-year-old St. Augustine landmark where authentic old-world charm greets every guest. Sometimes historic hotels can feel stuffy and dated, akin to the staleness one feels in the air of a distant great aunt's knick-knack and doily filled home. Not here. The 138 timeless guestrooms and suites transport visitors back to an era of luxurious charm among Spanish-style romanticism, with custom designed interiors, including classical furnishings with gold accents and plush red velvet tufted headboards. Opulent carpets line the halls, which are lit by dramatic chandeliers and sconces. During my visit last December, patrons dressed in holiday finery filled the lobby, adding to the festive feeling in the air. The guest list hasn't changed much at Casa Monica in the last century. Now, as then, rooms fill with discerning travelers, such as celebrities, artists, musicians and political figures.
Travelers and locals reserve a table at Casa Monica's 95 Cordova Restaurant for a dining experience that could be celebrated as an art form. The food is as inspiring as the setting, which is saying something. Entering through 24-karat gold leaf dappled arches, guests are bathed in an enriching atmosphere with lavish antiques and intricately hand-painted ceilings. The eclectic menu provides flavors that are sure to please, including favorites such as Chilean Sea Bass and Blue Cheese Filet Mignon.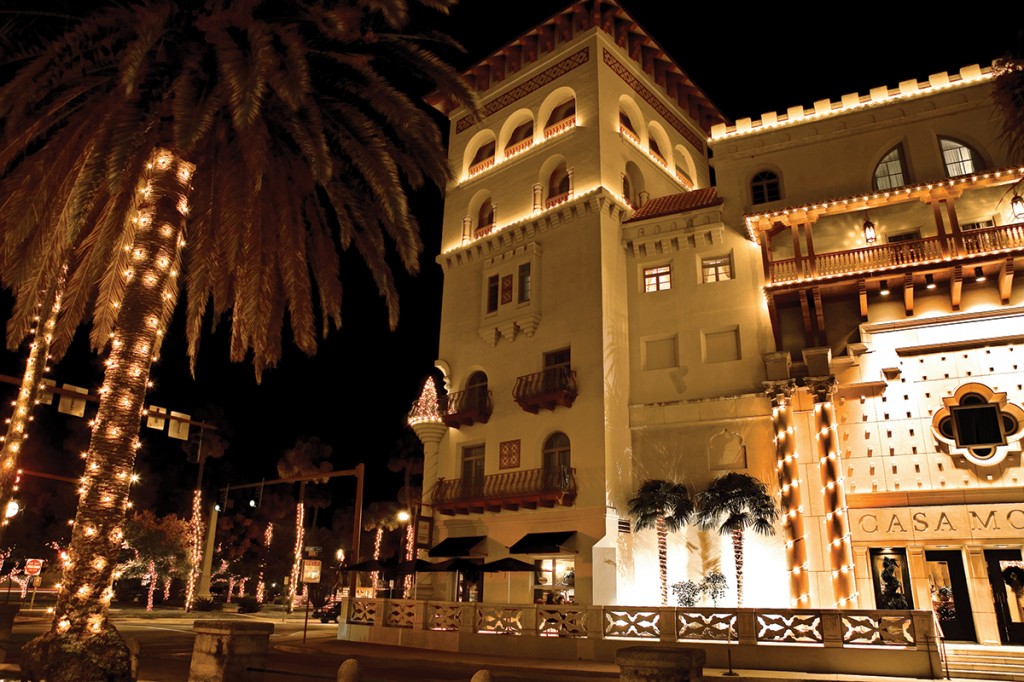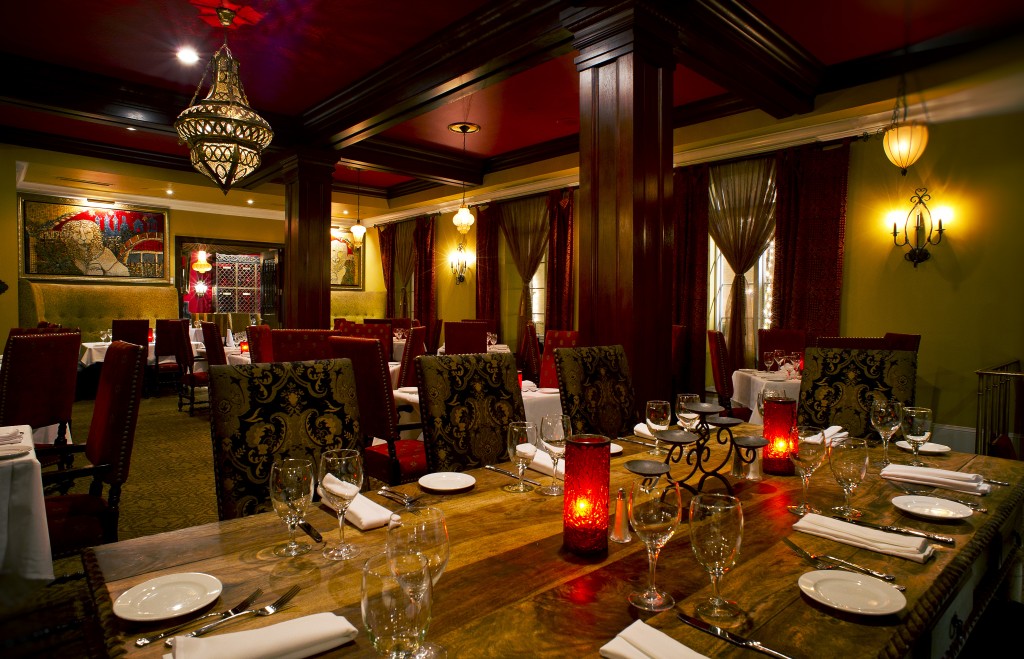 DO
Though it was tempting to while away the hours in the luxurious hotel surroundings, plenty to do awaits just outside the pillar-framed doors. Adjacent is the hotel's Grand Bohemian Art Gallery, which houses a variety of art from local, regional and internationally recognized artists, all available for purchase. Just down the street, pop into The Ancient Olive to taste hundreds of varieties of flavor-infused olive oils and vinegars. The experts there will teach you how to combine the different concoctions for an explosion of tastes in a variety of ways. Dozens of locally-owned shops and boutiques have lovely selections for those last minute Christmas gifts.
History buffs will enjoy visiting the Fountain of Youth National Archaeological Park, the site of Ponce de Leon's landing in Florida in 1513. Allow a couple of hours to explore the beautiful park grounds and sip from the fountain's mineral-rich waters. Castillo de San Marcos, the oldest masonry fort in the continental United States, is a can't-miss event. Volunteers in period costume reenact a cannon firing (shooting packed bread for the ducks and fish rather than actual cannonballs) over the water with grace and precision. Plus, there's a wealth of information to glean in the displays around the fort.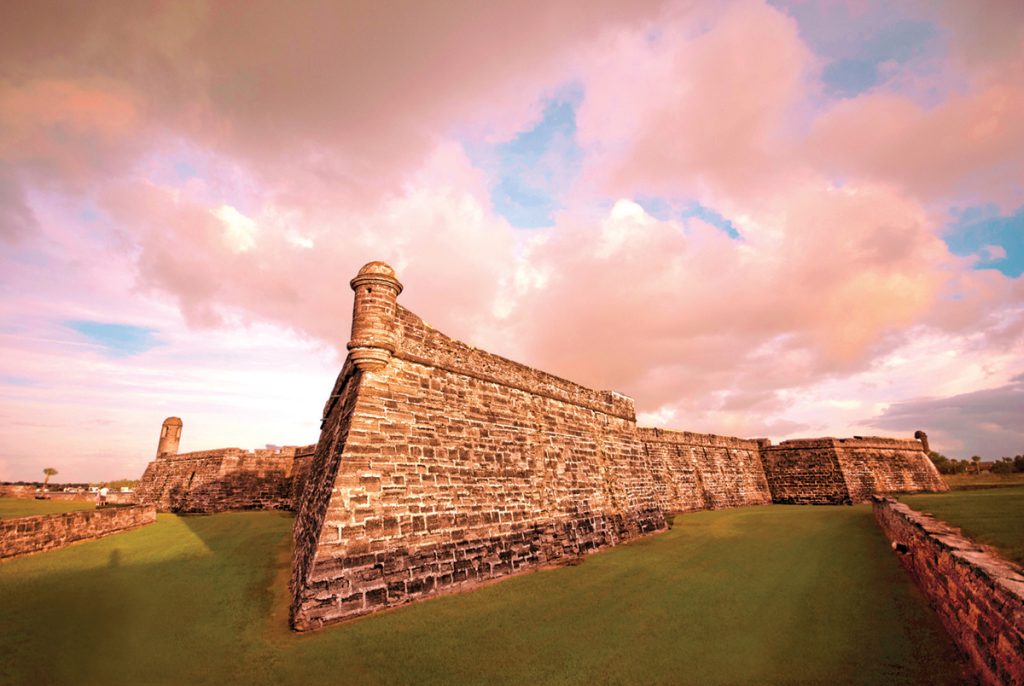 Adventurers young and not-so-young will relish exploring the Pirate and Treasure Museum. Much more fun than a standard look-don't-touch gallery, this place overflows with creative, interactive exhibits. Just next door is the Colonial Quarter, the newly revitalized attraction in the heart of the historic district. Designed to be appealing to both adults and children (grown-ups can enjoy a pint at the period pub, Bull & Crown), the meticulously planned two acres immerses visitors in what daily life was like in St. Augustine in the sixteenth, seventeenth and eighteenth centuries. Wrap up a fun-filled day with a horse-drawn carriage ride through the twinkling lights, and soak up that happy feeling the holidays bring.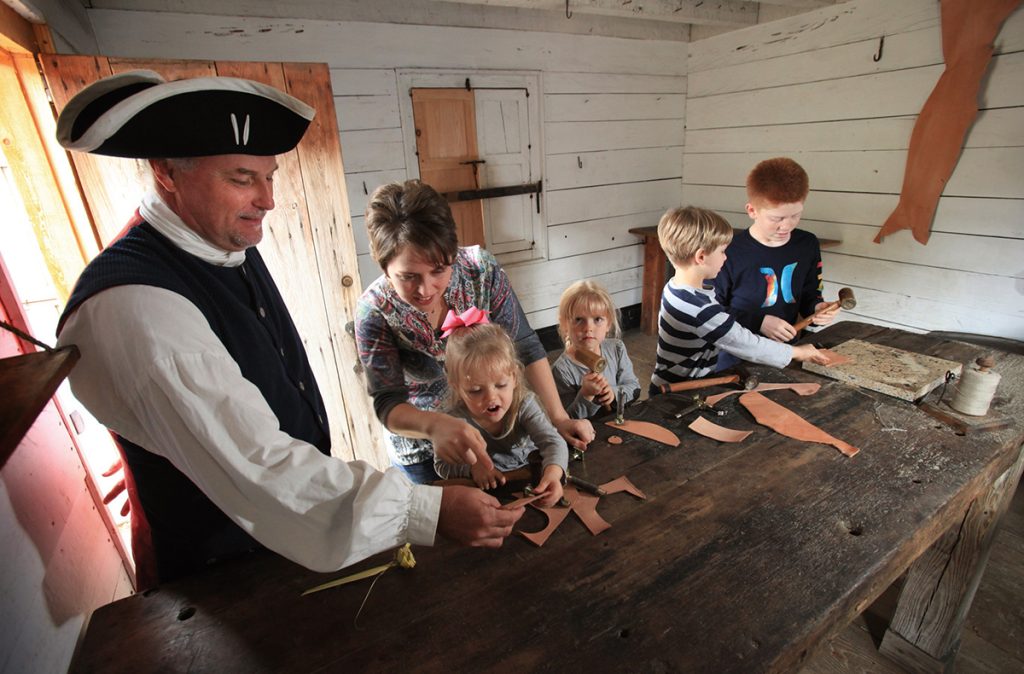 Resources:
CasaMonica.com
TheAncientOlive.com
FountainOfYouthFlorida.com
NPS.gov/Casa
ThePirateMuseum.com
ColonialQuarter.com