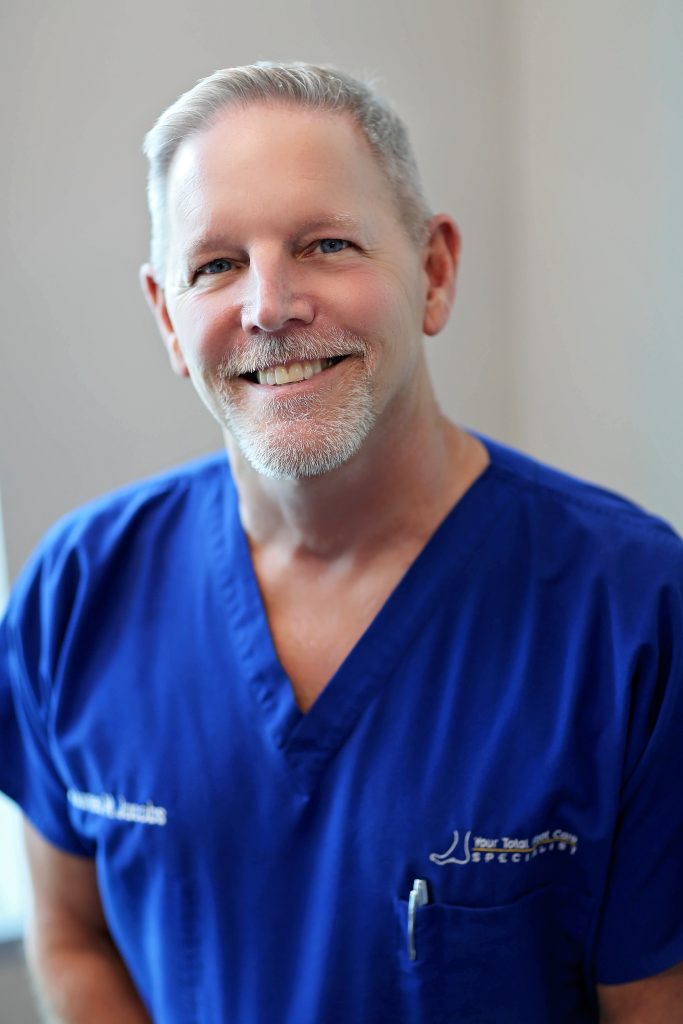 By
Meredith Knight
---
If your feet could talk, they might utter that old Rodney Dangerfield line, "I don't get no respect." In truth, if any part of our bodies deserve respect, it's the complex foot and ankle system. Your feet and ankles are made up of 28 bones, 33 joints, and 112 ligaments controlled by 13 extrinsic and 21 intrinsic muscles. With this amazing system, we can walk, run, dance, jump, and more. But when there's a problem with this highly sensitive, mobile, flexible, and adaptive system, it can quite literally stop us in our tracks.
That's when it's time to call the best podiatrist in Katy and Cypress, Dr. James Jacobs of Your Total Foot Care Specialist. Together with Dr. Maria Sandoval, Dr. Jacobs cares for men, women, and children struggling with issues ranging from heel pain and foot and ankle injury to bunions, hammer toes, tendinitis, peripheral artery disease (PAD), neuroma, toenail fungus, athlete's foot, corns and callouses, and diabetic foot complications. If it's affecting your feet and ankles, Dr. Jacobs is highly experienced in the latest techniques and technology to help you find relief. Foot pain is never normal, and you should not ignore it.
Your Total Foot Care Specialist offers a variety of non-invasive and non-surgical state-of-the-art treatment modalities to help relieve foot, heel, and ankle pain including:
SWIFT Wart Removal
This cutting-edge, FDA-cleared technology has proven to be highly effective in the removal of plantar warts. It specifically targets warts by stimulating a natural immune response in the body.
MLS Laser Therapy
MLS laser therapy is the standard for alleviating both acute and chronic pain, especially of the heel. This patented, FDA-approved technology with great outcomes for pain relief, eliminating the need for surgery and prescription painkillers, and has no negative side effects.
Toenail Fungus Laser Treatment
FDA-cleared laser therapy effectively treats toenail fungus. The laser treatment is a safe and painless option with no side effects and reduces the need for prescription drugs that can be tough on your liver.
CBD Balms and Spray
All-natural, clinical-strength CBD products formulated with clean, plant-based ingredients can provide fast relief from muscle/joint pain, inflammation, neuropathy, arthritis, and practically any type of pain. CBD has been proven to be safe for everyday use.
Onsite Convenience
To make care as convenient as possible for busy patients, Your Total Foot Care Specialist provides many onsite services reducing your need to make any additional appointments or take extra time off with their onsite pharmacy and services for laboratory, digital X-ray and ultrasound, and diagnostic testing for peripheral vascular disease and neuropathy. In addition, they offer customized options for your individual feet, including custom arch supports and diabetic shoes. They also offer onsite physical therapy including massage therapy, strength training, and flexibility exercises.
Dr. Jacobs is American Board of Foot and Ankle Surgery board certified in foot surgery. When not on the job, he enjoys time with his two kids, traveling, gardening, and trying new restaurants.
---
CONTACT
23230 Red River Drive
Katy, Texas 77494
(281) 395-3338
KatyFootCare.com