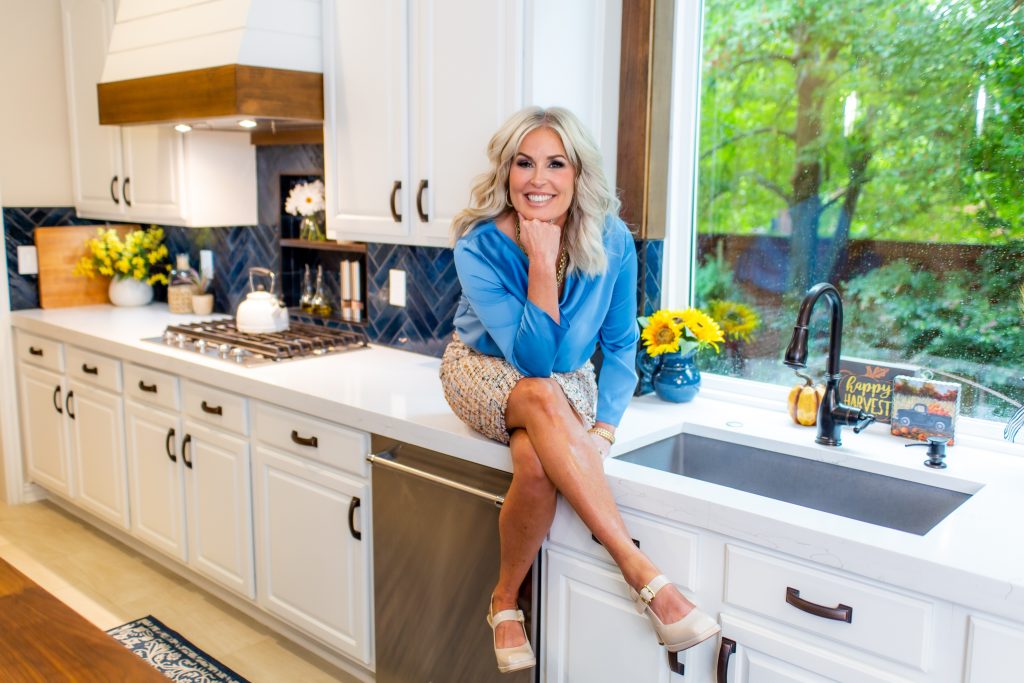 "My dad is someone I have always admired. I have learned so much from him and now I am so blessed today to have him as a partner in my business. He keeps everything straight behind the scenes so I can fully focus on serving our clients."
By Drew Anderson | Photos by Lauren Medean
---
Construction has historically been viewed as a manly and gritty profession requiring a strong back and rough hands, but this is not the case with Tiffany Young, owner of Tiffany Young & Crew. Tiffany brings a softer side to construction with her sole focus on providing a positive remodeling process for her clients. Tiffany and her crew walk their customers through every step of their remodel project from design to build out and color selection to punch out. Tiffany is a creative visionary, and her passion is transformation. Tiffany has a deep faith and loves "transforming the worn-out and damaged into the beautiful and restored, just like Jesus does with our lives".
Tiffany Young & Crew is a company that was born out of necessity. After doing a few remodels of her own and struggling to flip houses, Tiffany realized there was a lot of frustration associated with finding dependable contractors. Reliability, honesty and true craftsmanship was severely lacking. With 2 sons heading off to college, the need for a second income was prudent. Tiffany saw a need in the industry and decided to capitalize on her God-given talents of vision and creativity. Being reliable, providing excellent craftsmanship and being completely transparent is at the core of her business. Some of their unique business practices include:
Utilizing crews that work exclusively for Tiffany Young & Crew, allowing more control over scheduling.

Exclusively using licensed tradespeople, including electricians and plumbers.

Fully guaranteeing all their work.

Complimentary design services for their clients.
Tiffany's mom showed her from a very young age that there is nothing that compares to the comfort and feeling of home. "Our home was always beautifully decorated by my mom, and it is where my best childhood memories were made." says Tiffany. "To be invited into someone's home and help them create beautiful spaces is a high honor that I take very seriously. To give our very best effort to every client, every single time and leave them with more than they expected is our goal and it is what drives me every day." Tiffany said.
Tiffany Young & Crew's only goal is to exceed the expectations of their clients. They attribute a large part of their success to the countless referrals they receive from satisfied clients. "Tiffany walked through every step with me and was the visionary that I couldn't be" said Valerie, a former client. "Her crew is wonderful and are very hard working and conscientious of taking care of your home. I also can't rave enough about the customer service they provide months/years after they have completed the job."
While Tiffany is the founder and visionary for the business, she has surrounded herself with incredibly knowledgeable and experienced people. She is supported by her father and business partner, Mike Hanner, who keeps all things in order. "My dad is someone I have always admired. I have learned so much from him and now I am so blessed today to have him as a partner in my business," Tiffany said. "He keeps everything straight behind the scenes so I can fully focus on serving our clients".
Former customer, Stephen Dedwylder is Vice President of Tiffany Young & Crew. Tiffany was hired by Stephen to design and remodel several of Stephen's investment houses and eventually earned the honor of remodeling his personal home. Tiffany states with a smile "Stephen was absolutely the most particular client I have ever worked with, and I knew that I needed his spirit of excellence on my team". Stephen assists Tiffany with business development, where he put his business management degree and years of upper-level management experience to work. His attention to detail is peerless and his familiarity with real estate and remodeling, made him the perfect addition to Tiffany's team.
One of the greatest strengths of the company, and what Tiffany calls "the backbone of the business" comes from the hands-on experience of the Project Managers in the field. Zack Nixon, a true craftsman himself, is a tremendous asset to the team and the nicest guy you will ever meet. Zack brings 15 years of construction experience to the table. Chris Wilson, an encyclopedia of information who is unparalleled in trouble shooting, comes with 20 years of hands-on experience in the field. "Anything I can dream up, these guys can make it happen and always with a smile", says Tiffany.
Tiffany also gains insight from her husband, Clint Young. Clint, a certified Master Builder with a degree in Construction Management, has over 28 years of experience in the construction industry. His wisdom, insight and constant support are a few of the reasons Tiffany described Clint as "the biggest blessing in my business". In addition to being a Senior Vice President of Construction with the Billingsley Company, Clint serves as Tiffany's top advisor.
After growing up in the small town of Baird, Texas, Tiffany and her family now reside in Mansfield. Tiffany and Clint have three sons, Hayden and Hunt are in college and Hayes is in the 7th grade. As a family they attend Lakeside Church of Christ, where they are involved in various ministries. Tiffany and Clint love being together and when they aren't talking shop, they enjoy entertaining, watching football and cooking. Clint loves to cookout and I love to cook so you can always find something good to eat at our house!
Tiffany Young is a rarity in this world and in her industry. Unlike most, she is not driven by money, and she doesn't put a lot of stock into material things. Her motivation comes from helping others and creating beautiful spaces. Whatever your construction or remodel needs may be, Tiffany and her team are ready to assist you in bringing your vision to life and making your space truly special.