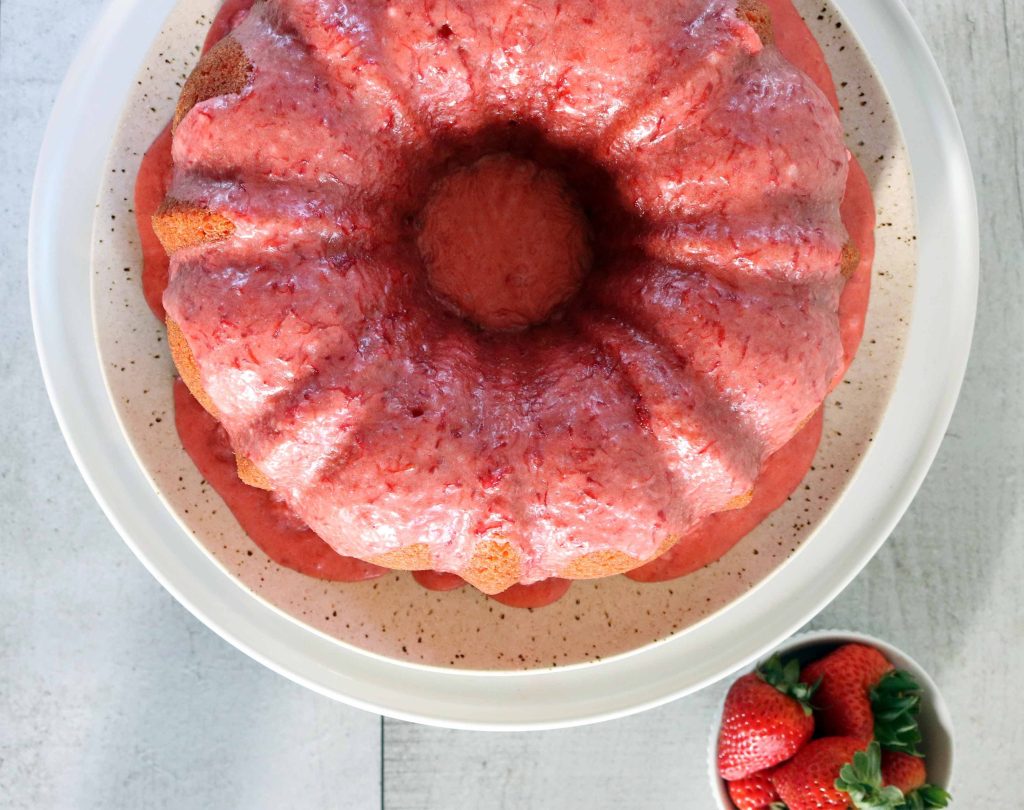 BY MELISSA TATE
Mimi's Strawberry Cake
Servings: 8-10 | Prep time: 25 min. | Cook Time: 35 min. | Total time: 60 min.
Cake ingredients: 1 box white cake mix | 1 3 oz. box strawberry Jell-O | 4 eggs | 1 cup vegetable oil | 1 16 oz. container frozen sliced strawberries in sugar (thawed, you will use the liquid in the cake and strawberries in the icing)
Icing: 3 cups powdered sugar | 6 Tbsp. butter, melted and cooled | Strawberries from frozen sliced strawberries in sugar
Directions: Preheat oven to 350°. Spray a Bundt pan with nonstick baking spray. Sift Jell-O and dry cake mix together. Drain juice from strawberries into a large measuring cup. Add water to the measuring cup to equal 1 full cup of liquid. Set strawberries aside. Combine dry mix, oil, eggs, and strawberry liquid. Beat with an electric mixer for 2 minutes. Pour into prepared Bundt pan and bake 30 to 35 minutes until done all the way through. While the cake is baking, prepare the frosting. Combine powdered sugar, melted and cooled butter, and strawberries. Once you remove the cake from the oven, let it sit in the pan for a few minutes. Remove the cake by turning the Bundt pan onto a large plate with a lip around the edge to catch the run-off icing. You want to ice the cake while it is still warm. Spoon icing onto the cake, letting it run down the center and the outer edge.
Tips & Tricks: You can serve this cake warm, room temp or cold. The cake should be kept in the refrigerator and will last up to 5 days.
Cranberry Pecan Spring Salad
Servings: 8 | Prep time: 25 min. | Cook time: none | Total time: 25 min.
Salad Ingredients: 6 cups spring mix salad | 1 ripe pear, sliced in wedges | 1 cup dried cranberries | 1 cup candied pecans | ½ cup crumbled blue cheese Vinaigrette: 1 Tbsp. Dijon mustard | ¼ cup balsamic vinegar | ¼ tsp. salt | ¼ tsp. pepper | ½ cup olive oil
Directions: Prepare vinaigrette by combining Dijon mustard, balsamic vinegar, salt, pepper, and olive oil in a bowl and whisking together. Set vinaigrette aside. Spread half of the spring mix in a medium serving bowl. Top with half the pear wedges, cranberries, pecans, and blue cheese. Repeat layer and top with remaining ingredients. Directly before serving, drizzle with vinaigrette. Serve extra vinaigrette with the salad.
Tips & Tricks: Serve in a glass trifle bowl to show off the layers.
Savory Blueberry and Red Onion Jam
Servings: 30 | Prep time: 5 min. | Cook time: 40 min. | Total time: 45 min.
Ingredients: 1 Tbsp. olive oil | 1 medium red onion, diced (about 2 cups) | 3 springs fresh thyme | ½ tsp. salt | ¼ tsp. pepper | 2 cups fresh blueberries | 2 Tbsp. balsamic vinegar
| ¼ cup honey | 2 Tbsp. brown sugar | ¼ cup red wine | 1 tsp. lemon juice
Directions: Heat olive oil over medium heat. Add onion, salt, pepper, and thyme. Reduce heat to medium-low. Cook for 30 to 35 minutes or until caramelized, stirring occasionally. Add blueberries, balsamic vinegar, brown sugar, honey, and red wine. Cook until blueberries are enlarged and about to burst and liquid is reduced about 5 to 10 min. Remove thyme sprigs. Add lemon juice and stir, smashing berries. Remove from heat and cool to room temperature. Store in a glass jar in the refrigerator.
Tips & Tricks: Pair with soft cheese and crusty bread or a burger for an eccentric flavor.
About Our Chef
Melissa is a freelance food writer with a passion for hospitality and home cooked meals. Along with writing, she helps her husband run their working ranch and event venue in Rockwall, Texas. To follow her cooking and ranching adventures visit MelissaTateTX.com or find her on Instagram at @melissatatetx.