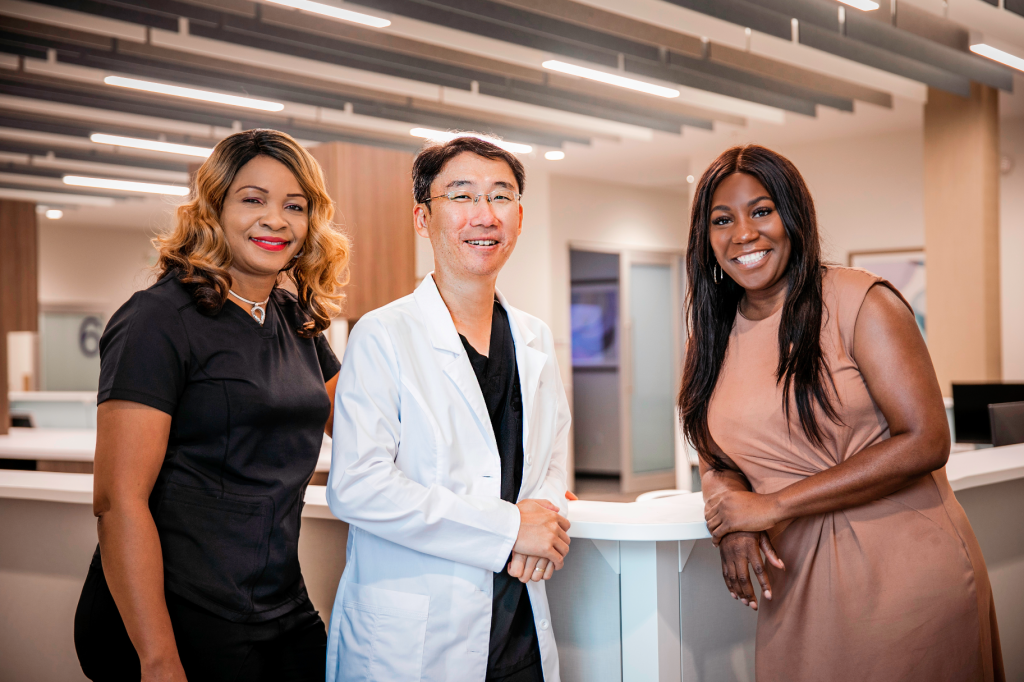 By Clare Heekin | Photos by Kelley Sweet Photography
---
Stepping through the doors at Aurum Wellness means embracing a new approach to living your healthiest life. Located in Missouri City, Aurum Wellness is a health clinic designed especially for seniors, combining comprehensive care with state-of-the-art diagnostics and health coaching, to move patients beyond acute care and toward prevention and wellness.
"Aurum Wellness is a new kind of senior care, where a care team offers personalized services and preventative care," shared Operations Manager Chinelo Nweke. "Understanding seniors and making sure we are able to address all their needs is at the core of how we treat our patients and partner with them to live healthier longer — whether that means ensuring immediate care for acute concerns, managing chronic conditions, or working with them collaboratively on prevention and wellness."
From healthcare providers specially trained to care for patients as they age, to a health coach, behavioral health therapist, registered dietitian, pharmacist, and geriatric social worker, the comprehensive care team at Aurum Wellness focuses on care for the whole person. For example, the pharmacy program specialist meets with patients to answer questions about their medications and make sure they understand how to take them properly. The dietitian provides guidance on healthier eating in collaboration with the primary care team. And the health coach designs personalized health action plans for long-term wellness.
In early 2023, services will expand to include innovative biological age assessments and high-tech stations that examine the body and mind to best support seniors in their healthcare journey.
Partnering with Patients
"We take our time with our patients and really listen so that we can better get to know them and their health," said Associate Medical Director and Geriatrician Dr. Jung-Hoon Kim. "Our goal is to not just treat ailments, but to partner with each patient as a whole person."
With that goal in mind, every detail of Aurum Wellness was designed especially for seniors. "The Center was designed in a way to make our patients feel welcome and more comfortable," said Dr. Kim, "including wider entryways, larger exam rooms, accessible exam chairs, handrails, and longer appointment times, which last 30-60 minutes depending on the type of visit." The Center also offers onsite labs and X-rays to make visits more convenient and efficient. Patients can be connected to outside specialists and resources if needed.
"Aurum Wellness is a collaborative, supportive, and integrative environment, addressing and supporting all aspects of health," said Dr. Kim. "And we work as a team to not only support our patients, but one another. You'll feel it the moment you walk in that we partner with patients like no one else."
Innovative Well-Care Assessments and Health Diagnostics
Beyond its expert care team, Aurum Wellness enhances preventive care through a wide array of diagnostic tools, assessments and accommodations, designed to better meet the needs of the senior population. Coming in early 2023, the Well Care side of Aurum Wellness will launch Thorne Lab featuring high-tech stations that examine the body and mind to screen for cognition, balance, body composition, and other factors that contribute to individual health.
"The use of traditional and advanced functional medicine tests enhances the physical examination, and both play a part in better health," said Dr. Kim. In conjunction with the wellness evaluation, patients will engage in conversations with the health coach to discuss results and create a health action plan to address any area that needs attention. The care team will work with the patient to support program adherence and assist in overcoming any obstacles to living a healthier life.
"At Aurum Wellness, we partner with our patients to create health action plans that will help them realize prevention as an opportunity for healthy aging alongside traditional care," Ms. Nweke added. "Our wellness-focused consultations and a care team will assist patients in each step of their integrated care journey."
Care for the Whole Person
Social inclusion and interactivity are two other critical components to the health and wellbeing of seniors, which is why Aurum prioritizes engaging and enriching programming and education.
"Wellness and community go hand-in-hand and are central to our approach," shared Nurse Practitioner Ifeoma Ude-Okoro. The Aurum Wellness care team understands that loneliness in older adults has been linked to cognitive decline and dementia, and that increased relational opportunities can improve all aspects of health. In fact, according to the American Heart Association, valuable social relationships have been associated with a 29% decrease in the risk of coronary heart disease and a 32% decreased risk of stroke.
"We will continually support the social health of our patients and community members with educational seminars, support groups, and wellness workshops. Our classes include cooking and nutrition tips, caregiver resources, chair yoga and
other fitness activities, to name a few," Ms. Ude-Okoro continued. "Consistent exercise can help stabilize mental health, increase bone and muscle strength, and prevent arthritic issues. It also improves sleep, increases life longevity, decreases the risk of disease, and can boost your self-confidence." The team also builds relationships with community organizations and services to help connect seniors to other valuable resources.
Be Well, Together
By meeting patients where they are on their health journey, Aurum Wellness is redefining care, one senior at a time. "Dedication to high quality standards is the foundation of who we are. This includes providing open communication and expert medical care," said Ms. Nweke. "We want our patients to feel confident and secure in their care by eliminating barriers and staying in touch. We are here for our patients when they are sick or need a checkup and immunizations, and we're also here for all of those 'in-between' moments to help seniors live their best life." The clinic is open Monday through Friday from 8 AM to 5 PM. Aurum Wellness accepts Medicare, Medicare Advantage, and most HMO/PPOs.