Whether hosting at your own home or heading out to a holiday party, these recipes are easy to prepare and sure to be welcome additions to the potluck table.
By Melissa Tate
Tate Farms Winter Salad

with Balsamic Honey Mustard Dressing
Makes: About 4 servings | Time: 30 minutes
Ingredients:
for the salad
3 cups mixed salad greens | ½ cup dried cranberries | ¼ small red onion, sliced thin | ½ cup candied pecans | ¼ cup pumpkin seeds | ¼ cup French's fried onions | 2 oz. goat cheese
for the dressing
3 Tbsp. olive oil | 1½ Tbsp. pure, unfiltered honey | 1 Tbsp. honey dijon mustard |1 Tbsp. balsamic vinegar | salt and pepper
Directions:
In a small glass jar, combine dressing ingredients. Shake well and set aside. In a large bowl, combine salad ingredients. Drizzle with dressing and toss to combine right before serving.
Tips and Tricks

Nobody ever thinks to bring salad to a potluck but everyone wants it, whether they know it or not. Be a hero, bring the greens!
---
Spinach and Artichoke Dip
Makes: About 4 cups | Time: 30 minutes
Ingredients:


1 (8 oz.) package cream cheese, softened
½ cup mayonnaise
¼ cup sour cream
½ cup plus 1 Tbsp. Parmesan cheese, grated
½ cup plus 1 Tbsp. Romano cheese, grated
1 (14 oz.) can of artichoke hearts, drained and chopped
1 (9 oz.) package frozen chopped spinach, thawed and drained
¼ cup mozzarella cheese, grated
Directions:

Preheat oven to 350 ˚F. Prepare a small baking dish with non-stick spray. In a mixing bowl, combine cream cheese, mayonnaise, sour cream, ½ cup Parmesan, and ½ cup Romano cheese. Stir in artichokes and spinach. Spoon mixture into baking dish. Sprinkle with mozzarella cheese and remaining Parmesan and Romano cheeses. Bake for 25 minutes until cheese is browned and bubbly. Serve with tiny toast, soft sour dough bread, or crackers.
Tips and Tricks

This dip can be served straight from the baking dish warm or transferred to a serving platter and served at room temperature.
---

Saltine Cracker

Toffee
Makes: About 40 pieces | Time: 20 minutes + cool

Ingredients:
1 standard sleeve of saltine crackers
1 cup butter
¾ cup brown sugar
3 cups semisweet chocolate chips
1 package (8 oz.) milk chocolate English toffee bits
Directions:
Preheat oven to 350 ˚F. Line a 15"x10" baking pan with parchment paper or foil. Arrange crackers in a single layer, making sure all touch. Over medium heat, melt butter. Stir in brown sugar. Bring to a boil, then cook until sugar is dissolved, about 4 minutes. Slowly pour mixture over crackers. Bake tray for 8 minutes or until bubbly. Remove from oven, let set for 1 minute, then immediately cover with chocolate chips. Place baking sheet back in oven for 1 or 2 minutes until chocolate chips become shiny. Remove from oven and spread chocolate chips onto crackers. Sprinkle with toffee bits. Let cool, then cover and refrigerate until set, approximately 1 to 2 hours. Break into pieces and serve.
Tips and Tricks

Toffee will keep in an airtight container for up to a week. This recipe can be doubled and baked in a 21"x15 pan". It's perfect for potlucks but also as an addition to homemade holiday gifts.
---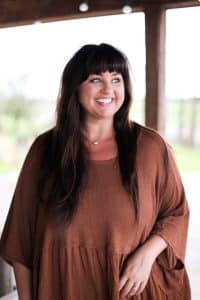 about our chef
Melissa is a freelance food writer with a passion for hospitality and home cooked meals. Along with writing, she helps her husband run their working ranch and event venue in Rockwall, Texas. To follow her cooking and ranching adventures visit MelissaTateTX.com or find her on Instagram at @melissatatetx