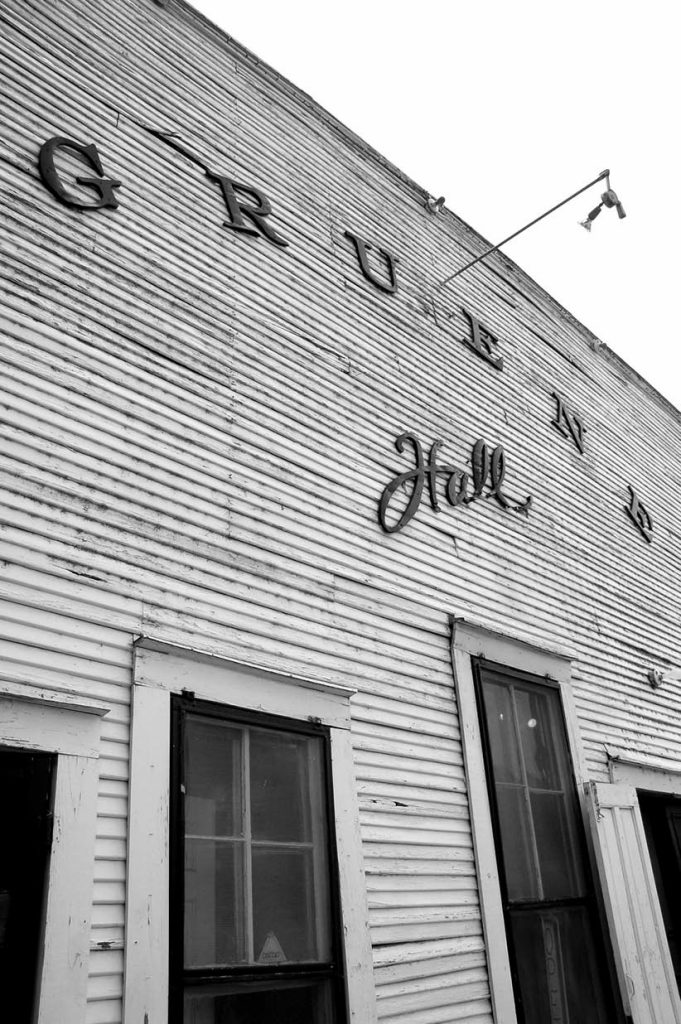 By Pamela Hammonds
---
Sure, you can find plenty to do in Fort Worth, Dallas, Houston, Austin, and San Antonio—from music, art, and theater venues to sporting events and shopping galore. But if you venture away from Big City Texas, you'll find plenty to see and do that might be a little quirky and a whole lot of fun. So grab your besties and your cameras and get ready to cross off some bucket list items. Swim under a waterfall? Check! See a drive-in movie? Check! Spray paint a Cadillac? Check!
Before you leave
Make sure your vehicle is in top shape. Get your tires checked (including the spare), fluids topped off, and ensure your roadside emergency number is handy. Even though someone is sure to make a mess along the way, start with a clean vehicle—including the windows. Take along a bag to collect trash and designate an area for each passenger. Bring small pillows and blankets for napping plus snacks and plenty of water.
Ask a trusted neighbor to watch your house, collect mail, and pick up newspapers and fliers. Set thermostats to a comfortable yet conservative temperature, make sure no water source is left running, and empty all indoor trashcans into your outside bins.
Hill Country
Travel toward Austin and then keep driving west for some of Texas' most scenic highways and offbeat adventures. Explore small towns with true Texas charm and equally inviting names such as Comfort and Boerne. German influences abound in small town Fredericksburg, Gruene, and Kerrville, where you're just as likely to find an old dance hall as you are a freshly baked pecan pie.
If your kids are ten and older, consider hitting Krause Springs. Located about 30 miles northwest of Austin in Spicewood, this 115-acre privately owned hidden gem offers camping and swimming, with 32 natural springs on the property, plus a waterfall and natural pool that flows into Lake Travis. The property is listed on the National Registry of Historical Sites and has been privately owned by the Krause Family for over 50 years.
Weird Drive-By Landmark: Stonehenge II, located 15 seven miles west of Kerrville in Ingram
Surf Sites: KrauseSprings.net, GrueneHall.com, FredericksburgTexasShopping.com
East Texas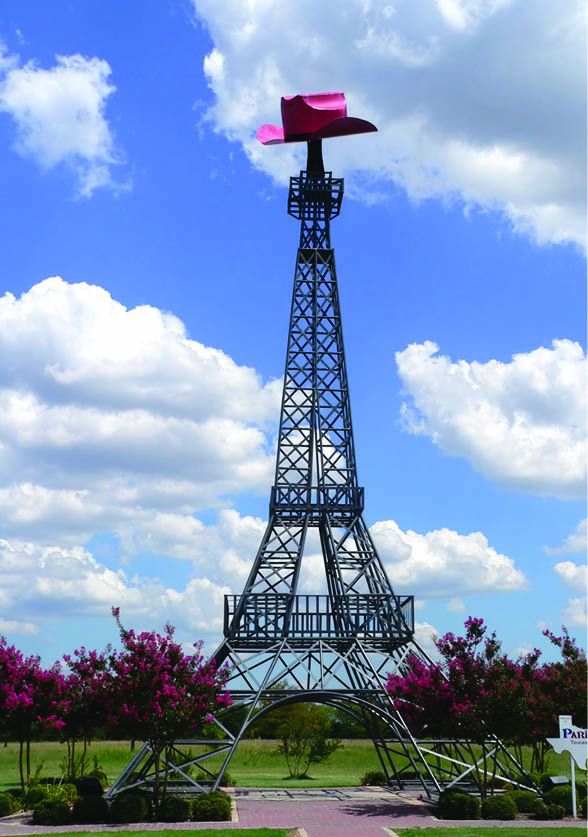 Movie buffs might remember small-town Carthage as home to assistant mortician Bernie Tiede (portrayed by Jack Black in the movie Bernie), who famously murdered his elderly companion Marjorie Nugent (played by Shirley MacLaine), but it's also home to the Texas Country Music Hall of Fame. If you're not a country music fan (for that matter, a TEXAS country music fan), then boot-scoot on by, but if you love Tex Ritter, then it's worth a visit.
Nearby Tyler is not only a college town but also boasts a local favorite haunt, the Skyvue Drive In Theater where first-run double features are shown under the stars and the concession stand features homemade pizza. Cruise on over to Kilgore to visit the East Texas Oil Museum—on the campus of Kilgore College—to get an idea of how East Texas was transformed during the oil boom of the 1930s.
Weird Drive-By Landmark: Jesus wearing cowboy boots statue in Evergreen Cemetery and the Eiffel Tower Replica, both in Paris
Surf Sites: TylerDriveIn.com, EastTexasOilMuseum.com, CarthageTexas.us/HallOfFame/
Central Texas
East of Austin and west of Houston offers a few don't-miss destinations including Round Top for antiques galore and Winedale Historical Complex, where UT Austin students perform Shakespeare during the summer and Miss Ima Hogg's furniture collection and more are housed year-round. (Yes, that's her real name.) The James Dick Foundation for the Performing Arts' Round Top Festival Institute also offers education and performances on a unique 210-acre campus.
Nearby Brenham is known for its Blue Bell Creameries location, and the Antique Rose Emporium is a true Texas treasure where you can purchase antique rose bushes and other native plants. About 45 minutes southeast of Brenham, drive to La Grange and let the kids milk a cow at Jersey Barnyard, a four-generation, 100-year-old farm, and then drive to Monument Hill and tour the historic Kreische Brewery.
Weird Drive-By Landmark: Prefab "Ghost Town" in Winkelmann just four miles east of Brenham on U.S. 290
Surf Sites: Shakespeare-Winedale.org, TexasJersey.com, AntiqueRoseEmporium.com, FestivalHill.org
Texas Panhandle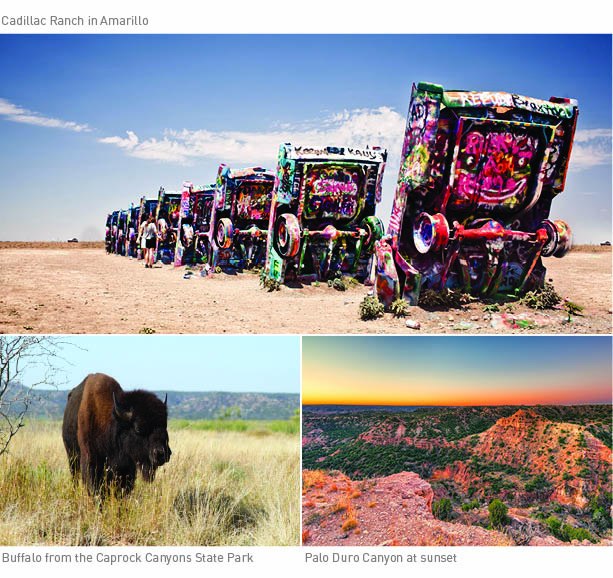 Get off-road and become one with nature (and a few bugs) at Palo Duro Canyon State Park outside of Amarillo. You'll find plenty of trails for hiking and both cabins and campsites offer options for accommodations. Between Amarillo and Lubbock, explore Caprock Canyons State Park and Trailway, home to the state's Official Bison Herd. The state park offers day-use and camping facilities, hiking, wildlife watching, horseback riding, and mountain-biking, and you can also go boating, fishing, and swimming on a no-wake lake. Enjoy a scenic drive, bat viewing and other guided tours, seasonal concessions, and horse rentals as well.
Treat yourself to an amazing meal at OHMS Café in Amarillo. Offering Texas-style delicacies such as elk tenderloin and fried egg salad, OHMS is upscale dining well worth the drive. In Lubbock, stop by the Buddy Holly Center and the Silent Wings Museum—a must-see for any WWII history buff, featuring a tribute to the U.S. Military's glider program.
Weird Drive-By Landmark: Cadillac Ranch, located on Route 66 west of Amarillo
Surf Sites: PaloDuroCanyon.com, TPWD.Texas.gov/state-parks/Caprock-Canyons, SilentWingsMuseum.com, OHMSCafe.com
Are we there yet?
Be bold—try going tech-free (or at least tech-reduced) during your drive. That's right. No DVD player or tablets to distract the kids. Go full-on retro and teach your kids the alphabet sign game or play My Father Owns a Grocery Store. The first person says, "My father owns a grocery store and sells apples." The next person in the car says, "My father owns a grocery store and sells apples and bananas." The third person has to repeat the A and B words and add a C item as well such as corn, carrots, cabbage, etc. See if you can stretch your memory all the way to zucchini! Variation: "I'm going on a trip and taking aspirin, Band-Aids, a camera, deodorant …"
You can also record your favorite tunes on some CDs (or load them on your device) and introduce the kids to the classics you know all the words to like Bohemian Rhapsody and Walk this Way. Or tune to SiriusXM for sing-along channels—classic rock, 80s pop hits, country tunes, and broadway songs are all crowd-pleasers.