Tips and Tricks to Take Home
By Courtney Warren
When I was approached about being a featured presenter at the Country Living Fair in Atlanta this fall, I wondered what topic I could offer as an interior designer on a stage that was drawing HGTV stars and big household names. What I quickly realized is no matter where you hail from, nearly everyone has some hesitation about starting a home project. So I shared with my audience how a designer approaches projects differently than most homeowners do, and I am now divulging my trade secrets to you!
The first thing I told my audience is that designers CHOOSE AN INSPIRATION PIECE.
For example, in my single-guy client's loft it was definitely the commissioned two-story motorcycle mural that inspired the whole space, from the colorway to the manly vibe. In another client's home, it was her must-have Moravian star pendant lights…
…but whatever it is (rug, headboard, chandelier, artwork, statement furniture), your inspiration piece will give you a common goal for your space and keep the design from being haphazard. You will use this piece to edit out the items that don't fit with your inspiration and drive the design.
The second thing designers do differently is SHOP MULTIPLE SOURCES.
Exhibit A, what not to do:


Brown and baronial. This "before bedroom" look is all one color, dark and heavy. Most of my clients are moving away from "old world" style to updated and fresh. To do this, I recommend keeping away from all identical matching pieces and go for a more curated, unique look with some elements that have contrast.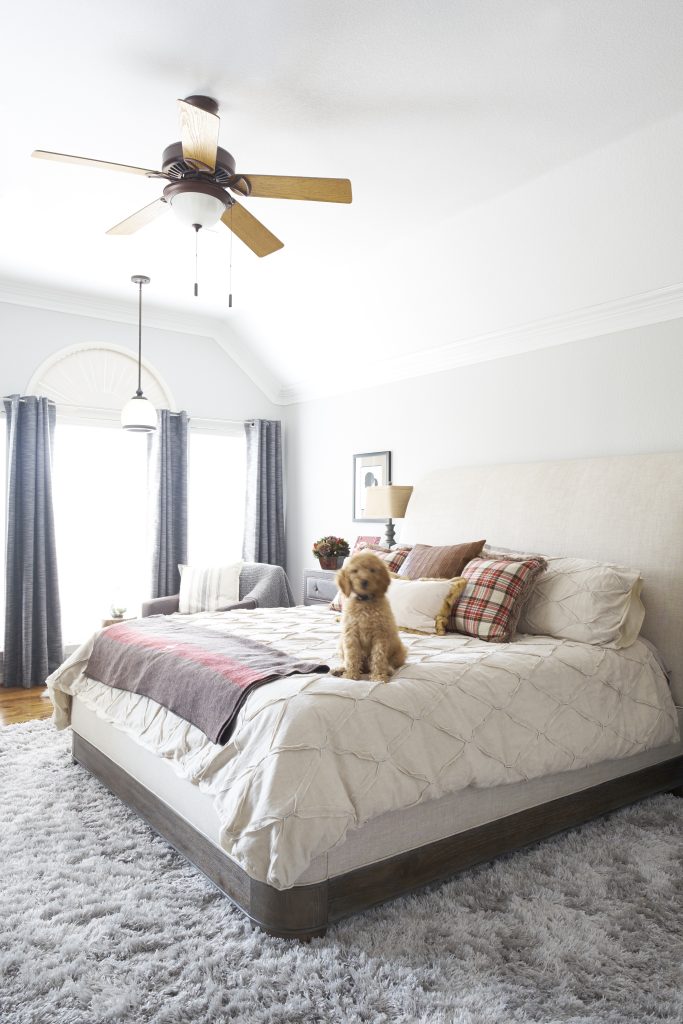 Same space. Much better! (And the adorable Golden Doodle puppy must take after my dog because he looks like he makes the rules for the entire house.)
To make sure you are not overusing all one style or look, ask yourself:
Did I buy all the pieces at the same retailer?

Do I have too much of the same color or finish?

What can I do to bring variety into the room?
These questions will lead you as you aim to achieve a more professionally- designed look.
Finally, I took an audience poll asking when the best time to paint was. 90% of them said "at the beginning of the project." So I had to break the news.
That's the third thing—a designer PAINTS LAST!
Is this rocking your world? This advice is contrary to what most people believe. Let me explain.
If you chose your anchor piece at the beginning and allowed it to inspire your design, you will have found pieces that now drive your room color. What if you had painted first and the bedding or the sofa you loved and just had to have didn't go with your hue? Case in point above—we labored forever over the choice of the wallpaper on the stairway. But once that was decided, boom! The blue paint in the alcoves was a given. That decision came very quickly and complemented the inspiration piece, instead of the paint driving the decor.
So, if you want to approach your design like you are a designer, I encourage you to choose your inspiration piece first, limit identical sets or furniture styles, and choose your paint color last.
---
Do any of these design tips surprise you? Which one can you adopt to propel your home project to success? Give me shout at @courtneywarrenhome on Instagram and let me know if my trade secrets worked for you. And until next time, let's make design fun!
Courtney Warren is in high demand for her ability to move clients' home designs "from stuck to stylish." Her big laugh, quick wit, and joyful personality assure her clients that design can be fun! Courtney's projects are often featured in magazines including Better Homes and Gardens Do It Yourself, Kids Rooms, Best of Flea Market Style, Cottages and Bungalows, and American Farmhouse Style, where she has earned distinctive nicknames such as "flea market queen" and "fast-footed bargain hunter."
Courtney was chosen for TLC's series Four Houses and is a frequent design consultant and commentator on Fox 4 TV's Good Day program. She has been awarded as one of the top 3% of Interior Designers in the Nation by Houzz.com, and has been awarded the Top Service Award and Top Design Award from Houzz. She is excited to have recently launched her YouTube channel, Real Life Design, where she features real projects with real budgets.
She is a pastor's wife and busy mom of two boys who loves to share favorite quotes (the ones that make her snort-laugh) and current design projects on Instagram @courtneywarrenhome. Courtney hails from Rockwall, was a Stingerette at RHS, and remembers when Hobby Lobby was Walmart and Heath felt like it was out in the "country."
IG: @courtneywarrenhome