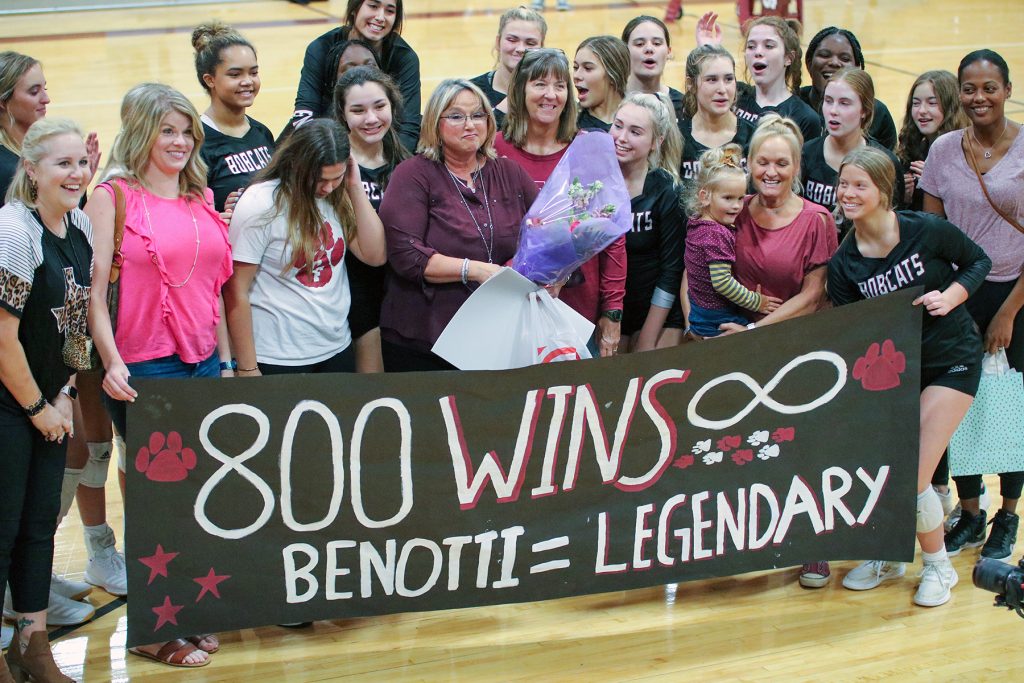 BY BRYCE NALL AND CECILLA UVALLE PHOTO BY BRYCE NALL, CY-FAIR HS
A culmination of more than two decades leading successful volleyball teams put Donna Benotti in a position to reach a number of milestones in her coaching career. She reached another top honor on Oct. 1, picking up career win No. 800 after the Bobcats earned a 3-0 district win over Spring Woods.
Although Benotti has obtained plenty of success throughout her career, including positioning Cy-Fair for a run at the District 17-6A title in 2021, she acknowledged that she didn't reach the notable milestone alone.
"My kids work hard," said Benotti, who is in her 23rd season leading the Bobcats. "I've just been so fortunate and blessed here at Cy-Fair."
Following match point, the Bobcats joyfully surrounded the long-time head coach while others unveiled a banner commemorating the milestone. And it wasn't just Benotti's current team in on the celebration. A number of former Bobcats were also in attendance to honor the successful coach.
"I felt very honored because Coach Benotti is such an amazing coach," said Adura Sogbesan, senior captain. "I just was so glad to be a part of that historic moment."
Following the on-court celebration, Benotti and her many supporters moved from the performance gym to a reception for refreshments.
"It's a pretty amazing career accomplishment," said Dianne Moore, Cy-Fair High School athletic assistant.
Benotti began her head coaching career in 1992 following her playing days at Whitehouse High School and Henderson State University.
As a graduate assistant at Henderson State, she helped the team reach the 1993 NAIA Final Four. She went to Cedar Valley College the following year, winning consecutive conference titles in 1995-1996 and making a NCJAA Final Four appearance in 1996.
Benotti moved on to Texas A&M-Kingsville, where she twice posted seasons of 20-plus wins. A job transfer for Steve Benotti (Donna's husband) brought the family to the Houston area.
Benotti's run at Cy-Fair is highlighted by 10 regional tournament appearances, including six straight from 2005 to 2010. The Bobcats reached the state tournament in 2007.
"I've been so blessed to work with incredible people," Benotti said.