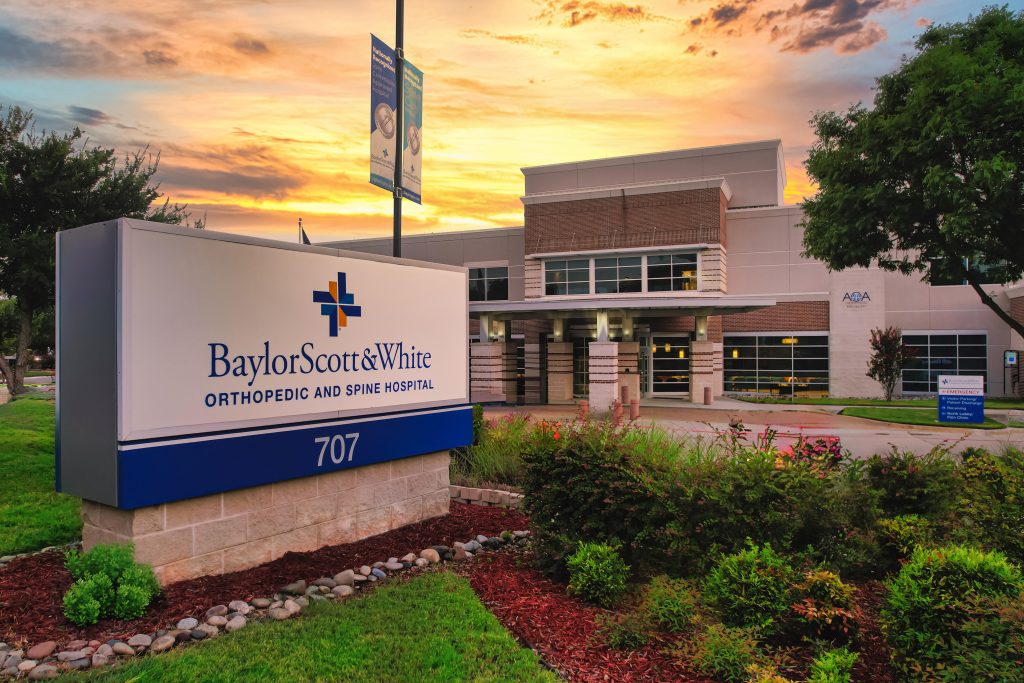 Cover photo by
Landon Day Photography
---
There's a place in Arlington that believes you deserve Better. That's why the only specialty hospital of its kind in the DFW Metroplex – Baylor Scott & White Orthopedic and Spine Hospital – continually invests in the most advanced diagnostic and treatment technologies.
Step 1: Defining the Source of Your Pain, Once and for All
The hospital has made one of North Texas' most profound commitments to properly diagnosing pain with a major investment: adding a second MRI to its radiology department.
Patients get faster, more comfortable exams from the hospital's Philips Ingenia Ambition 1.5T MRI magnets. These scans can be fully customized for your individual need; the crystal-clear images give you and your care team complete confidence in your diagnosis. To serve any moment of need, these MRI machines are available 24/7 through the hospital's emergency room, or you can schedule an appointment with a physician's order.
In addition to MRI, there are a wide array of other diagnostic technologies available at Baylor Scott & White – Arlington, such as advanced CT, ultrasound, and X-ray. In the emergency room, GE fully digital mobile x-ray allows for immediate visualization of your injury or condition. It is also used for post-operative imaging to confirm the results of surgeries. This technology's portability makes it easy for hospital staff to bring this sophisticated imaging system directly to you.
MRI and CT appointments are available Monday-Friday from 7am to 7pm, and Saturdays from 8am to noon. For sudden injuries or pain, the 24/7 emergency room is consistently staffed to keep wait times short.
You won't wait long for your imaging results either, because Baylor Scott & White – Arlington prioritizes fast turnaround. Our team of on-site orthopedic and spine radiologists in Arlington plus other connected specialists will assess your scans and X-rays to ensure speed and accuracy for your diagnostic results, and direct communications with your care team.
Robot-Assisted Surgery is Minimally Invasive, Easing Recovery for Better Outcomes
Robot-assisted surgery offers you a true breakthrough in minimally invasive surgery. In this proven technique your surgeon performs operations using a computer console to control micro-instruments and a high-resolution camera attached to robotic arms.
The robotics investments at Baylor Scott & White – Arlington include the Mako Robotic Arm-Assisted Surgery, Zimmer Biomet Rosa Robotic Surgical Assistant, and the ExcelsiusGPS Robotic Navigation System. They give your surgeon far greater precision and control over the surgical instruments than is possible with human movement alone. The benefits for patients are many, including:
Reduced pain, discomfort, and blood loss

Smaller incisions, resulting in less risk of infection

Minimal scarring

Shorter recovery times and hospital stays

Faster return to normal activities
Investments to Serve our Community Better
Since opening in 2010, Baylor Scott & White – Arlington has steadily grown to meet the increasing needs of North Texas. It is Dallas-Fort Worth's only hospital concentrating strictly on orthopedic and spine care. It offers orthopedic surgery, spine treatment, joint replacement, diagnostic imaging, pain management, sports medicine, and physical therapy all in one place.
Center of Excellence for Spine Surgery and Joint Replacement
Baylor Scott & White – Arlington worked diligently to be designated a Center of Excellence for both spine surgery and joint replacement. Medicare, Medicaid, and many private health plans encourage or even require patients to use certified Centers of Excellence for orthopedic care.
The Center of Excellence designation confirms that a facility has a collective of physicians and administrators committed to the highest quality of care. Certification requires meeting a long list of criteria, and passing recurring audits to ensure standards remain high.
Surgery can feel intimidating. At Baylor Scott & White – Arlington, you can have assurance that your hospital adheres to the highest standards of care and safety with a consistent history of positive results.
Let's Make Every Day Better
You do not have to live in constant pain. Baylor Scott & White – Arlington is ready to help. Visit www.bswarlington.com for a full list of physicians, services and to schedule an appointment.
---
CONTACT
707 Highlander Boulevard
Arlington, Texas 76015
(855) 41-ORTHO
Fax: (817) 583-7101
BSWArlington.com
Hours of Operation: 24 hours, 7 days a week