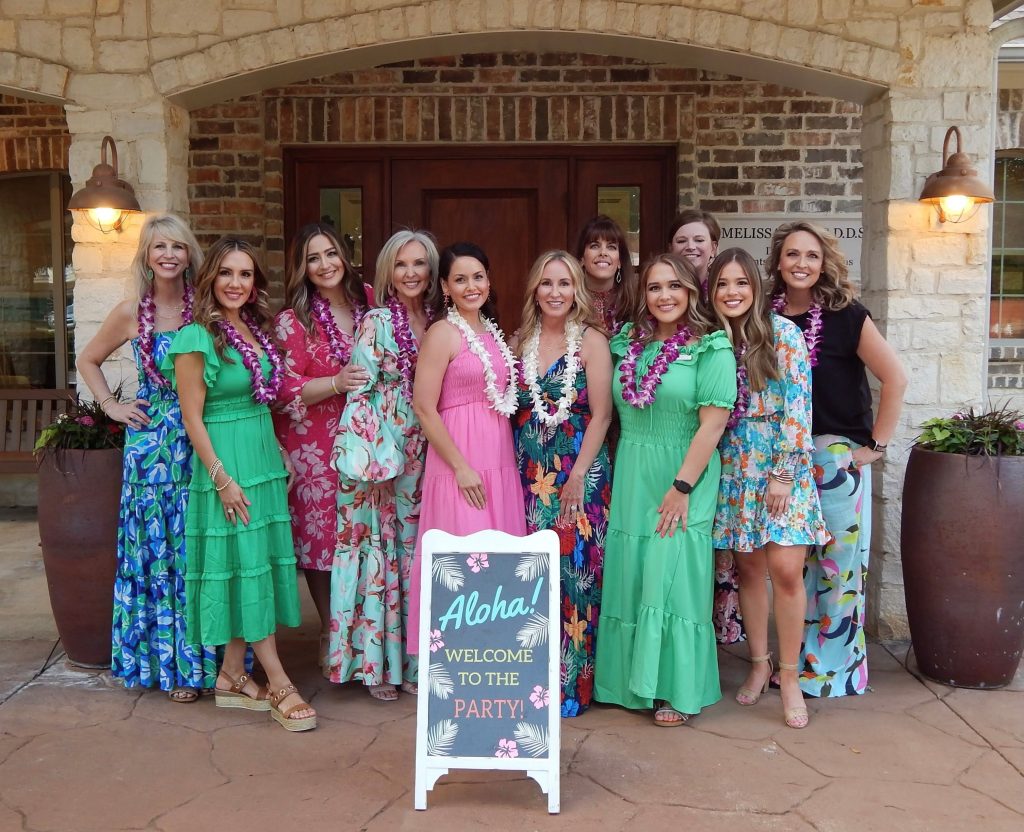 By
Meredith Knight
---
The year was 1998. Furbies were the must-have Christmas toy and the movie "Titanic" was sweeping the Oscars. A fun night in still began with a trip to Blockbuster and everybody and her sister was trying to perfect "the Rachel" haircut. The country said "hello" to Google and Harry Potter, as we said "goodbye" to Frank Sinatra and "Seinfeld." And in Coppell, Texas, that year, a brand-new pediatric dental practice was opening its doors as Dr. Melissa Rozas welcomed her first young patients into her fun, beach-themed office.
Hard to believe it's been 25 years. Dr. Rozas' son and daughter have grown and headed off to Texas A&M and — blessings upon blessings — she's now treating the children of some of those early patients. Over the past decade and a half, Dr. Rozas has witnessed and participated in countless dental breakthroughs that have made pediatric dentistry gentler and more precise. Through it all, many of her stellar staff members have continued to work with her and the families of Coppell. In fact, her office manager, Priscila Swearingen, has worked by her side since day one.
A Dentist Is Born
We never really know how our childhood experiences will influence our adult lives — for better or for worse. Growing up, Melissa Rozas was exposed to a lot of sugar beginning with Coke and chocolate milk in her bottle. All that sugar soon took its toll on her developing teeth, leading to "baby bottle tooth decay." By the time young Melissa was three, in fact, she had to have her front teeth pulled. She also had three — count 'em three — sets of braces on her teeth, her wisdom teeth pulled, and more than her share of cavities. You'd think these experiences would combine to make the dentist's office her least favorite place on Earth, but amazingly Melissa loved visiting her dentists. She loved it so much that, when the time came to choose a career, she could easily see herself slipping into that role.

Legacy of Oral Health
After completing dental school, Dr. Rozas and her husband had one thought — finding a safe, welcoming community in which to start her practice and raise their children. Coppell, Texas, more than filled that bill and, over the years, they've been thrilled with their decision. Dr. Rozas set about hiring the team that has become like family, not just to her but to her patients. Her staff now consists of 11 employees including her associate, Dr. Terra Compton. "I couldn't be prouder of my staff," Dr. Rozas said. "They share my passion for putting our patients first and making a trip to the dentist a fun adventure. I love hearing compliments about my warm, loving staff. I'd absolutely trust anyone in my family to their care."
Patient Education Is Paramount
A large part of Dr. Rozas' job, as she sees it, is education. "I had a good mom who put Coke in my baby bottle because she didn't know the damage it would do," she said. "It's up to me to make sure my patients' parents understand the importance of good oral health and the difference a healthy diet can make, because every child deserves a healthy, happy smile. Establishing good dental practices now will have an impact that lasts a lifetime." Dr. Rozas loves showing young families how to make oral hygiene a fun and natural part of their day.
As They Grow
Dr. Rozas has a natural rapport with her young patients. (It doesn't hurt that she's only four foot eleven herself.) She loves to hear from parents how often their kids ask to go back to the dentist and, while she loves working with them as they transition from toddlers to teens, she has to laugh when one of her college-age patients is reluctant to leave the practice because they feel like this is their dental home.
Latest Dental Advancements
Much has changed in dentistry over the past 25 years. Dr. Rozas can now offer her young patients digital X-rays which greatly reduce radiation exposure while producing much more precise images, allowing her to detect and address cavities while they're much smaller and preserving more of the natural tooth structure. Intraoral cameras allow patients and their parents to see what Dr. Rozas sees in their mouths, making them an invaluable educational tool. The latest additions to her practice technology are a state-of-the-art CO-2 laser and a CBCT cone-beam machine. An avid learner, Dr. Rozas is committed to obtaining continuing education in her field — over and above that which is required of her — even leading a professional pediatric study group with other dentists.

Recognized by Her Peers
Dr. Rozas is often called upon to speak professionally in the dental community and to serve as a consultant for other private dental offices. Over the years, she has served as chairman of Greater Dallas Pediatric Dental Society, director of District V College of Diplomates / American Board of Pediatric Dentistry, president of Texas Academy of Pediatric Dentistry, and has served on the boards of Dallas County Dental Society and Texas Academy of Pediatric Dentistry. She's a member in good standing of American Laser Study Club, International Affiliation of Tongue-Tie Professionals, DFW Airway Collaborative, American Dental Association, and Texas Dental Association. Most recently, she completed her training and became an Ambassador for the Breathe Institute. She is also certified in CO2 soft tissue lasers.
Philanthropic Commitment
A firm believer in giving back to her community, Dr. Rozas sponsors school events, an annual Halloween cash-for-candy round-up, canned-food drives, and more. She sends her mascot, Sammy the Shark, into elementary schools and to community events, along with his smile guards (AKA staff members), to teach kids about oral hygiene in a fun way they won't soon forget.
Twenty-five years has flown by for Dr. Melissa Rozas. She's looking forward to many more years treating the children of Coppell and the surrounding communities in her fun, beach-themed pediatric dental practice. Find out more and take a virtual tour at RozasDDS.com.
---
CONTACT
632 East Sandy Lake Road
Coppell, Texas 75019
(972) 393-9779
RozasDDS.com