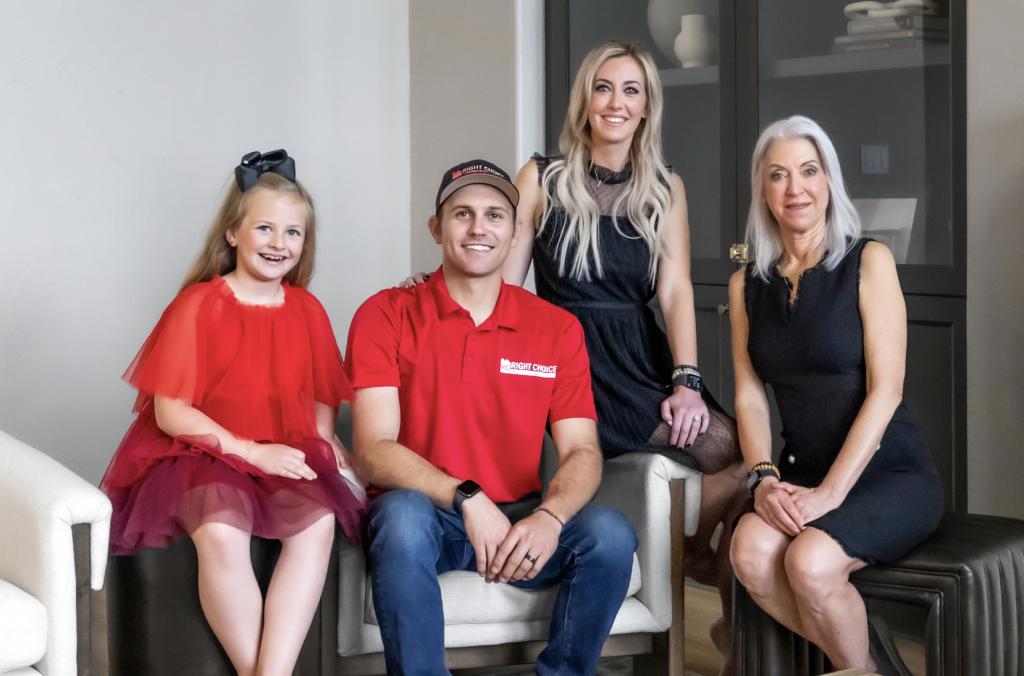 By
Kenny Richard Photography
---
When Chirag Patel and Naina Wasan needed a complete remodel of the downstairs of their home, they began asking around about a reputable construction company to take on the job. One name kept coming up, Right Choice Painting and Construction. They scheduled an initial consultation and laid their cards on the table. "From the beginning, we warned them that we are very detail-oriented," Naina said. They knew what they wanted and wouldn't settle for less.
They discussed everything from the big picture of the project — a complete remodel of the kitchen, living room, and stairs — to the smallest details of painting, installation of tile, new quartz countertops, carpet, luxury vinyl plank flooring, custom cabinets, new lighting, updated hardware, and more. Chirag and Naina were immediately pleased with the open communication and the high standards which Co-Owner Kyle Mederos held for himself and his team.
"The project was meticulously executed," Naina said. "Kyle communicated with us throughout the entire process in clear, concise ways which we could understand and responded immediately to any issues that arose. We even made some changes as we went
along, and each change was met with patience and understanding."
Anyone who has undergone a large construction project — or a small one, for that matter — knows how stressful construction can be. "The Right Choice team was able to streamline a very anxiety-provoking time by meeting deadlines, exceeding expectations, coming in on budget, and delivering quality workmanship," Chirag said. "Kyle and every other member of the team from demo, painting, electrical, plumbing, and install, all provided a wealth of experience and knowledge."
The phenomenal success of Right Choice Painting and Construction starts and ends with a commitment to honesty, reliability, and excellence. Those were the principles that first motivated founders, Jeff and Jan Adkinson, to begin a small painting company. And those principles are still maintained today.
Jordan Mederos started working for her parents part-time while she was in college and came on full-time after she graduated. A few years later, her then boyfriend, Kyle Mederos, joined the company with a dream of one day owning Right Choice. As Kyle worked his way up the ladder of Right Choice, he eventually accepted the role of director of operations. "Our philosophy has always been to approach every project as if we're working on our own home." Kyle said. "And our policy is to never leave a job until we know the homeowner is 100% satisfied. We always live by 'do the right thing, no matter what!'"
Kyle and Jordan Mederos, husband and wife team and owners of Right Choice, are the second generation to continue the Right Choice commitment of delivering what they promised and exceeding customer expectations.
Those values also continue to garner customer referrals. "Customers we have worked with in the past move and contact us to work on their new home," Jordan said. "They refer us to their family and friends and, as their children grow up and buy their own home, they call us too. We are grateful and humbled by every single customer referral."
When their repeat customers began requesting they do more than just paint, Right Choice expanded their business to include home remodeling. Today, on any given day, there are 50 to 60 people working on various Right Choice projects, ranging from simple painting to remodeling a kitchen or bathroom or even a whole house. In fact, since its inception, the Right Choice team has completed over 20,000 projects.
Quality work and uncompromising customer service have earned Right Choice over 100 awards and recognitions. Right Choice has also been honored by The Office of the Governor along with Texas Workforce Commission the State of Texas Small Business Champion. This award recognizes a small business who provides outstanding services, has dedication towards their business, and continually exceeding expectations. In addition, Right Choice has been selected as Business of the Year by the Coppell Chamber of Commerce.
Whether you want to remodel your kitchen and bathroom, freshen things up with a coat of paint, install new flooring, or undertake a complete home makeover, you can join thousands of your Flower Mound and Coppell neighbors who have trusted Right Choice Painting and Construction with their home project and are happy they did.
"We would highly recommend Right Choice to others," concluded Naina Wasan. "This is a family-run business and every member of the team who were part of transforming our home have become part of our family. Their open communication, respect, and pride in workmanship make Right Choice shine above and beyond current standards."
Request your free estimate at RightChoiceTexas.com.
Right Choice Painting and Construction offers excellence in:
Kitchen and bathroom remodeling

Granite and quartz countertops

Interior and exterior painting

Custom interior trim

Wood, tile, and laminate flooring and carpeting

Gutter installation

Window replacement

Free estimates

And so much more
---
Contact