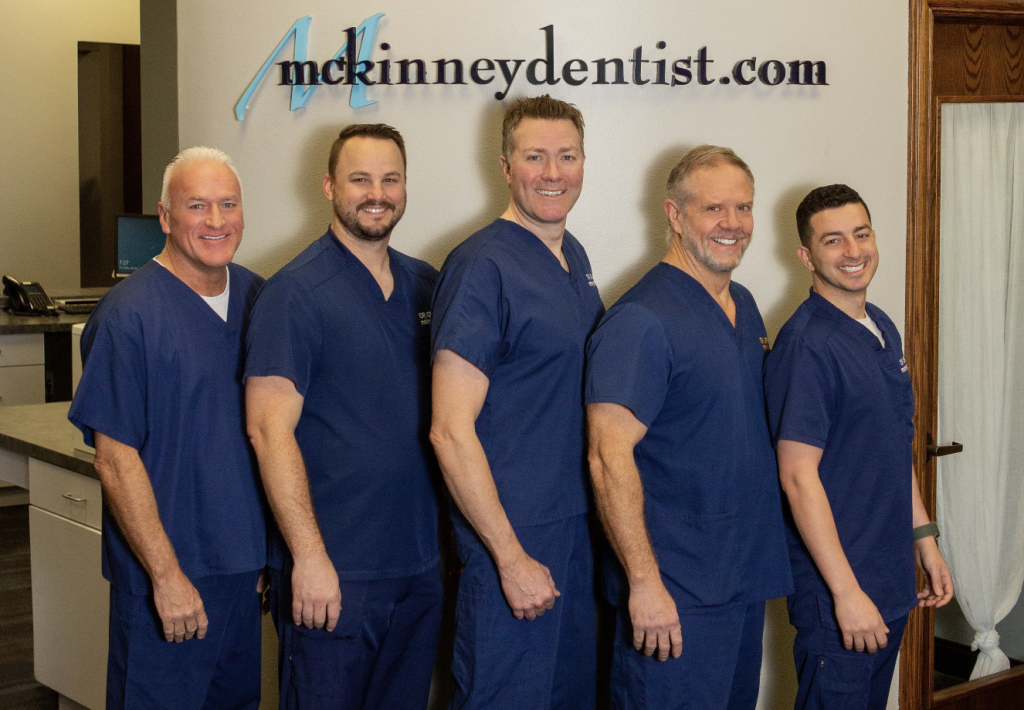 By Meredith Knight | Cover Photo by Millhouse
---
A dental home is a place where you're known by name and where all your dental needs are met under one roof. For hundreds of families in Greater McKinney — and beyond — that welcoming place is McKinneyDentist.com. This dynamic dental team consists of five experienced dentists, longtime practice administrator, Tosha Searls, and their seasoned team of dental hygienists and assistants providing the latest and greatest in dental technology and know-how. The internet overflows with enthusiastic reviews — over 1,600 of them — from families who've happily made McKinneyDentist.com their dental home. They use words like "kind, talented, patient, friendly, incomparable, accommodating, exceptional, compassionate"—even "da bomb."
As the practice has grown, each of the dentists has settled into his own niche. And though the five doctors often consult with each other, having each chosen their own unique focus area has allowed them to attain a breadth and depth of training and experience.
Marvin Berlin, DDS, FAGD
Now concentrating on cosmetic dentistry, Founding Dentist Dr. Berlin can take your smile from drab to fab with a cosmetic smile makeover, including porcelain veneers, cosmetic bonding, professional teeth whitening, and more. Dr. Berlin can upgrade your smile or create a whole new one. "Patients wanting a new smile can visit our website for a virtual smile consult, upload a selfie, and send it to me. I'll send them back a personalized video showing how we can upgrade their smile." Dr. Berlin can even create a temporary smile and let you "test drive" it for a few days.
Jeff Lynch, DDS
Dr. Lynch is concentrating on implants and surgery and has even dedicated a separate wing of McKinneyDentist.com 100% to oral surgery with spacious hospital suites and a board certified anesthesiologist on staff. "Dr. Lynch is one of the most gifted clinicians in the U.S.," Dr. Berlin said. "He's sought after as a mentor and teacher for dentists around the country and he has a unique gift for solving even the most difficult dental situations."
If you're missing teeth or wear dentures, Dr. Lynch can give you the freedom of a full set of strong, healthy teeth with permanent dental implants. Unlike other prosthetics, dental implants are individually secured into the jawbone. They promote jawbone retention and require no alteration of or support from surrounding teeth. You can have beautiful, fully functioning teeth, for a natural-looking smile again.
Esteem Dental Implants provide a full-arch attached bridge for a permanent solution to major dental problems. Dr. Lynch anchors the bridge to dental implants that replace your teeth, and you never take it out. Your full-arch bridge implant looks like naturally healthy teeth and gums but don't attract plaque and won't chip or break. You can eat and smile with confidence. And a five-year study, published in the Journal of Prosthetic Dentistry, showed them to have an over 99% success rate.
Anthony Callison, DDS
Dr. Callison is helping patients enjoy beautiful, healthy, fully functioning smiles — at any age — with Invisalign Clear Aligners. Properly aligned teeth not only look great and give you confidence, but they're easy to keep clean and less apt to break or wear down. Invisalign uses sets of plastic aligners Dr. Callison custom fits to your bite. Because he creates them using state-of-the-art iTero intraoral scanner, impressions are obtained instantaneously with no messy molds.
Your fully customized clear aligners are worn for 1-2 weeks at a time to shift your teeth into proper alignment, often in less time than traditional braces. As you advance through sets of aligners, your teeth are gradually adjusted without the soreness associated with traditional metal braces. And new digital orthodontic technology allows Dr. Callison to communicate with patients through an app to guide treatment and limit office visits to every 3-4 months, perfect for college students and those who travel. By the end of your treatment, you'll have beautiful straight teeth that boost your confidence, function properly, and are easier to keep clean. Dr. Callison also offers patients relief from TMJ pain with targeted Botox injections.
Kero Morkos, DDS
"Dr. Morkos is the millennial of the bunch," Dr. Berlin said. "He keeps us up to date with the latest digital dentistry, including advanced digital scanners." McKinneyDentist.com has invested in eight such scanners which enable the doctors to instantly show patients what they'd look like after Invisalign or after a cosmetic surgery procedure. "They also allow us to capture digital images for crowns or bridges without messy, goopy impression material. Instead of waiting for weeks for a case to go to the lab, we click a button and they have it immediately." Dr. Morkos also performs wisdom teeth extraction and places implants.
Trevor Madden, DDS
Drs. Madden and Morkos are super GPs concentrating on comprehensive restorative dentistry. They both remove wisdom teeth and perform other oral surgeries, as needed. "There's really nothing general about general dentistry," Dr. Berlin said. "Increasingly, research has shown that the same bacteria causing inflammation in the gums enters the body as a person swallows, producing inflammation in the major arteries and veins in the rest of the body — including the heart. Links have been established between gum disease and diabetes, Alzheimer's, heart disease, and other life-threatening conditions. It's more important than ever to stay on top of regular check-ups with a qualified dentist like Dr. Morkos or Dr. Madden." Dr. Madden also provides treatment to local disabled veterans with prior VA authorization. It's a blessing for him to serve local men and women who have served us so well.
With all these dental offerings under one roof, not only do the doctors have a built-in second opinion but your family can receive all your dental care at a practice where you're already comfortable. It's no wonder generations of McKinney families have chosen McKinneyDentist.com as their dental home.
---
CONTACT
1760 West Virginia Street, Suite 100, McKinney, Texas 75069
(972) 54-SMILE (972-547-6453) | McKinneyDentist.com