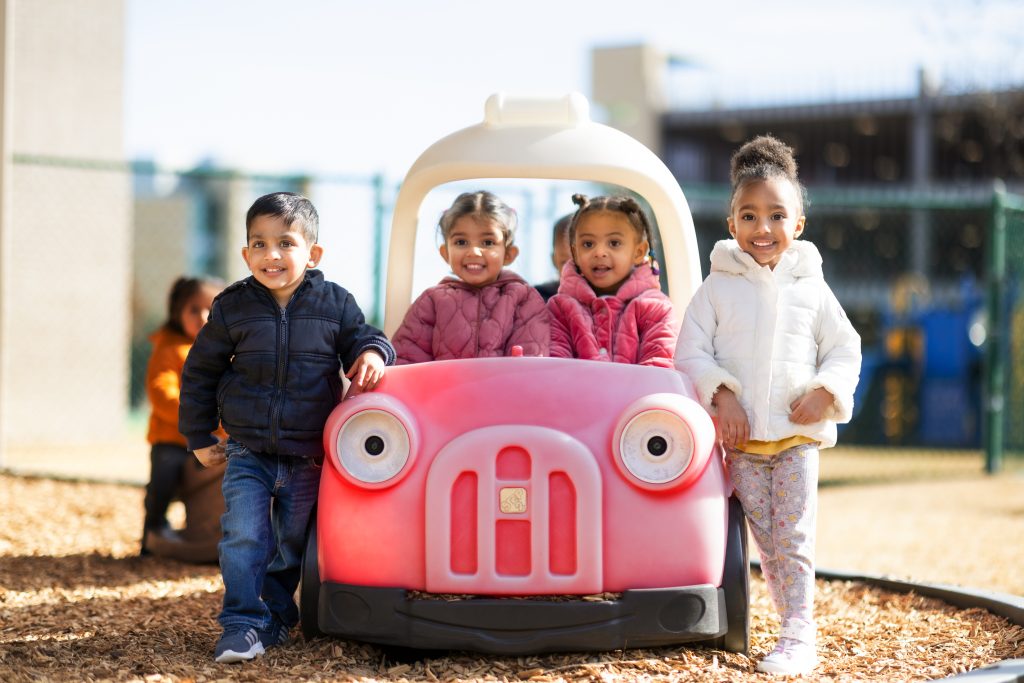 By
Melissa Gautier
| Photos by
Kenny Richard Photography
---
TLC Schools could possibly be the best decision parents ever make concerning their child's care and education. For the past 25 years, their award-winning childcare and preschool facility has continued its tradition and commitment to excellence, giving children an exceptional start to learning and development in a loving, safe environment. Outstanding degreed teachers lead children in 21 active classrooms, offering an engaging curriculum with a multitude of educational opportunities. With fun and adventurous field trips, music enrichment, dramatic play, and activities children love, parents have discovered why TLC Schools continues to shine as an exemplary childcare and preschool.
TLC provides a top-quality educational foundation for children with a small, hometown feel. Like an extended family, children are loved and nurtured under the guidance of the trustworthy staff. Parents leave their worries behind, knowing their children are in the care of compassionate professionals who are parents themselves. Teachers share experienced insight with new moms, offering helpful suggestions to confirm their capabilities and enrich their enjoyment as parents. At the same time, they eagerly welcome and guide returning students on their exciting path to growth and learning.
Teacher Tenure and the TLC Difference
The remarkable longevity of TLC's credentialed teachers has a positive impact on children and their parents. TLC's director, Angela Morgan, has been in the education field for more than 25 years and has been with TLC since its beginning in 1997. Her knowledge, industry experience, and leadership provide TLC with the competitive edge to excel above other learning centers. Assistant Director Natalie Ross has been with TLC for 14 years. "Our strong, well-rounded academic program elevated our success and recognition as an award-winning childcare and preschool," she says.
Programs from Infant to Pre-K
Each TLC program provides a competitive edge for children beginning as early as six weeks of age and up to five years old. "We give these children such a phenomenal start with programs that build a strong foundation for school readiness," Angela says. Specialized programs include Infant, Toddler, Early Preschool (two-year-olds), Preschool (three-year-olds), and Pre-K. A stimulating curriculum with lesson plans and goals is created for each class' age group.
"One of the contributing elements to our success is the fact that each department has leadership in place to train new teachers," Angela explains. A long-term teacher will help guide and train a new teacher until they're comfortable to be on their own in the classroom. Each long-term teacher has years of expertise in their field, most having been employed by TLC for 14-20 years. This longevity allows them skilled perception in identifying a child's unique personality and tailoring the learning experience to their needs. The low student-to-teacher ratio helps facilitate personalized instruction. "We invest in our teachers, supporting them both professionally and academically," Angela adds. "If they want to gain a higher level of education, we support them in that endeavor."
After-School Program
The TLC After-School Program offers school-aged children a fun, safe environment to spend their afternoons until parents leave work to pick them up. Students receive a healthy snack and can complete their homework in a quiet environment before engaging in various indoor and outdoor games, enrichment activities, arts and crafts, and science projects. Teachers help with homework when needed and help children study for spelling tests. Insight is provided for helping them solve problems on their own, stepping in to give extra assistance when needed. Bus service is provided from students' schools to the After-School Program in Plano.
Camp TLC
Camp TLC was created for Summer Camps, Holiday Camps (mini day camps during the holiday season), and Teacher In-Service Days. Each camp is centered around fun activities, fantastic field trips to exciting Metroplex locations, and enriched learning experiences to solidify and improve children's fundamentals.
"Word of mouth has always been our strongest factor for referrals," Angela says. "We've created a nurturing community of students, parents, and families to thrive in. Prospective students' parents that visit and tour our facility always comment on the welcoming nature of our staff and the teachers' happy moods." Both Angela and Natalie have heard from families that they will continue to commute to TLC even if they have to move because it's such a great environment for their child.
Health Safety and Security
The health and safety of TLC's students, families, and staff is always top priority. "We're close with all of our parents and have created a place where they feel safe and comfortable," Natalie says. A state-of-the-art security and video camera system is in place and accessible to all parents. Health safety is addressed by utilizing the hospital-grade ZONO disinfecting and sanitization system, killing 99.99% of viruses on non-porous surfaces such as toys. This system adds an additional layer of protection on top of the meticulous cleaning and disinfecting that is already done on a routine basis.
Infant program

Toddler program

Two-year-old program

Three-year-old program

Pre-K program

After-school program

Summer camp program

Healthy, nutritious meals

Spanish curriculum

Computer rooms

Dramatic playroom

State-of-the-art security system

Parent-accessible video cam system

Age-appropriate playgrounds
For more detailed information on educational and after-school programs, or to tour TLC Schools, please visit their website or contact the school directly.
"We feel our children's level of education, maturity, and love of learning has been strongly influenced and molded by the TLC team. Your curriculum, small class size, developmental focus, and highly trained teaching staff make you the premier environment for parents who want the best. Your entire staff was involved in developing our children and we are grateful for your team!"
– Greg and Rachel, parents of a TLC student
Voted Best Of in Living Magazine for:
Early Education
2015, 2020, 2022
Childcare
2014, 2020, 2022
Summer Camp
2013, 2017-2019
---
Contact
5200 Hedgcoxe Road
Plano, Texas 75024
(214) 473-0167
TLCSchools.com