Years ago, Steven Curtis Chapman composed a song entitled, "For The Sake of the Call." One line in the chorus said, "We will abandon it all, for the sake of the call." In 1943, that's exactly what a dedicated young couple, Milford and Eleanor Howell, chose to do. As newlyweds they packed their bags, said goodbye to family and friends, and moved to West Africa as Baptist missionaries.
Upon their arrival in Eku, Nigeria, Milford began to share the gospel with many who had never heard the good news. Eleanor, a nurse, began a small clinic to care for the sick and dying in the small, remote village. They lived, worked, taught, and played among the people of Eku who became their family for 21 years. The Howells' daughter, Mary Kay, was born in Nigeria and grew up in the jungles and villages surrounding Eku until she returned to the United States for schooling at age 16.
This past November, I had the opportunity to travel to Eku with a mission team led by Mary Kay and her husband, Fred. I witnessed first-hand the ongoing work of the Howells that has continued over 70 years. The First Baptist Church started by Milford planted seeds of faith which multiplied into many more churches. The 2-room clinic begun by Eleanor grew into a successful hospital.
Tens of thousands, and maybe even millions of lives have been touched, healed, and saved through the loving obedience of one young couple who said "yes" to the call. The legacy they began has continued through Mary Kay and Fred Posey, who established Walking in Love Ministries in 2005 as a non-profit organization dedicated to meeting the needs in Eku, but they have barely scratched the surface.
The trip was life-changing. My priorities and perspectives were indelibly altered. Imagine people with dire needs fueled by abject poverty and no ability to do anything to change their circumstances.
My heart was broken by my visit to Shepherd Care Orphanage and Widow Center. There is no electricity and no running water; the nights are very dark and the days very hot. Two dozen children reside there, with over 200 others receiving sustenance. Another 132 widows receive rice and beans each month, but many more orphans and widows need assistance. Widows are disowned if they have no farm or job. Many die of neglect and starvation. The provisions offered through Walking in Love and others can be the difference between life and death for so many.
The emotional pain the widows and orphans have experienced is beyond belief. I met three young boys who were found sitting on a roadside in their mother's blood. She had been killed in a tragic accident right in front of them. These brothers now live at the orphanage and attend the Christian school.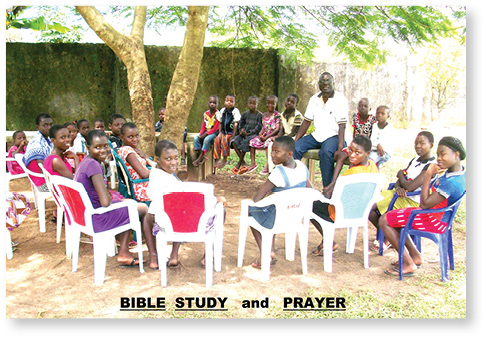 Pastor Richard Obarorakpor of Eku oversees the outreach, and has become a trusted partner and friend to the Poseys. He was labeled a "throw-away baby" when, as an infant, he contracted polio. Pastor Richard was rescued from certain death, and has made it his life's mission to begin and support an orphanage for his people. While at Shepherd's Care, my heart was full of gratitude, as they were indeed fulfilling the scripture from James 1:27: "What God the Father considers to be pure and genuine religion is this: to take care of orphans and widows in their suffering…" (GNB).
I will never forget the outreach to the leper colony on the outskirts of Eku. Leprosy is still an active disease in many parts of Africa as the required antibiotics are not readily available. Great dread and fear still surrounds the disease. Therefore, those affected, as well as their whole family, are relegated to a compound away from town and considered "untouchable." Families live in pitiful one room concrete dwellings or "lean-tos" made of sticks and ragged cloth. They have very little food and water. The day we visited we met a woman who hadn't eaten for four days. Children in the colonies are given no opportunity for education.
The conditions in Eku, Nigeria, are unimaginable. Resources are desperately needed to provide clean water, food, shelter, medical care, and education. In the past three years, 23 water wells have been supplied through Walking in Love Ministries, but at least 30 more are needed to serve the 300,000 people living within a thirty-mile radius. Every day, 2000 babies die in Africa from diarrhea and water related diseases. This statistic is only a number to us, but for the Nigerian mommies I met, this is reality—their babies are daily at risk of deadly disease and there are few resources to offer hope.
Although you may not be called to Africa in the same way the Howells and the Poseys were, you may be called to respond to these desperate needs in other ways. It is always God's desire to provide for His children, and right now the situation in Eku is grim. Men, women, and children are suffering and dying, and unfortunately, no government assistance is available.
The Poseys' website, www.acalltoafrica.com, gives a number of options for financial support, including corporate, church, or individual sponsorship. A gift of $35 per month will provide food, clothing, and education for a child for an entire year. All donations are tax deductible, and giving is made simple for those whose hearts may be moved to help.
I don't know if I will ever return to Eku, but a little piece of my heart remains there. I will never forget the liquid brown eyes of the orphans, the hovels of the lepers, and the bright beautiful smiles of those who have very little of earthly value, but possess a joy that can only come from heaven. Distance won't limit the impact this trip made on my life, and it won't limit the impact we can all make in many lives with little sacrifice on our part. The opportunity exists—and "the call" is to all.
By Janet Kennedy