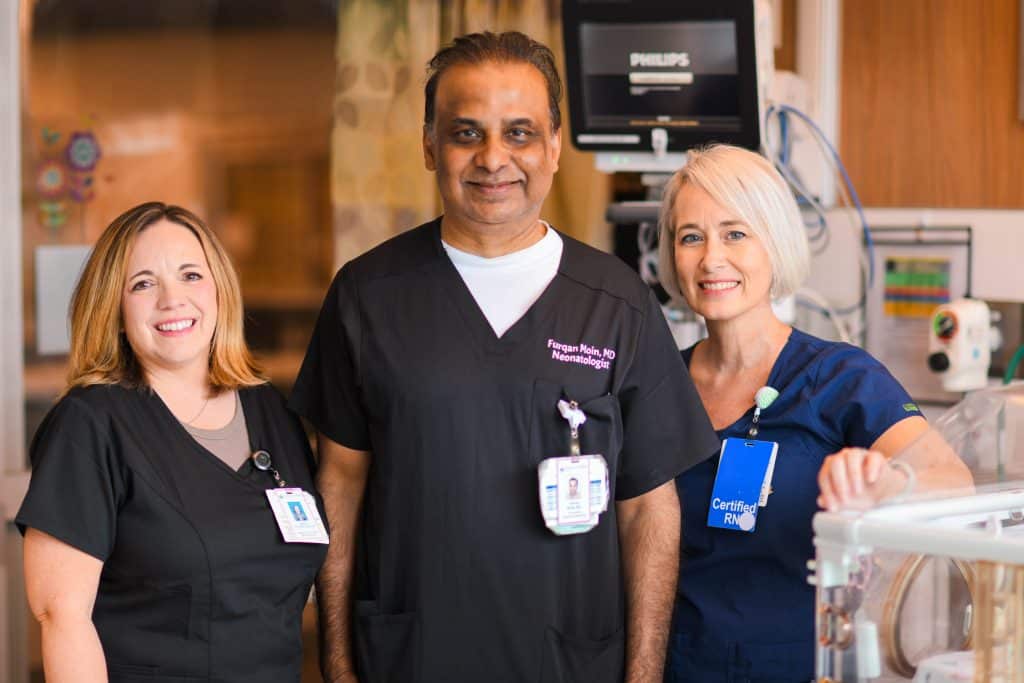 By Cheryl Ricer | Photo by Michelle Thurgood Photography
---
When an expectant mother is preparing to give birth, emotions run high. The mom and dad, the grandparents, and even the extended family wait excitedly for the special day. For most families, the birthday sequence is well-rehearsed, and everyone is well-prepared to welcome the bundle of joy with open arms. However, for some families, things don't go as planned, and the special day suddenly requires doctors and nurses who have special skills to care for a baby who may have been born prematurely or with unexpected complications. If this situation arises, reassurance is close at hand with a Baylor Scott & White Medical Center – Lake Pointe Level III Neonatal Intensive Care Unit (NICU) facility nearby.
"The day a baby is born can be tricky," explains Dr. Furqan Moin, medical director of Newborn Services and Obstetrics on the medical staff at Baylor Scott & White – Lake Pointe's NICU. "A lot can happen. When a baby is inside of the mom, the mom is breathing for the baby and using her cardiovascular system. Extra-uterine transition occurs at birth and sometimes the baby experiences problems."
Some issues that may occur include prematurity, difficulty breathing, jaundice, low blood sugar, or infection, which require close monitoring, therapy, IV fluid, and more. These babies need a NICU for observation, support, and treatment. Expectant parents in the area can be comforted by the knowledge that the Baylor Scott White – Lake Pointe NICU is a state-designated Level III NICU.
So why is the Level III designation an important one?
There is a distinct difference between a Level II and a Level III NICU facility. Both are designated by the state based on predetermined criteria. A Level II facility can offer care limited to babies born at 32 weeks or more and a birth weight of 1500 grams (3 lbs. 3 oz.) or more. These newborns must be more stable and cannot require assisted breathing longer than 24 hours. A Level III designated NICU can care for babies born at 23 weeks gestation and above, some weighing less than 500 grams (1 lb. 1 oz.). When emergencies happen and the baby must be delivered quickly, parents can rest easy knowing Level III NICU staff have the added skill set to expertly care for their babies.
"When taking care of sick babies," explains Dr. Moin, "the state requires a level of infrastructure that allows for timely treatment. For example, should an X-ray, lab work, or access to blood transfusions be required, the hospital must be able to quickly provide those services. Our physicians are board certified in neonatal and perinatal medicine and have completed a fellowship in neonatology. We have a robust quality improvement system that examines all the departments in our facility to ensure that we are always providing the highest quality care based on evidence-based practice. We have monthly quality assurance meetings, so we can ensure we are upholding these high standards of care."
Another important element Baylor Scott & White – Lake Pointe provides is access to a maternal fetal medicine (MFM) physician. At the Baylor Scott & White – Lake Pointe NICU, the MFM physicians on the medical staff take care of moms with high risk needs when an obstetrician seeks their advice. When there are medical issues during pregnancy, the MFM physician helps coordinate a plan of care to support a favorable outcome for both mom and baby.
If circumstances demand a NICU, it's important to have a Level III facility close by.
"Every NICU baby is different, and the stay can be as short as a couple of days, to as long as a couple of months," said Kristi Downing, neonatal nurse practitioner (NNP). "The common denominator for each NICU baby is that at some point every mother must leave their baby with the NICU staff. Visiting their newborn in the NICU can be a huge stressor if the parents live far. Having the Baylor Scott & White – Lake Pointe NICU close by significantly lessens the stress on the family."
"The Baylor Scott & White – Lake Pointe NICU provides private rooms for parents to interact and bond with their baby," said NICU Nurse Manager Aimee Pratt, BSN, RNC-NIC. The family is also supported with access to lactation and occupational therapy. Additionally, case management provides families with the resources they need while their baby is in the NICU through discharge."
Exceptional family support is a cornerstone at Baylor Scott & White – Lake Pointe. From the time parents enter labor and delivery until discharge, the priority is to create strong family bonds. Parents are invited to attend caregiver rounds where they are updated daily on their baby's progress. If parents are unable to attend, the physician will call the family every day to give updates.
Once babies are ready to "graduate" and go home, a bonding room is available. The parents stay overnight and take care of their baby with the assurance that nurses are close by for support. "While here, we provide a level of care that only a Level III NICU can provide, and it's this level of care that enables our babies and their families to become part of our NICU family," said Aimee Pratt, RNC-NIC.
For more information, visit BSWHealth.com/LakePointe or call (972) 520-8005.
---
CONTACT
6800 Scenic Drive
Rowlett, Texas 75088
(972) 520-8005
bswhealth.com/locations/lake-pointe-hospital
---