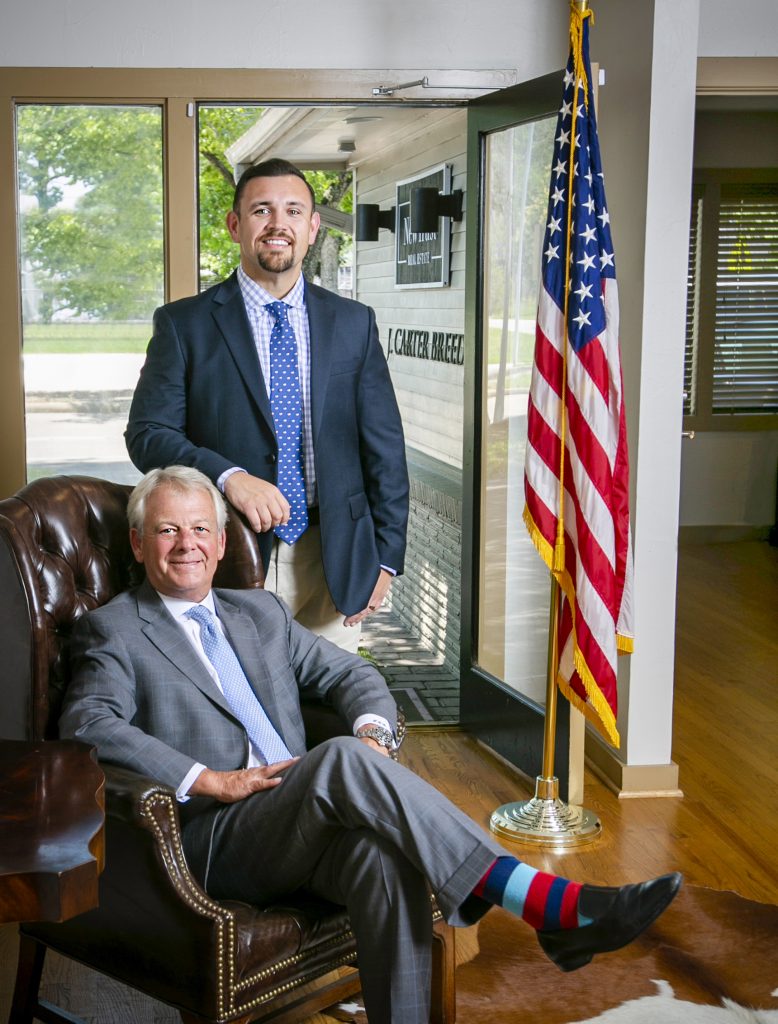 ""As long as we're serving our clients and giving them as much information as possible, then we are doing our job."
– Chris Stelly
Photos by
Kelley Sweet Photography
---
The pandemic kicked home prices higher than ever before, so is buying a home still a good financial decision? According to NewTrust Real Estate, formerly J Carter Breed Properties, absolutely. The team works primarily in Houston's Spring Branch and Memorial area, but knows the city like the back of their hand. J Carter Breed built his name in real estate over the past 30 years and strongly believes in real estate as a wealth-building tool over the long run.
He has the market analytics to back it up. Part and parcel of that is the detailed information provided to clients selling homes. Sellers with NewTrust Real Estate get a bird's eye view of the market through detailed statistical reports on homes sold in their area, size of the homes, number of bedrooms and baths, and high, low, and average price per square foot. Understanding where their house falls in the market is key.
NewTrust Real Estate realtor Chris Stelly believes in home ownership so much, he confesses a surprising bit of advice. When homeowners ask him if they should sell their house or lease it and buy the other one, "Even if it hurts my business, I say keep it and build wealth and equity. I make money when I sell houses, but I tell them to keep it."
Creative, Dedicated Team
A former oil and gas worker, Stelly likes finding unique ways to make property work, turning land and housing into an investment. Real estate steadily appreciates three to four percent every year, explained Stelly. As such, it presents a creative way to save and pay for college.
"Buy your kids an investment house and sell that house when they turn 18," he says. "That's a great payoff when they're older.'
Ultimately, NewTrust Real Estate's community-oriented approach is one Stelly says he learned from Breed himself.
"As long as we're serving our clients and giving them as much information as possible, then we are doing our job, " said Stelly. The honorable and transparent philosophy for client service guides the team's day from start to finish. The younger agent even confides
that forgetting any detail that could impact the client's bottom line will pull him up from bed in the middle of the night to send off an informative email. Commitment to client welfare is something neither he nor NewTrust Real Estate will falter on in any area of the business. Having a diverse base from which to serve, helps them see the terrain the way clients do.
Carter has three pockets of business, explained Kris, Breed's wife. "One is finding and selling a home, one is the investment side, and one is the management. That started years ago when he'd help people buy a home. Then they would say 'My oil company is transferring me overseas for a couple of years. It's only a two-year assignment, and I want to come back to this house.' He would manage it for them, inspect it, keep it maintained, and really take care of the home."
Breed agrees that his management team works both for homeowners and other types of property holders, skillfully and concisely explaining the financial path towards investing in property when we spoke on the phone.
Home Turf Advantage
Both Houston natives, Breed and Stelly knowledgeably explain both the city layout and the points of interest for families looking to put down roots, crucial for those who may not know the city or where to find the best new home.
Says Stelly, "East is heavy industrial ship channel and chemical plants. Downtown is urban living, and further west were the original suburbs. A lot of those homes started holding value. Once you get outside the beltway you have more new builds."
Drilling down further into specifics of the Memorial and Spring Branch areas, adds J Carter Breed, "Memorial is bisected. West Memorial and Memorial Villages are east and run along Memorial Drive, which is an east-west street. A very big driver for the area is the trees, schools, and the community. West Memorial is basically served primarily by Stratford High School. East Memorial is served by Memorial high school. Prices have continued to grow in those areas forever. The Spring Branch Independent School District is a big driver for our area."
Breed himself grew up in the Memorial area and attended Stratford High School too.
Giving Back
Breed also served as a former trustee for Spring Branch Independent School District until a year ago.
"I had a great childhood, so I wanted to move back into the area and have my kids have the same experience. That's why I gave back and that's why I wanted to serve on the school board," said Breed.
Driving career and technical education was a huge part of Breed's time on the school board, but he credits the leadership and teachers in place before, during, and after his time on the board with ensuring the bond money approved for career training was well spent. In part because of Breed's efforts, students in the district have access to training in "everything from business classes, to engineering, to cosmetology, farming and agricultural areas of business, computer science, culinary programs, and many others."
From NewTrust Real Estate's perspective, when one person succeeds, we all do. Ushering in that success with service at all levels, from school board involvement, commitment to transparency, knowledge of Houston, and looking out for the best deals for clients is all part of the package.
NewTrust Real Estate will soon widen their net, advertising client home sales through marketing which skillfully utilizes social media tools to get their clients the best buyers.
"Depending on client needs, we are here to help guide them," said Breed. With NewTrust Real Estate, he will expand his reach while keeping the same community-building approach to Houston real estate.
---
CONTACT
7413 Westview Drive
Houston, Texas 77055
NewTrustRE.com
(713) 482-2222
[email protected]