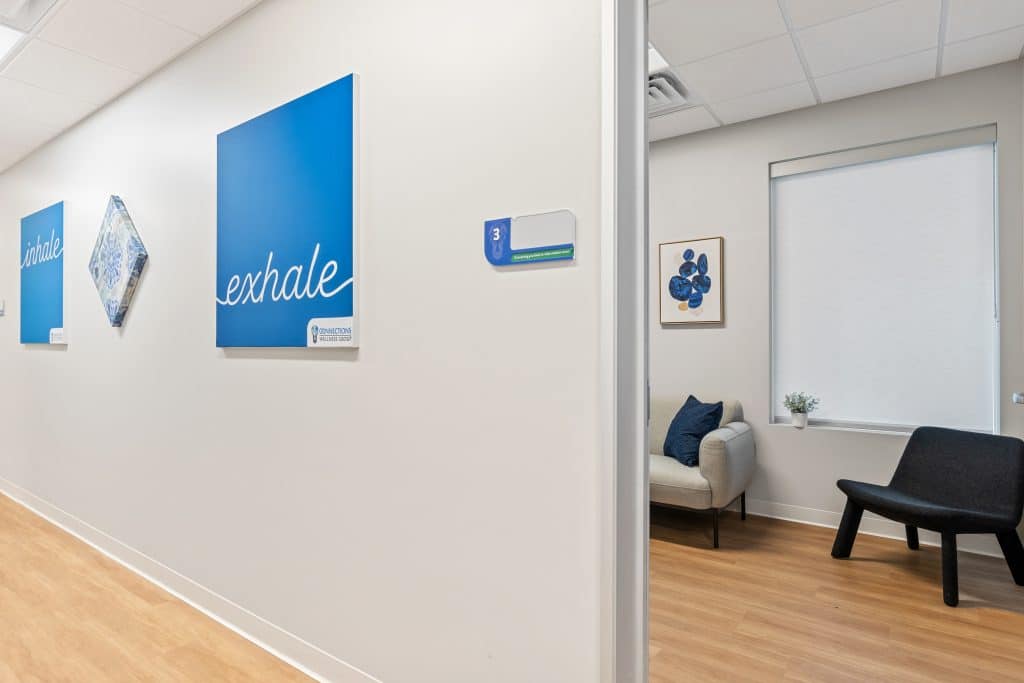 By Annette Brooks | Photo by Kenny Richard Photography
---
Are you or a loved one struggling with anxiety, depression, substance abuse, an eating disorder, self-harm, grief, loss, or trauma and wondering where to turn? Award-winning Connections Wellness Group is here to help.
Serving Texas since 2018, Connections Wellness Group sets the bar for life-enhancing, personalized, cost-effective mental health solutions. Their innovative, integrated treatment model features a dynamic team of mental health professionals in the Prosper location that includes licensed therapists and counselors, a psychiatrist, and a teacher.
"We opened our new Prosper office in April of this year, and the response has been incredibly positive," says Clinical Director Heather Aje, MA, LPC, CCTP. "The community is supportive, and we've received great feedback from our clients and their families."
People reach out to Connections Wellness Group when they're struggling with a mental health issue, but Heather says they often help people who just don't feel like themselves. "You may be having a difficult time day to day and don't know why, or perhaps you're dealing with all the adjustments that come with moving to a new area," she shares.
Multiple Levels of Care from Professional, Caring Providers
The Prosper office provides individual, group, and family therapy and counseling by licensed therapists for youth and adults, as well as psychiatry and medication management, all under one roof. The therapists and psychiatrist collaborate to create customized treatment plans designed to best meet each client's unique needs.
"Our treatment plans include goals," Heather explains. "We measure progress, and when necessary, make adjustments to help connect our clients back to being the person they want to be."
Connections Wellness Group in Prosper also offers onsite IOP (intensive outpatient program) and PHP (partial hospitalization program) structured group programs for youth and adults. PHPs meet five days a week for 6-8 weeks. IOPs are held five days per week for 4-6 weeks. Adolescent groups include two hours of education a day, so students continue to earn school credits while they participate. Please call (972) 600-1214 for more detailed information about these innovative group programs.
"Parenting a child with mental health issues can be difficult and draining and finding your way through the mental health system can be challenging and confusing. We want parents to know they don't have to have all the answers or try navigating this on their own. Let us help you and your child," Heather says.
Start on Your Journey to Wellness and Recovery
Call today to schedule a complimentary screening. Connections Wellness Group is in-network with all major insurance companies and Tricare. The practice has locations run by licensed health professionals in Prosper, Arlington, Denton, Flower Mound, Frisco, Keller, Mansfield, McKinney, Plano, Rockwall, Southlake, and Willow Park. Visit ConnectionsWellnessGroup.com for more information.
Therapy and counseling

Psychiatry

Medication management

Youth PHP and IOP – ages 13 to 18

Adult PHP and IOP – ages 18 and Up

Telehealth mental health services
* IOP (Intensive Outpatient Program)
* PHP (Partial Hospitalization Program)
---
CONTACT
130 South Preston Road, Suite 30
Prosper, Texas 75078
(972) 600-1214
ConnectionsWellnessGroup.com/prosper
---