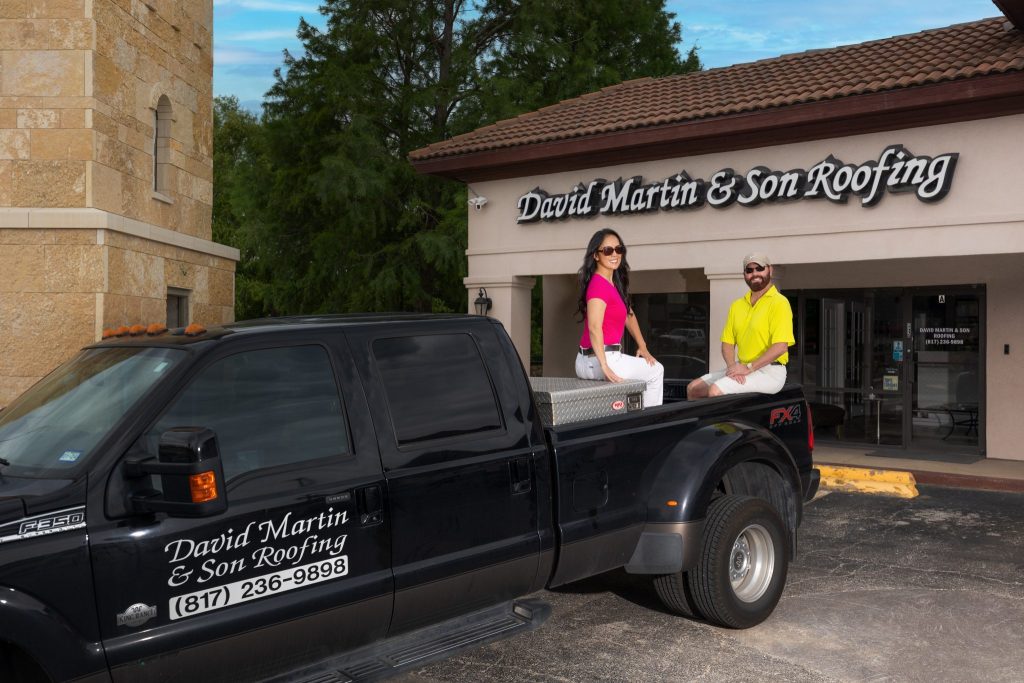 "Came out at the agreed time and completed the work on time while cleaning up after he was finished. A very dependable Contractor who stands behind his work. I would recommend him to anyone looking for a new roof or to repair a roof at a reasonable price."
– William C.
By
Meredith Knight |
Photos by
Kenny Richard Photography
---
When a company is consistently voted best in their field and the internet is brimming with their five-star reviews, you know they're doing something right. Jennifer and David Martin are humbled and honored by all the accolades and praise. But to them, it's just the way business should be done. In a profession where a few bad operators can quickly sully the name of the whole industry, the Martins operate David Martin & Son Roofing on a simple principle — treat every roof and every home the way they'd want their own home and roof to be treated.
When the phone rings at their family-owned and operated roofing company, they consider whoever is on the other end of the line the most important person they'll talk to that day. Rather than trying to be all things to all people, they concentrate on roof replacement and roof repair and on offering both with integrity, trust, and strong personal relationships.
After 27 years, those high standards have meant that most of their business now comes through referrals or returning customers. Here's what one satisfied customer wrote in a five-star review:
"I've never had such professional, kind, caring, thorough, meticulous contractors. From start to finish, David and Jennifer Martin know exactly how to take care of their clients and how to do everything, from roofing to restoration to maintenance. They communicate daily and their employees are also highly professional. They are the best!"
Even with thousands of roofs under their belt — on homes of all sizes — the Martins never want to take their success for granted. "We're only as good as the last roof we've installed or repaired," Jennifer said. "David and I live in this community. Our customers are also our neighbors and friends. We want to do right by them — every time."
For the Martins, it's never about speed but about quality. "If we were to race another roofer and all you're looking at is how fast can you get a roof done, we'd probably lose," Jennifer laughed. "We're more interested in quality and attention to detail — every detail. A few years ago, an insurance adjuster asked David, 'How many salesmen do you have?' David told him, '10, one on every street. They're the satisfied customers whose roofs we've worked on.' Our reputation and our record of honest dealings is what 'sells' us to the public." It's been a winning formula, as happy homeowners tell their neighbors, family members, and friends about the roofing company they've learned to trust.
Another five-star reviewer had this to say:
"David Martin & Son Roofing is my roofing company. I've known them for over 20 years, and they've assisted me in several roofs over those years. They always come through with my best interest at heart. They truly are concerned that the job is done right and done on time. I highly recommend them. David Martin has always been there when we needed them!"
In a day when many construction companies seem to be fly-by-night, David Martin & Son Roofing is here for you today and here for you, long after your roof is installed or repaired. It's no wonder families call them again and again, when they have a roofing issue. And their years in business mean they have healthy working relationships with manufacturers, distributors, and insurance companies who've worked with them and trusted them for decades. In fact, insurance companies often call on David as an expert in evaluating disputed claims.
"Like any industry, insurance companies talk," Jennifer said. "They know the reputation of local roofing companies. They know who's a storm chaser and who's a solid, honest businessperson. With the reputation David has earned over 27 years, we're seeing fewer and fewer denials on claims when we're involved. These companies know David and know, if he says work needs to be done, it needs to be done."
Whether they're working on a multimillion-dollar mansion or a modest family home, quality workmanship and attention to detail is the hallmark of David Martin & Son Roofing. They've worked with the same subcontractors for years. The team gives the same attention to roof repairs. It's for reasons like this that David was inducted into the Prestigious Marquis Who's Who in America in 2021. Jennifer was inducted in 2022 and also named 2023 Marquis Who's Who of Professional Women.
As the Martins drive around their community, they can easily point out the roofs they've installed or repaired. In fact, in one local neighborhood of 100 homes, they've worked on 55 of the roofs, 10 of them twice. Ask them for references you can call, and they'll happily give you pages of them. Call a few up and you'll surely hear about the family-owned and operated roofing company that treats their customers right. Find out more and browse a gallery of their work at DavidMartinandSonRoofing.com.
First believers in giving back to the community, David Martin & Son Roofing sponsors local schools and many nonprofits including:
American Heart Association

Juvenile Diabetes Research Foundation

Keep Colleyville Adopt-a-Street

Grapevine High School Cheerleaders

Colleyville Women's Club Holiday Home Tour

Save Eagle Mountain Lake

Colleyville Heritage High School

And more
---
CONTACT
5200 Colleyville Boulevard, Suite A
Colleyville, Texas
(817) 236-9898
DavidMartinandSonRoofing.com