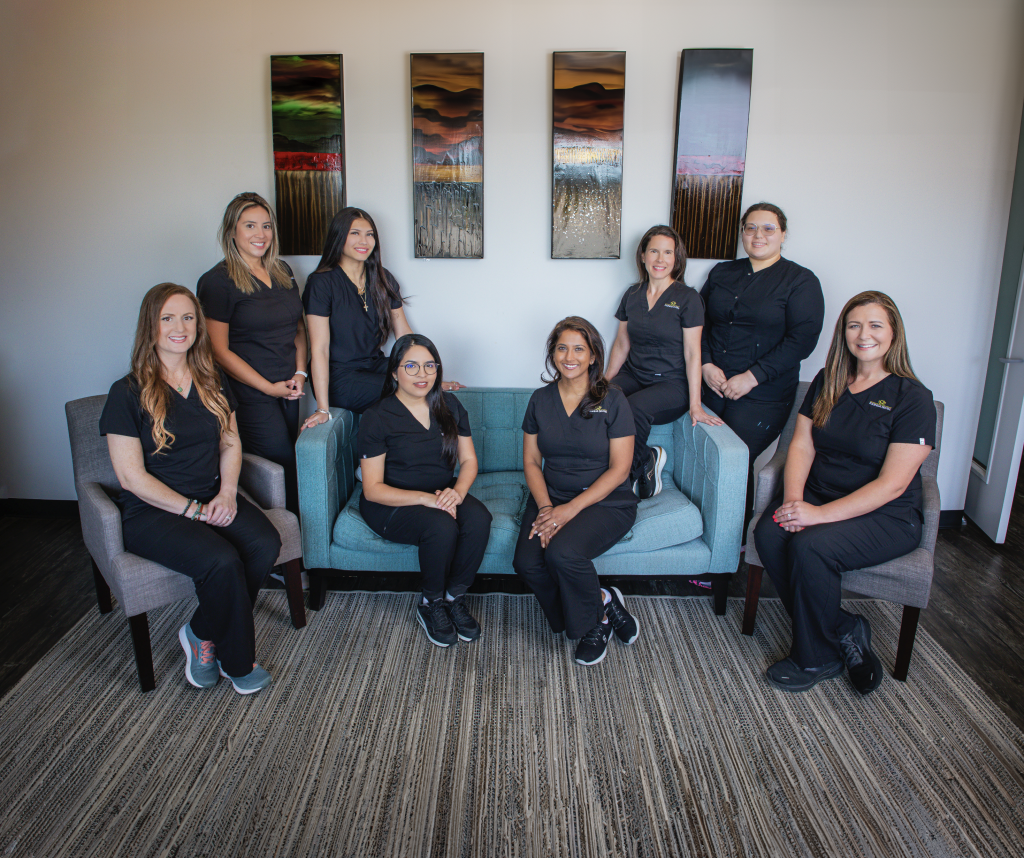 By
Melissa Gautier
|
Photos by
Candor Pictures
---
Fulshear Dental's Dr. Aekta Fifadara is thrilled with the addition of her newest team member. A familiar face in the office for several years, Dr. Kiran Makhnejia, also known as "Dr. Mak," observed and shadowed Dr. Fifadara while she was enrolled in dental school. Now a full-fledged team member since her graduation, Dr. Mak has seamlessly integrated her knowledge, skill, and fresh perspective to Fulshear Dental's popular practice.

A Dynamic Duo
"Dr. Mak joined our practice one year ago and has been an invaluable addition to our staff," Dr. Fifadara said. "She's a phenomenal associate." Raised in Katy, Dr. Mak discovered her passion for dentistry as a student at The University of Texas at Austin, where she earned a Bachelor of Science in biochemistry with high honors. While in college, she served on a mission to Nicaragua, witnessing firsthand how the lack of dental care in rural communities has impacted those individuals. After members of the Nicaraguan community received professional dental care, she saw how it improved their lives, igniting her passion and setting her career journey in motion. She went on to receive her Doctorate in Dental Surgery at The University of Texas School of Dentistry at Houston, where she participated in research, clinical humanities, and received extensive training in digital and cosmetic dentistry.
Achieving Patients' Objectives with Tailored Services
Dr. Mak's education and modern training is the perfect complement to Dr. Fifadara's top-tier clinical skill, honed and refined over many years. Together, this dynamic duo offers the Fulshear and Katy communities a clear advantage when it comes to providing excellent oral health and smile transformations. Dr. Fifadara has gained invaluable experience throughout her career in a wide range of dental specialties: periodontal therapy, tooth extractions, root canal therapy, dentures, gum contouring and crown lengthening, dental crowns, and metal-free, tooth-colored restorations and fillings. Dr. Mak performs most of the same procedures, focusing on restorative, teeth whitening, and cosmetic dentistry. Both perform routine dental exams and cleanings and take special care in devising treatment plans tailored to each patient's needs. "We provide an array of services because every smile and every patient is different," Dr. Fifadara explains. The addition of Dr. Mak to the team has also provided patients with more available appointment times and extended office hours.
Incorporating Innovative Technology
Dr. Fifadara has always planned to steadily integrate more state-of-the-art technology to her practice. As a contemporary dental school graduate, Dr. Mak is accomplished in the latest technological advances in dentistry, providing a great advantage to the patients and the practice.
Fulshear Dental has acquired the revolutionary iTero intraoral scanner for restorative and orthodontic treatment. It replaces the gooey impressions process with an innovative hand-held device that offers a cutting-edge full-mouth scan of your teeth. Great for restorative work, Invisalign clear liners, and night guards, it provides an accurate, digital image with quick turnover time. Used for Invisalign, the iTero scanner shows the patient a before and after image simulation to see what they would potentially look like after treatment is completed.
Night guards help save the teeth from damage. The iTero scanner reveals how patients are biting, where they're grinding, and the teeth's hard impact areas. It's helpful in visualizing what is actually taking place when they clench, bite, and grind. Grinding and clenching can damage teeth over time with recession being one of the major signs. "Most patients don't even realize they're doing it," Dr. Fifadara said.
A Solid Team
Providing dentistry with compassion and heart has always been at the core of Fulshear Dental. Dr. Fifadara's staff is pivotal in creating an environment where patients feel appreciated and welcomed. She strives to meet the demands of her community, continually expanding her team to ensure everyone receives the quality care and individualized attention her practice is known for. Each guest is always greeted with a warm smile and friendly acceptance. Just like visiting friends in your hometown, the familiar vibe fosters comfort and casual conversation in a relaxed atmosphere that everyone enjoys.
Dr. Fifadara says the amazing patient reviews continually brag on her awesome dental team. "I am very lucky to have such an exceptional staff," she said. "They go above and beyond with a compassionate, attentive approach, making guests feel as though they're in their own home. From the friendly faces of their front desk to the registered dental assistants and outstanding hygienists delivering gentle but thorough cleanings, Dr. Fifadara and Dr. Mak endeavor to provide an exceptional dental experience for each guest every time they visit.
For more in-depth information on provided services or to learn how Fulshear Dental can help you, please visit their website.
SERVICES WE OFFER:
Exams and cleanings

Restorations (fillings)

Cosmetic dentistry and lumineers

Orthodontics and Invisalign

Dental implants

Crowns and bridges

Periodontal disease treatment

Root canal therapy

Oral and maxillofacial surgery

Dentures and partials

Dental emergencies

Extended appointment hours including Saturdays
---
CONTACT
7619 Tiki Drive, Suite A
Fulshear, Texas 77441
(281) 346-8371
iHeartFulshearDental.com