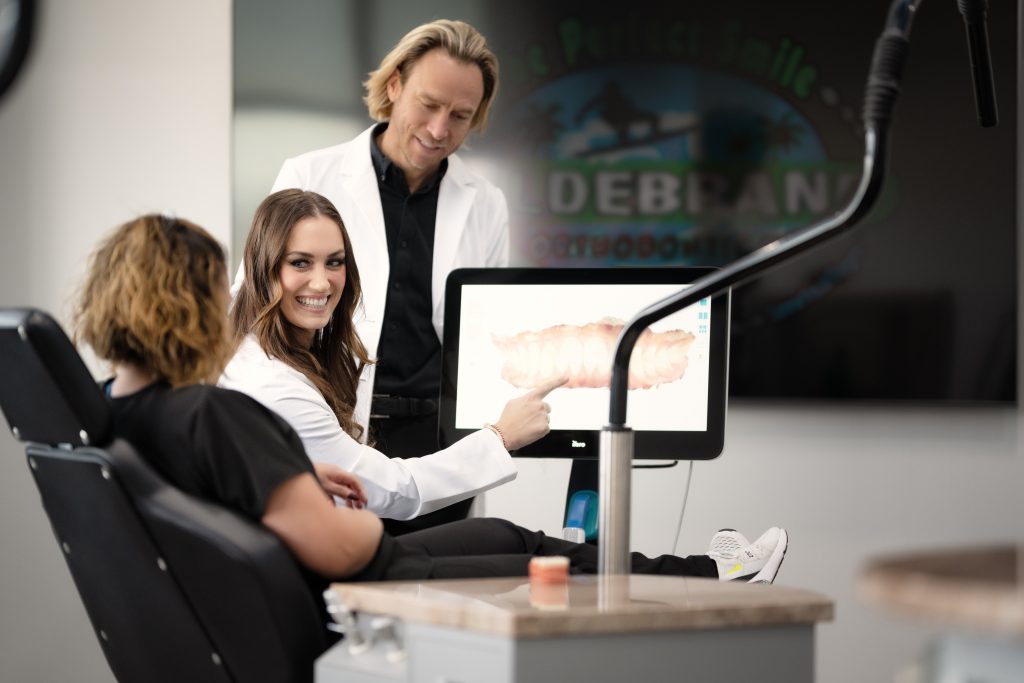 By
Meredith Knight
| Photos by
Landon Day Daydream Photography
---
For more than 25 years, Hildebrand Orthodontics has made orthodontics friendly and fun. Now, the go-to place for the latest and greatest in orthodontic care is getting even better as the orthodontic team welcomes a brand new provider bringing with her a whole new set of talents. Over the years, Dr. Jed and his team have partnered with generations of patients helping them achieve a smile that's as functional as it is gorgeous. As the Hildebrand Orthodontics patient base has grown and the practice has flourished, it became obvious to Dr. Jed that it was time to welcome a second orthodontist to the team. But not just anyone would do.
Dr. Jed set about searching for someone who shared his uncompromising commitment to individualized care and his dedication to continuing education, clocking far above the hours required to assure that Hildebrand Orthodontics patients have access to the gentlest, most precise treatment modern orthodontics can offer. In his search he met Dr. Lena Bortnem and knew he'd found someone special. "Dr. Lena has an amazing rapport with patients of any age—from seven-year-olds coming in for their first evaluation to our most senior patients who still want great looking, fully functional teeth," he said. "She reflects the patient-first values we embrace and is another insatiable learner, eager to explore anything that will make our patients' experience better. Our community is really lucky to have her and the fresh new set of skills she brings."
Meet Dr. Lena Bortnem
Dr. Lena sees herself as more than an orthodontist. "I help facilitate tooth movement to create beautiful, functional smiles that foster confidence and empower patients to reach their full potential," she said. "A beautiful, healthy smile translates into happiness, invites communication, and opens the door to success and fulfillment. My mission is to provide my patients with exceptional care, delivered with genuine warmth, empowering my patients to be their best selves."
New to the area, Dr. Lena says she and her husband are excited about raising their young family in Tarrant County. A former college volleyball player, she enjoys the team approach at Hildebrand Orthodontics. "When creating a smile, the collaboration between patient, doctor and orthodontic team is paramount," she said. "I'm passionate about embracing the role of coach and cheerleader for each one of my patients. Together we can achieve more."
You're Never Too Old
Drs. Jed and Lena agree it's never too late to have a great smile. "Parents are encouraged to come back to the treatment area to see how their child's treatment is going and receive updates," Dr. Lena said. "It's not unusual for them to be so pleased with their kids' results they decide they get braces themselves." Many of these older patients either never had braces or have some minor shifting they'd like corrected. As a leader in the industry, Dr. Jed has excelled in the new technology to straighten teeth faster and simpler than ever before without the world having to know about it. "You can discretely straighten your teeth—often in about a year— and nobody has to know you're in treatment," he said.
The Latest Technology
"Invisalign clear tooth aligners can treat a wide range of teeth-straightening conditions, including crossbites, crowding, open bites, gapped teeth, overbites, and underbites," Dr. Lena said. "You can take them out to eat or for special occasions and, because they're clear, most people won't even know you're wearing them." And thanks to next-generation digital scanning, Dr. Jed can show you what your new smile will look like before treatment even begins then formulate an individualized treatment plans—unique to you—for the best outcome and stable results, all at affordable family prices.
Highly Personalized Care
Dr. Jed or Dr. Lena see every patient at every visit, something you won't experience at an impersonal, big-box dental office. "Continuity of care is the key to successful orthodontics," he said. "Arlington is a big city with the heart of a small town. Our team is like a family working together with the goal of treating a small number of patients, but treating them well and giving our employees a good quality of life."
Latest Orthodontic Science
Dr.s Bortnem and Hildebrand and their stellar team offer the latest,
cutting-edge technology, including high-tech flexible wires which respond to the temperature of the mouth to straighten teeth faster than ever before and with far less discomfort to patients. "No more tightening of braces and no more bands on back teeth," Dr. Hildebrand said. "That means far less risk of cavities. We're also using the new mini braces, the smallest braces on the market—50% smaller than traditional braces—that decrease treatment time by six months."
Meet Dr. Jed Hildebrand again
Dallas boy Jed Hildebrand grew up playing football and soccer for Plano Senior High School, where he won state championships in both. He earned a Bachelor of Science in biology and Doctorate of Dental Surgery at Baylor as well as completing a two-and-a-half-year orthodontic residency program to become a board-eligible specialist in orthodontics.
Dr. Jed has participated in Christian dental mission trips to Mexico, Cambodia, India, and Thailand. In 2002, he was a contestant on the hit CBS reality TV show Survivor V: Thailand. He's also appeared on numerous TV shows, including MTV's TRL, The Caroline Rhea Show, CBS's The Early Show, Entertainment Tonight, Extra, E!, Inside Edition, and The Ticket talk radio show. He and his wife and fellow dentist, Dr. Kim Hildebrand, enjoy life with son Kai and daughter Liv. He also enjoys motorcycling, wakeboarding, surfing, and staying fit by playing in a men's premier soccer league in Dallas.
Visit HildebrandOrtho.com to find out about the amazing smiles they are creating as a compassionate patient first orthodontic office.
---
CONTACT
2200 Interstate 20 W, Suite 100 | Arlington, Texas 76017
(817) 468-4141 | HildebrandOrtho.com