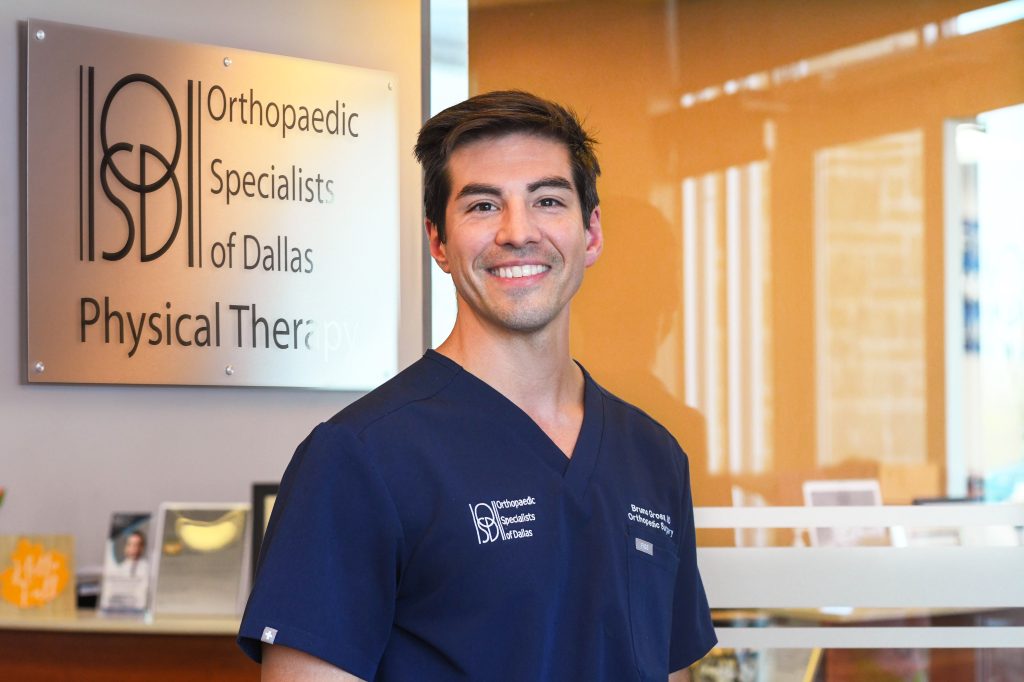 By Cheryl Alexander | Photos by Michelle Thurgood Photography
---
Orthopaedic Specialists of Dallas is proud to introduce Dr. Bruno Gross. Providing patient care is an honor and a privilege that compels Orthopaedic Specialists of Dallas to uphold standards of service that include efficiency, reliability, and trustworthy orthopaedic care. Their team of healthcare professionals strive to be the most trusted, advanced, community-based, multi-specialty orthopaedic practice. Dr. Bruno Gross is an orthopaedic surgeon skilled in robotics, the most precise and innovative orthopaedic technology currently available.
Dr. Gross grew up in Denton, where he graduated from Ryan High School, and where his dad was a doctor of internal medicine. He admits that though he respected his dad's career, he never aspired to work in the medical profession.
"It was too cerebral for me at the time," said Dr. Gross. "I wanted to do something more active. I considered joining the military and the police force, but eventually decided to become a firefighter."
After discussing his choice with firefighter friends, Dr. Gross learned he was entering an extremely competitive field where finding a job would not be easy. To get a jump on the competition and guarantee himself a job, he determined that he should obtain a paramedic's license. In the process, he found that he enjoyed learning about medicine.
"Being a firefighter involves 60-70 percent emergency medicine," Dr. Gross explained, "and so much to my own surprise, I began to think that I might actually like a career in medicine."
Unfortunately, his dad passed away unexpectedly. Dr. Gross began helping his mom financially, teaching boxing on the side, working at a warehouse, and taking on other odd jobs to make extra money. Armed with new motivation, Dr. Gross decided to finish his paramedic training, get a job as a firefighter, and then go back to medical school.
While obtaining his undergraduate degree, he made up his mind that he would take the required entrance test for medical school and give himself one chance. If his score wasn't competitive, he resolved to continue his firefighting career. "Happily, I received the highest score that year at UNT," Dr. Gross said, "and my professor said, 'You must apply. You are a sure winner with your test score.' And so, I did."
Dr. Gross was accepted at Texas A&M Medical School and made the decision to quit working to study full time. "I considered working part time," said Dr. Gross, "but I wanted to dedicate myself to school and really focus. I had always previously worked and attended school. I was also trying to decide what kind of medicine I would practice. I considered internal medicine, like my dad, who was an enormous influence on me, but I quickly realized that wasn't the field
for me."
One of the first surgeries Dr. Gross witnessed during medical school was a hip replacement. That experience sold him on orthopaedics. He knew that orthopaedic surgery was competitive and required top test scores, so he dedicated himself to full-time study and began planning a return to North Texas after graduation to be close to family.
"With my family in Denton, and my wife's family in Fort Worth," he explained, "we knew where we wanted to be. Plus, we were pregnant."
He applied and was accepted to the prestigious University of Texas – Southwestern in Dallas. During his five years there, he studied under a great mentor and learned to perform hip and knee replacements, as well as revision hip and knee replacements. He eventually met another great surgeon from the Cleveland Clinic in Florida, where Dr. Gross did his fellowship training and where he learned complex replacement surgeries, including robotics and revisions.
With an extensive background in conventual knee replacement, Dr. Gross was able to see first-hand, the benefits of robotic knee replacement. "It was a very eye-opening experience. I was able to see the wealth of information robotic knee replacement gives the surgeon; it allows you to really personalize each patients' knee. I also saw patients recover more quickly and get back to their lives." With this kind of specialization, Dr. Gross became a highly qualified and recruited surgeon.
"I met Dr. Umar Burney, founding and managing partner of Orthopaedic Specialists of Dallas, at the National Hip and Knee Replacement Conference in Dallas. Dr. Burney told me about his practice and their needs. He didn't have anyone out there doing robotics. He seemed to have a heart for patients and was also involved in medical missions."
"Where I see the value of robotics is, whereas formerly surgeons had to rely on the human eye to determine millimeters and single degrees of placement, robotic surgery offers a precise tool that takes the guess work and human error out of measurement. It allows physicians to customize knee and hip replacements for patients. It also allows for less soft-tissue dissection, so there is less pain, quicker recovery, and patients can get off narcotic pain medicines
much sooner."
Dr. Gross is Happy to be Practicing in the Rockwall Community
"We are exactly where we want to be," he said. "Our desire is to fully integrate. Our kids go to school at Heritage Christian Academy. We attend church here. We are excited to live here, participate in the community, and get to know the community. My ultimate desire is to help anyone who needs it achieve better function and live pain free from orthopaedic problems."
For more information about Dr. Bruno Gross, robotics and the Orthopaedic Specialists of Dallas practice visit DallasOrtho.net.
---
CONTACT
1301 Summer Lee Drive
Rockwall, Texas 75032
(972) 771-8111
DallasOrtho.net
---