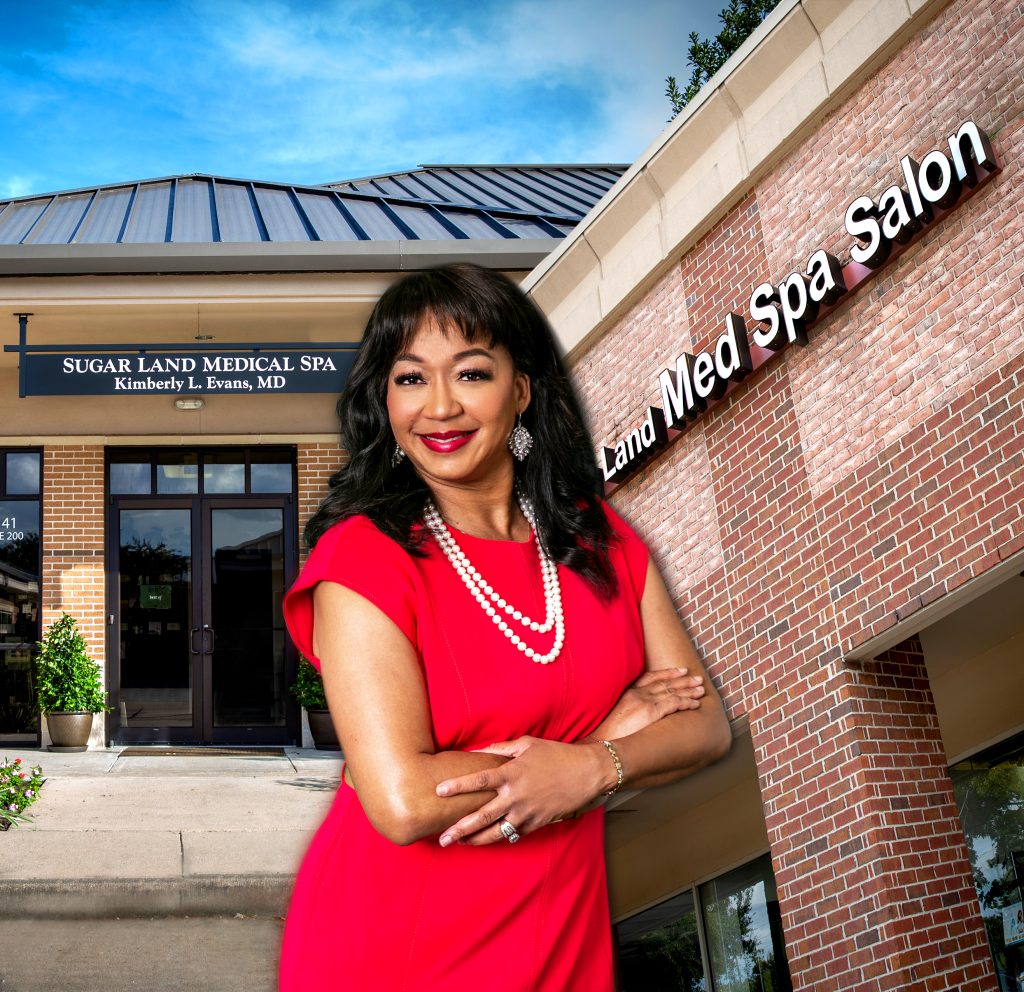 BY ANNETTE BROOKS PHOTOGRAPHY | BY KELLEY SWEET PHOTOGRAPHY
Helping women feel beautiful, healthy, vibrant, sexy, and full of life makes Dr. Kimberly Evans' heart soar. Committed to finding new ways to serve her patients, Dr. Evans' philosophy is summed up by one of her favorite quotes from Muriel Strode: "I will not follow where the path may lead, but I will go where there is no path, and I will leave a trail."
The board-certified OB-GYN found her complete calling when she added advanced medical spa treatments to her gynecologic services. It inspired her to create Sugar Land Med Spa, Fort Bend County's go-to destination for advanced nonsurgical aesthetic therapies and gynecologic, cosmetic gynecology, hormone balancing, and sexual wellness services. Dr. Evans also provides well-woman exams, NovaSure endometrial ablation, surgical and nonsurgical female rejuvenation procedures, and da Vinci robotic-assisted gynecologic surgery.
When she saw another opportunity to help women feel and look beautiful, Dr. Evans opened Sugar Land Med Spa Salon right down the street from her med spa, a bold move in 2020 in the middle of the COVID-19 pandemic. Today, with both locations so close together, Dr. Evans has created the ultimate all-in-one destination for total beauty and women's health.
"As a female physician, it's incredibly gratifying to help women experience the amazing power and joie de vivre they get from feeling beautiful, feminine, vibrant, and sexy. It fills my heart to see my patients walk a little taller with a spring in their step, smile more, regain self-confidence, get their edge back, and feel revived and full of life," says Dr. Evans.
Elevate Your Beauty, Your Body, Your Health, Your Life
Sugar Land Med Spa offers innovative nonsurgical therapies for the skin, face, and body, customized to meet your individual needs. Get pampered, relax, and enjoy services like Botox and Juvéderm — which Dr. Evans administers herself, microneedling, advanced facials, peels, rejuvenating facial tightening treatments, and much more.
The med spa also helps you slim down with a customized medical weight-loss program, and sculpt your body with noninvasive services that remove fat, tighten the skin, and reduce inches with minimal downtime.
"We were the first in Fort Bend County to offer the EMSCULPT Neo and EMTONE combination that builds muscle and burns fat at the same time," says Dr. Evans.
If you're approaching or dealing with the "change of life," you know that hormone depletion and imbalance can wreak havoc on your well-being. Symptoms include low libido, painful intercourse, brain fog, weight gain, urinary stress incontinence, and hot flashes, to name a few. Dr. Evans, a certified BioTE practitioner, offers bioidentical hormone replacement therapy to help boost and balance your hormone levels without prescription drugs.
She also helps women feel feminine and sexy again with nonsurgical PRP (platelet-rich-plasma) treatments. Called the O-Shot (Orgasm Shot), this procedure uses naturally occurring growth factors from your own body to stimulate vaginal and clitoral rejuvenation. Additionally, Dr. Evans offers ENFEMME 360 treatments, which use radiofrequency energy for noninvasive feminine rejuvenation. She adds, "I was the first in Houston to offer ENFEMME 360 to tighten the inside and outside to improve muscle laxity and sensation."
"I love caring for patients throughout many facets of life and develop long-lasting relationships with them," says Dr. Evans. Compassionate, kind, open, honest, communicative, and caring, she has a natural ability to put patients of all ages at ease.
Speaking of urinary incontinence, Dr. Evans offers a noninvasive treatment called EMSELLA. High-intensity electromagnetic waves stimulate pelvic floor muscles as you sit on a special chair, fully clothed. The results are like doing over 11,000 Kegels in a single 30-minute session! Results can be life-changing.
Gorgeous Hair and Nails
Sugar Land Med Spa Salon caters to your beauty needs with precision cuts, blowouts, color, curls, manicures, pedicures, and massage. The salon's aesthetic services include Botox and dermal fillers and noninvasive, natural hair-restoration treatments. Deep scalp massage, hair nutrition, and LED red light therapy stimulate the follicles. PRP uses the science of regenerative medicine to help regrow hair.
"It's super convenient because you can make one appointment for all the services you need instead of spending the day driving from location to location," Dr. Evans says.
Services for Men, Too
The salon includes an upscale barbershop and hair restoration therapies. Med spa services for men include bioidentical hormone replacement, the P-Shot (Priapus Shot) for erectile dysfunction, and injectables like Botox and fillers that help men appear more youthful and remain competitive in the workplace.
Feel Beautiful, Vibrant, and Sexy Again
Kimberly L. Evans, MD, FACOG and her talented teams at award-winning Sugar Land Medical Spa and Sugar Land Medical Spa and Salon look forward to welcoming you to their family. Schedule an appointment today. Visit the websites for more information.
All-in-One Destination for:
Gynecologic services
Cosmetic gynecology, sexual well-being
Medical-grade aesthetic services for men and women
Nonsurgical body contouring
Medical weight-loss program
Hair regrowth/rejuvenation therapies
Full-service salon and barbershop
Manicures and pedicures
Waxing and laser hair removal
And more
Contact
Sugar Land Medical Spa
1441 Highway 6, Suite 200
Sugar Land, Texas 77479
(281) 277-7721
SugarLandMedSpa.com
Sugar Land Medical Spa Salon
1930 Highway 6, Suite B
Sugar Land, Texas 77478
(346) 309-4934
SugarLandMedSpaSalon.com