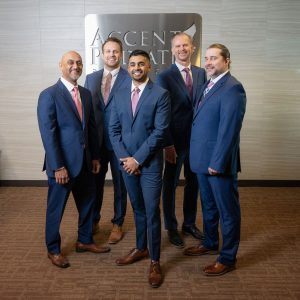 Drs. Dharmesh Bhakta, Shae Paschal, Jacob Jasper, Parth Bhakta and Steve Silvey
---
People don't necessarily seek the help of the foot and ankle experts at Accent Podiatry Associates because they're in pain. They turn to them because that pain is keeping them from the things and the people they love. They don't make an appointment because their ankle hurts so much as because that painful ankle pain prevents them from playing tennis or golf. Or because beginning and ending each day with foot pain makes it hard to be the loving wife or husband, mother or father, grandmother or grandfather, brother or sister or friend they want to be.
Consider This
The average moderately active person takes about 7,500 steps a day. If that's maintained until the age of 80, you'll have walked about 216,262,500 steps. Congratulations! But what happens when those steps become painful. You'll probably take fewer of them. And less exercise can negatively affect your length and quality of life. Many people write off foot and ankle pain to normal aging. Getting old and being in daily pain is just part of being human, right? The doctors at Accent Podiatry Associates have a technical term for that—BALONEY! It's their mission to help you stride into the next decade (and the next and the next) pain-free.
If your feet or ankles begin to hurt—whether from an injury, repetitive use, or a degenerative issue— the Accent Podiatry docs consider it their blessing to offer you comprehensive and conservative foot and ankle care including:
Foot and Ankle Pain
Bunions
Heel Pain
Plantar Fasciitis
Diabetic Wound Care
Flat Feet
Neuromas
Children's Foot Care
Hammertoes
Achilles Tendonitis
Treating the Root of the Problem—Not Merely the Pain
Drs. Dharmesh Bhakta, Shae Paschal, Jacob Jasper, Parth Bhakta and Steve Silvey have dedicated their careers to understanding the intricate workings of the human foot and ankle complex. Together with their dynamic team, they spend their days looking for and treating the root cause of foot or ankle problems—not merely masking symptom but finding and addressing the source of your pain or disfunction and helping you function the way you were created to. Patients report Accent Podiatry Associates "makes you a number-one priority and ensures you're 100% satisfied". One very satisfied patient even wrote, "I wish my foot wasn't getting better so I'd have an excuse to keep seeing them."
All Under One Roof
The doctors at Accent Podiatry offer their Tarrant County neighbors diagnosis and care for everything from simple fungal nails to complex foot surgery—all under one roof. They place an emphasis on patient education, outlining all treatment options to their patients then partnering with them to pursue the least invasive options first—only recommending surgery, when all conservative treatments have been explored. If you would benefit from physical therapy, you can receive it right there at the Accent Podiatry office including electromyograms and nerve conduction studies.
There When You Need Them
The doctors and staff of Accent Podiatry Associates understand your life is hectic. That's why they're committed to making their practice and care as convenient and accessible as possible, always respecting appointment times, and making themselves available, whenever their patients need them. Their website at AccentPodiatry.com offers educational information on common issues such as diabetic foot problems, heel spurs, ingrown toenails, Plantar Fasciitis, and more.
Small-Town Care Meets High-Tech Medicine
The internet is brimming with five-star reviews from patients praising the Accent Podiatry team, their warmth, compassion, and exceptional care. The Accent Podiatry offices are fun places to visit, with doctors and staff who joke and laugh and remember your name. It's easy to have that attitude, when you love what you do. It's no wonder so many of their patients were referred by other patients—and doctors. Let the professionals at Accent Podiatry Associates help you find the root cause of your foot/ankle problems and regain your active, pain-free life again. They accept most insurance plans and always welcome new patients.
From Their Family to Yours
If you're experiencing problems with your feet or ankles, it's not just a nuance you have to learn to live with. Let the professionals at Accent Podiatry help you find the root cause of your foot/ankle problems and regain your active, pain-free life again. Accent Podiatry is more than just a healthcare practice. It's a group of individuals who collectively make up a close family that's involved in the care and wellbeing of their patients, neighbors, and friends.
---
Customer Reviews
"This is honestly one of the best medical offices I've ever been to. The staff makes you a number one priority and ensures you're 100% satisfied before turning you away. Everyone here, especially the front desk staff, are extremely courteous and polite. They help you to their fullest extent."
– Alexander N., Grand Prairie, TX
"Staff support and the physicians have been considerate and helpful. They come highly recommended by my friends and I can understand why."
– Nancy P., Garland, TX
"We were recommended to Accent Podiatry Associates by a family member; we returned because of the excellent care and customer service provided. We'd recommend your foot and ankle surgery medical practice to anyone who has foot or ankle problem."
– Dalton H, Arlington, TX
"I've been a patient for a few years and everything just gets better. I can't think of going any place else. I'm walking because of the great surgical care I experienced and feel I do receive the best care."
– Jeanie M., Arlington, TX
---
Arlington Office

3050 South Center Street
Suite 140
Arlington, Texas 76014
(817) 557-1006
Mansfield Office

221 Regency Parkway
Suite 117
Mansfield, Texas 76063
(817) 477-3611