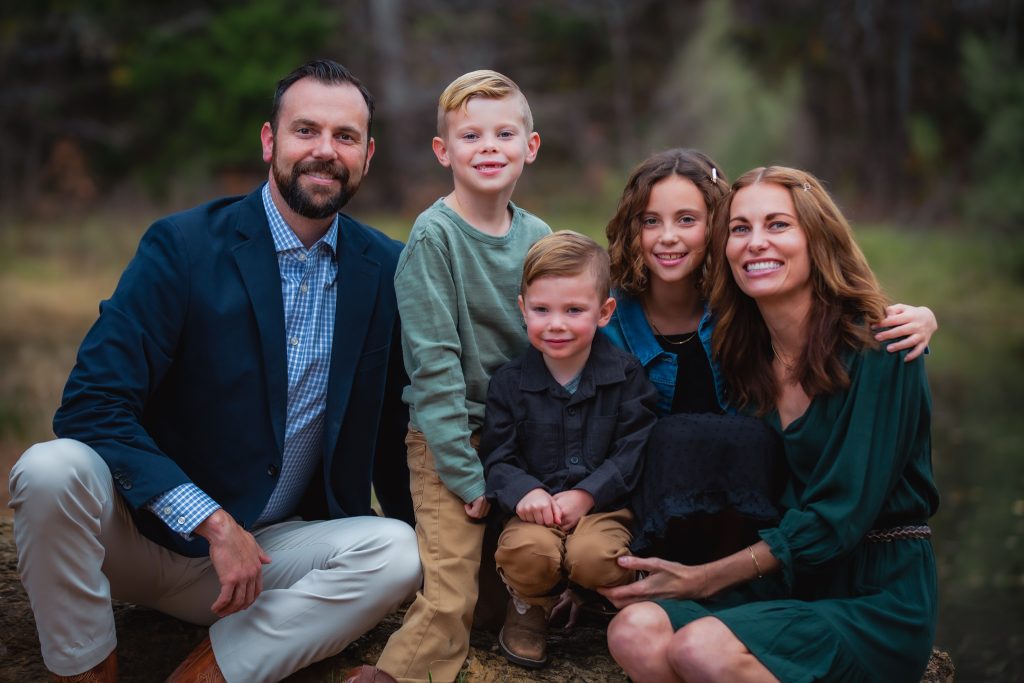 By
Meredith Knight
|

Photos by
Lauren Marie Photography
---
Dr. Matthew McCabe is all about family—from his own wife and kids to his family of patients and the Mansfield community he's so blessed to call home. As a fellowship-trained surgeon and podiatrist, Dr. McCabe spends his days returning quality of life to men, women, and children offering everything from treatment for ingrown toenails to total ankle replacement surgery. Judging from his dozens of five-star online reviews his dedication hasn't gone unnoticed. One fervent reviewer had this to say,
"Dr. McCabe sat down and actually listened to my concerns and fears at every single visit. I had to have surgery and he was confident and reassuring through the entire process and follow-up visits. It takes a lot for me to feel safe in a surgeon's hands, but I never had any doubts while in his care. He was patient, caring, and professional. I would definitely recommend Dr. McCabe."
Another five-star reviewer agreed, "Everything went great and was impressed with the entire process and surgery. I had a plethora of questions, but Dr. McCabe was very informative, patient, and thoroughly answered everything to make sure I was comfortable. All around great practice that does phenomenal work."
Although, Dr. McCabe is specially trained in limb salvage, reconstruction, and orthoplastics and is, in fact, the only doctor in the area that's fellowship trained in limb salvage and reconstruction, he believes in exhausting every viable conservative treatment before considering surgery. For Dr. McCabe surgery is always the last resort. Another happy reviewer bore that out when they wrote,
"Office staff and assistants very nice, friendly, knowledgeable, and helpful. Dr Mc Cabe also kind, knowledgeable and diagnosed me in no time and spent time to educate me, including treatment options starting with conservative measures."
One-on-One Care
Happy online reviewers can't say enough about Dr. McCabe and his team's emphasis on personalized care and attention. "The feedback I receive most is about the time I take to really listen to my patients," he said. "Medicine is about balancing what the patient wants with what the patient needs. If I really listen, they'll tell me what they want. Then, we work together to determine what they need and what will offer them the best treatment outcomes."
Total Ankle Replacement
Dr. McCabe is pioneering ankle replacement surgery that's paving the way for others in his field and returning quality of life to his patients with chronic ankle problems. "My team and I can handle cases as complicated at total ankle replacement with astounding success or as simple as hammertoe," Dr. McCabe said. "If it has to do with the foot and ankle, my team and I want to help."
Limb Salvage
"I work with Dr. Van Dyke, an endocrinologist, and other practitioners in the area with a focus on prevention related to diabetes and diabetic foot ulcerations."
Patient Education
Dr. McCabe places an emphasis in patient education and empowerment. "It's important to educate patients on available options—both conservative and surgical—to review expected outcomes of each option based on the needs of the patient and to allow patients to collaborate with us to find the right plan for them," he said. "Nobody cares about your foot and ankle health as much as you do. I want to help you become your own best healthcare advocate and I want to be your partner in that process, as we get you back to the robust quality of life you enjoy."
Conservative Care
One of the things Dr. McCabe enjoys about his chosen career is its varying nature. "Although I'm focused on the foot and ankle, I see diabetic patients, patients with deformities, patients with arthritis, fractures, and more," he said. "Between clinic days and surgery days, no two days are ever the same for me."
Family Man
When not on the job, he enjoys time outdoors with his family. "I love to hunt and fish," he said. "I joke that, during duck season, work is what I do between duck hunts. I do want to give a big 'thanks' to my wife, Brooke. Without her, I wouldn't be the person I am today."
One reviewer summed up their experience at Water Oak Foot and Ankle like this:
"Dr. McCabe genuinely cares about his patients. He doesn't treat you like a number. He treats you with compassion and makes sure you are well cared for. No rushing you for the next appointment. He explains all your treatment options and makes sure you are part of the decisions being made."
Menu of Services
At Water Oak Foot and Ankle, Dr. McCabe offers diagnosis, treatment, and prevention of conditions and injuries that affect the foot and ankle including:
Heel Pain

Ankle Pain

Foot Pain

Ankle and Foot Deformity

Fractures

Arthritis

Wounds

Bunions

Hammer Toe

Plantar Fasciitis

Achilles Tendonitis

Diabetic Foot Conditions

Neuroma

Ingrown Toenails

Total Ankle Replacement

And more
What more could you want in a foot and ankle doctor. Find out more and read other enthusiastic reviews at WaterOakFootandAnkle.com.
Did You Know?
Your foot and ankle are made up of:
28 bones

33 joints

112 ligaments

13 extrinsic muscles

21 intrinsic muscles