A Week in the Golden Triangle
"Come to the exotic subcontinent," India calls from afar. "Immerse yourself in a destination of dreams, romance, and a blend of sights and sounds that creates an unforgettable experience."
Even seasoned travelers are swept away by India, with its gleaming marble palaces, massive Mughal (Mogul) forts, and spice-inspired cuisine. Vibrant textiles and extraordinary hand-knotted Kashmir rugs drape the country's backdrop, along with a welcoming people whose pride of place is unrivaled.
The "Golden Triangle" cities of New Delhi, Agra, and Jaipur are a wonderful introduction to India. On the map, they form a roughly equilateral triangle, dubbed as "golden" for their extraordinary wealth of cultural and historical splendor.
Explore New Delhi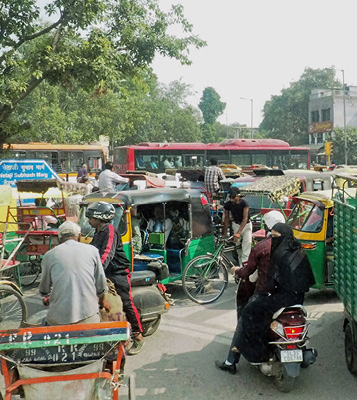 Traversing the streets of New Dehli is an adventure in itself. A diverse metropolis with over 16 million inhabitants, sacred cows wander along the roads among a tangle of motor bikes, trucks, camel or ox-drawn carts, luxury sedans, and 3-wheeled motorized taxis called tuk tuks. Open shops sell everything from handmade crafts and trinkets to live chickens and goats.
Old Delhi – Experience authentic Delhi life along the alleyways and nooks of Old Delhi. The crowded area with its maze of narrow streets is best seen the first time through a walking tour. Tours with English-speaking private guides run around $50 to $60 per person, and include lunch or dinner and hotel pickup/drop-off.
Humayun's Tomb – This beautifully restored, marvelous red sandstone structure later became the inspiration for the design of the Taj Mahal. Built in the mid-16th century, the final resting place of the great Mughal Emperor, Humayun, melds elements of Persian and Mughal architecture.
Red Fort – The power of the Mughal emperors who ruled from 1526 to the beginning of the British control is embodied in the red sandstone walls of the massive 17th century fort. Today it is occupied by India's military, but a portion is open to the public.
Stay
The trendy Le Meridien New Delhi is located in the heart of the city near lively Janpath Market, and it's just a short taxi ride from there to vibrant Connaught Circle, the most Westernized part of the city. This sleek, modern hotel—with well-appointed rooms and an attentive staff—is a welcomed respite from the bustle of New Delhi's streets.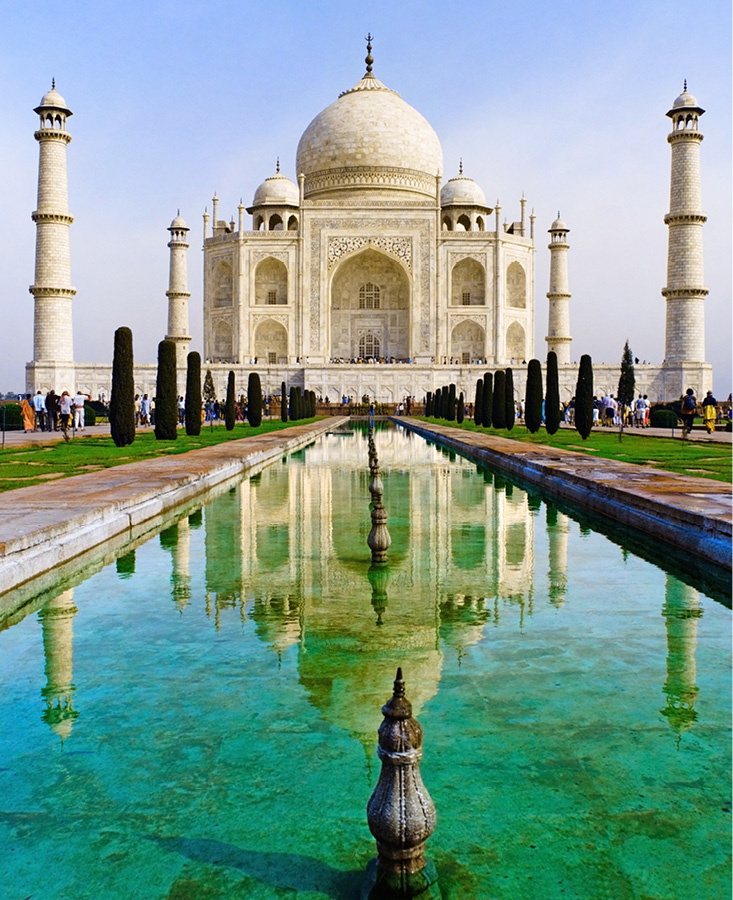 Agra Adventures
If you go to India for one reason, make it the Taj Mahal in Agra. To lay your eyes on the Taj Mahal during sunrise is an otherworldly experience. Words and pictures pale in comparison. Standing on the southern bank of the Yamuna River, the white marble architectural wonder seems to change color as sunlight or moonlight hits its surface. It is one of the most outstanding examples of Mughal architecture, which combined Indian, Persian and Islamic influences.
The story behind the Taj Mahal—a tale of undying love—makes it even more magical. Commissioned in 1632 by the Mughal emperor Shah Jahan to house the remains of his cherished wife, the Taj Mahal is a romantic gesture on the grandest scale.
"Baby Taj" – Visit the Baby Taj at sunset, the tomb of Itimad ud Daula. Many of its stylistic features, such as a tomb in white marble surrounded by a formal garden and the use of inlay marble to create floral or geometric designs, inspired similar features of the Taj Mahal.
Agra Fort – The breathtaking 16th century red sandstone fortress encompasses the imperial city of the Mughal rule within its 1.5 mile-long enclosure walls. Inside are splendid palaces both in red sandstone and white marble.
"Namaste" Nepal
A short flight from New Delhi, Kathmandu, Nepal is an ideal add-on to your India vacation. It inspires and delights travelers from around the globe and all walks of life who leave, reluctantly, vowing to return again.
See, Stay, Explore
Kathmandu's tourist-friendly Thamel market is an exciting labyrinth of narrow streets lined with shops, restaurants, and hotels. It's a great place to buy Pashima and cashmere scarves, and handicrafts. Always bargain; never pay full price. Visit Patan, about three miles south of Kathmandu, to shop in a more laid-back setting.
Swayambhunath Temple (the "Monkey Temple"), which sits high on a hill overlooking Kathmandu valley, symbolizes peace, love, and compassion. The Buddhist temple, souvenir stalls, and monkeys will keep you occupied for well over an hour.
A switchback road climbs through terraced fields to the serene hillside village of Nagarkot, about an hour from Kathmandu. Hire a taxi through your hotel to take you there. Spend the night at Club Himalaya Nagarkot Resort for the possibility of a sensational 360 degree view of the Himalayas at sunrise or sunset.
Buddha Air's thrilling Everest Experience flight takes you up close to the Himalayan peaks, including Everest. Passengers receive a route map identifying the mountains, which helpful attendants point out in flight. You even get a chance to enter the cockpit to snap a picture.
Look for centrally located lodging in Kathmandu. Hotel Yak and Yeti, tucked away in a gated courtyard near Thamel, is known for its comfort and accommodating staff. Airport transport is provided if pre-arranged. Breakfast, lunch and dinner buffets cater to all palates.
Discover Jaipur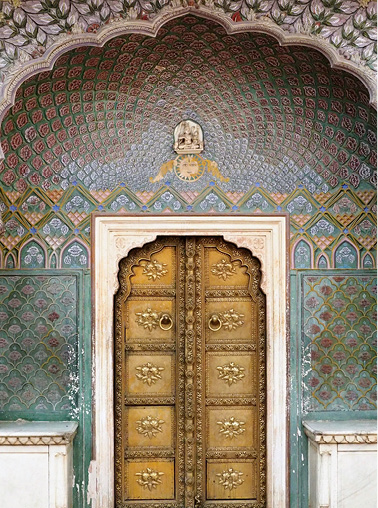 Known as the "Pink City" because of the color of the stone used for construction, Jaipur is the capital of India's Rajasthan state. Also called the "Paris of India," Jaipur is sprinkled with charming historical buildings, parks, and wide avenues. A lively arts and crafts scene that includes gem-cutting and jewelry making, camels, snake charmers, and rickshaws is part of daily city life.
Amber Fort and Palace – Perched on a hilltop overlooking Maota Lake, this UNESCO World Heritage Site was the original home of Hindu Rajput royalty. Built from pale yellow and pink sandstone as well as white marble, its palaces, halls, gardens, temples, and elaborate mirrorwork are breathtaking. Reach the entrance by walking up the hill, going in a jeep, or taking an elephant ride.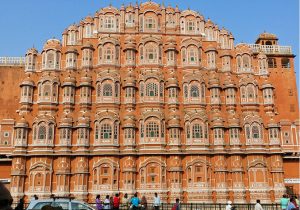 "Hawa Mahal" Palace of the Winds – The intricate and fascinating facade of the Palace of the Winds is Jaipur's most recognized building. Legend has it the palace was built so women of the royal household could spy on daily street life below without being observed.
City Palace – The huge complex of courtyards, gardens, and buildings blend both Rajasthani and Mughal architecture. Today, the royal family lives in the Chandra Mahal (Moon Palace) bordering the courtyard. Inside the areas open to the public are a museum, art gallery, and interesting displays of royal costumes and old Indian weapons.
Stay
Rambagh Palace Hotel, the former residence of the Maharaja of Jaipur, invites reverie and retreat far from the madding crowd. Step back in time at this luxury hotel that depicts the grand lifestyle and exemplary service of the British Raj era. Top floor rooms provide a panoramic view.
India Packing Tips

Toting these handy tools along will make your trek far more comfortable and convenient.

Antibacterial moist hand wipes.

Headscarf (women must cover their heads at some religious sites).

Broad spectrum sunscreen and a wide-brimmed hat.

Insect repellent with DEET.

Prescription antibiotics, such as Zithromax or Cipro, and an over-the-counter anti-diarrheal as "Delhi belly" treatments.

Water purifier, such as a SteriPEN, that quickly and easily makes drinking water safe.

Individual tissue packets.

USA to India universal adapter plugs with a surge protector and USB ports.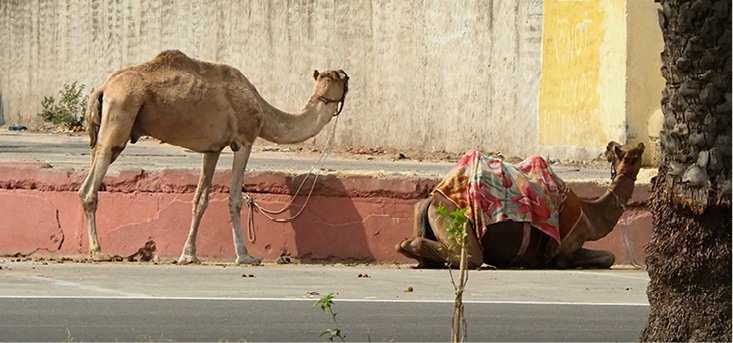 Story and Photos by Annette Brooks