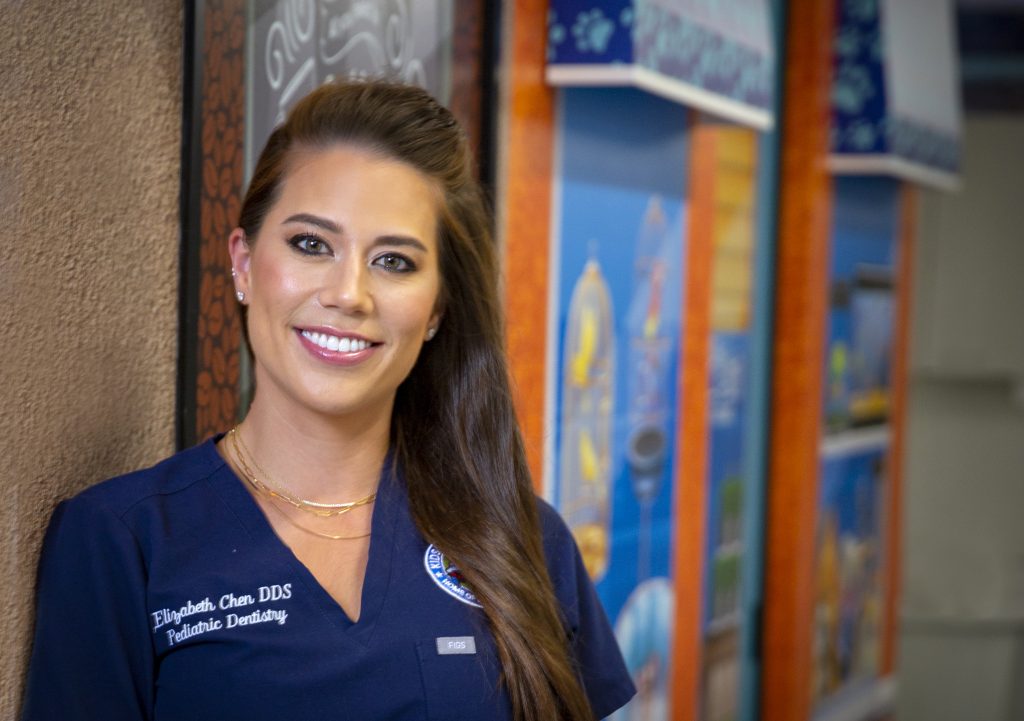 BY ANNETTE BROOKS
Dr. Elizabeth Chen has a soft spot in her heart for children the size of Texas. From providing high-quality pediatric dentistry in a safe, fun, and comfortable environment to supporting organizations that benefit children, the board-certified pediatric dentist and mother of two is passionate about helping kids of all ages.
Community Support, Helping Kids in Need
Active in the community, Dr. Chen sponsors events at Katy elementary schools and hands out toothbrushes. During national dental hygiene month in February, she and her team visit elementary schools and daycares, teaching kids about the importance of oral hygiene and how to care for their teeth.
Dr. Chen's commitment to helping kids doesn't stop at the local schools. She donates dental services, toys and supplies, money, and time to Casa de Esperanza de los Niños. The charity provides hope and healing through comprehensive services for children and their families whose lives have been disrupted by abuse and neglect.
"Some of the children have never been to a dentist. Cavities hurt, and it's not uncommon for abused kids to bear pain in silence because they're afraid to cry and be blamed for it," Dr. Chen says. "It's gratifying to treat them, stop their oral pain, make an immediate difference in their lives, and show them love and kindness."
She pauses, then adds, "If I were a billionaire, every child would have access to free dental care and never go hungry or have to live in an abusive environment." Her compassion for kids who've endured neglect and abuse is palpable and inspirational.
Opportunities for High Schoolers
Dr. Chen enjoys providing an opportunity for high schoolers interested in becoming a pediatric dentist to shadow her and her team in the office.
"They see what we do, including behind the scenes, help out with appropriate tasks like sterilization, and learn about all the advanced technology and processes involved. It helps them make sure pediatric dentistry is right for them because it's a big commitment," Dr. Chen explains.
Pediatric dentistry involves earning a degree in dentistry (DDS or DMD) followed by a rigorous two-year postdoctoral residency, which includes advanced diagnostic and surgical procedures, child psychology and clinical management, and child development.
More About Elizabeth Chen, DDS, MSD
Dr. Chen completed her DDS at the University of Texas School of Dentistry, graduating salutatorian, and also completed a pediatric dentistry residency at the University of Texas School of Dentistry in Houston. She earned a postdoctoral certificate in pediatric dentistry and a Master of Science in dentistry in 2015 and became a diplomate of the American Board of Pediatric Dentistry. Dr. Chen has been voted Best Pediatric Dentist in Katy and Fulshear since 2017 and is a 2021 Living Magazine Readers' Choice award recipient.
Services Provided
First visit
Digital X-rays
Preventive and general pediatric dentistry
Laser dentistry
Mouthguards
Space maintainers
Tooth restoration
Fluoride
Frenectomy
Pediatric sedation dentistry
Post-treatment care
Most dental insurance plans accepted
Contact
20660 Westheimer Parkway, Suite A
Katy, Texas 77450
29818 FM 1093, Suite 200
Fulshear, Texas 77441
(281) 579-8700
KidsHealthyTeeth.com