Tina Hall and Heather Kipker
Joe Hall Roofing & Contracting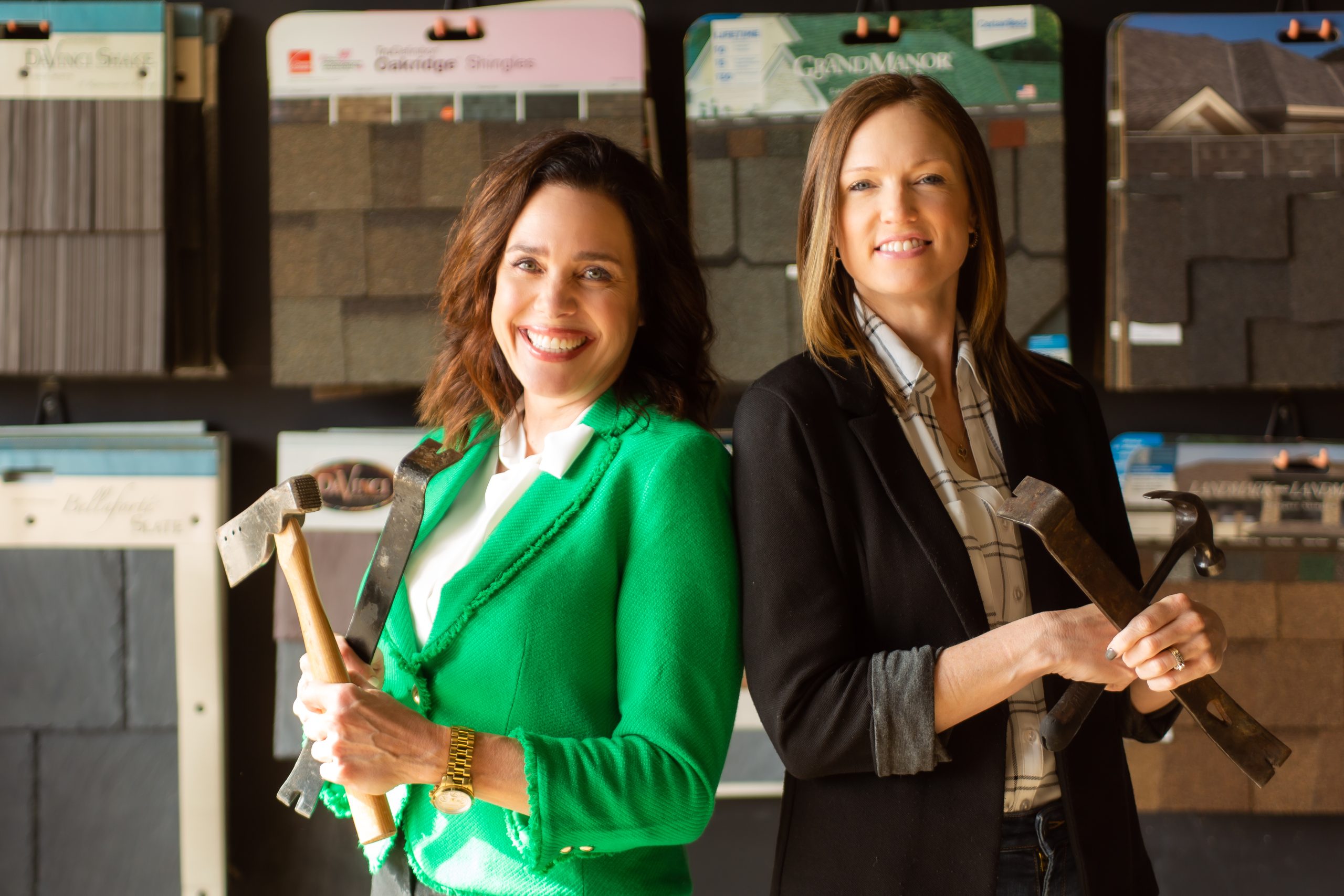 By
Meredith Knight
|
Photo by
Lauren Medean
---
I guess, you never know what a hailstorm will bring. For Tina Hall, it brought an entire about-face in her career. When a sudden hailstorm hit in 1992, Tina took a week off work to help answer the onslaught of calls coming into the family business, Joe Hall Roofing, and never returned to her previous job and over the next 20 years, she filled many roles at the 34-year-old premier roofing company eventually accepting the position of chief executive officer.
A woman in a traditionally male-dominated field, Tina was thrilled when Heather Kipker joined her 15 years ago, eventually taking on the role of chief operating officer by her side. Both wives and mothers, Tina and Heather are the archetypes of a healthy work/life balance, giving all they have to the award-winning residential & commercial contracting company by day and to their families and their community at night.
"My real passion is people," Tina said. "I want to provide the best possible work environment and office culture for the people on our team. I want working at Joe Hall Roofing to give them opportunities for growth and to provide them with a good life. More than half of our team has been with us over 10 years. I think that speaks to how we care for our team. I'm also passionate about our customers. We meet amazing homeowners and business owners and it enriches our lives to get to know them during their re-roof or construction project. I firmly believe when our team feels valued, that value will translate into the service they offer our wonderful customers."
"Our team is truly what sets us apart," Heather said. "With so many being with us 10 years or more, we've really become a family. I started here as a receptionist and was given the opportunity to grow within the company, learning each department and the place Joe Hall Roofing & Contracting holds within the community. When employees are given that kind of growth opportunity, it makes for happy, fulfilled workers who want to do their best and give their best.
That "giving" doesn't stop with the company or even with their busy family lives. Tina serves on the Cinderella Charity Ball Committee of the Ladies' Auxiliary of Arlington (which supports the Boys and Girls Clubs). She's also president-elect of the North Texas Roofing Contractors Association. Heather serves as secretary of the Rotary Club of Arlington and in several booster clubs for her children. She volunteers on a local political campaign team and in guest services at her church. And as a team, Joe Hall Roofing participates in the 6 Stones CPR project to help renovate the exterior of a local home twice a year.
"We've always believed in being an active participant in our community and our industry – making a difference in all organizations we serve," Tina said. Find out more at JoeHallRoofing.com
---
CONTACT
1925 West Pioneer Parkway
Arlington, Texas 76013
(817) 274-6777
JoeHallRoofing.com