Brady provides comfort to victims of violence and crime
By Bob Weir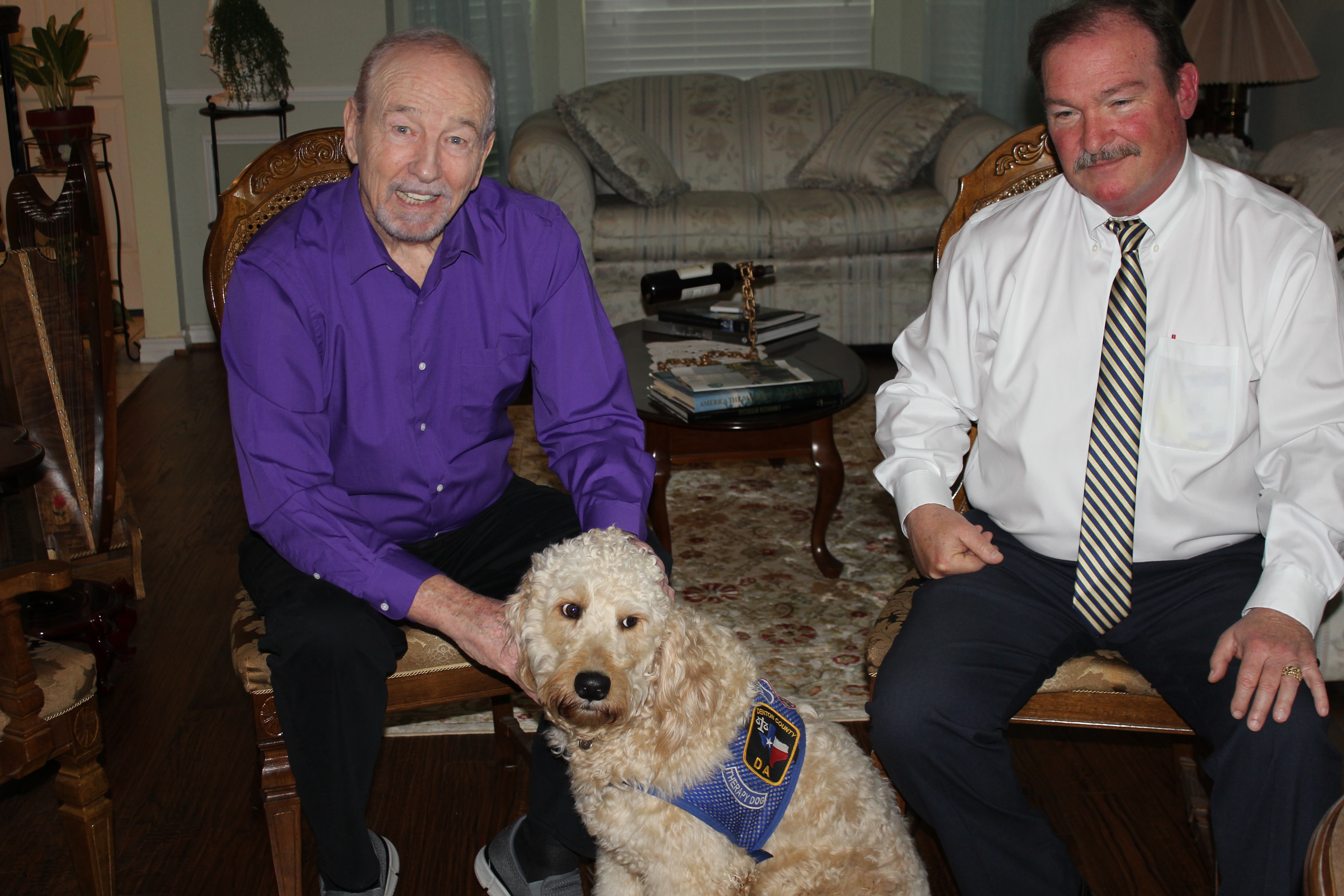 This month, I'd like to introduce you to Brady, a 2 year old Golden Doodle, who has received the Award of Distinction as a member of the therapy dog group of Golden Triangle Dog Club. The title is given to dogs that go with their owners to volunteer in settings such as schools, hospitals, nursing homes, and other places they are needed. From working with children who are learning to read to visiting seniors in assisted living, therapy dogs and their owners work together as a team to improve the lives of other people. A Golden Doodles is a cross-breed dog which is created by breeding a Golden Retriever with a Poodle. The use of canines to help mankind is common throughout the world. They have been used for guarding flocks, tracking, hunting, search and rescue, leading the blind, and in assisting the deaf and physically challenged. The bond between dog and man dates back to early history, but it wasn't until recently that a correlation was acknowledged between this bond and the emotional health of humans. Studies have shown that holding or petting an animal will cause a lowering of blood pressure, the release of strain and tension, and can draw out a person from loneliness and depression.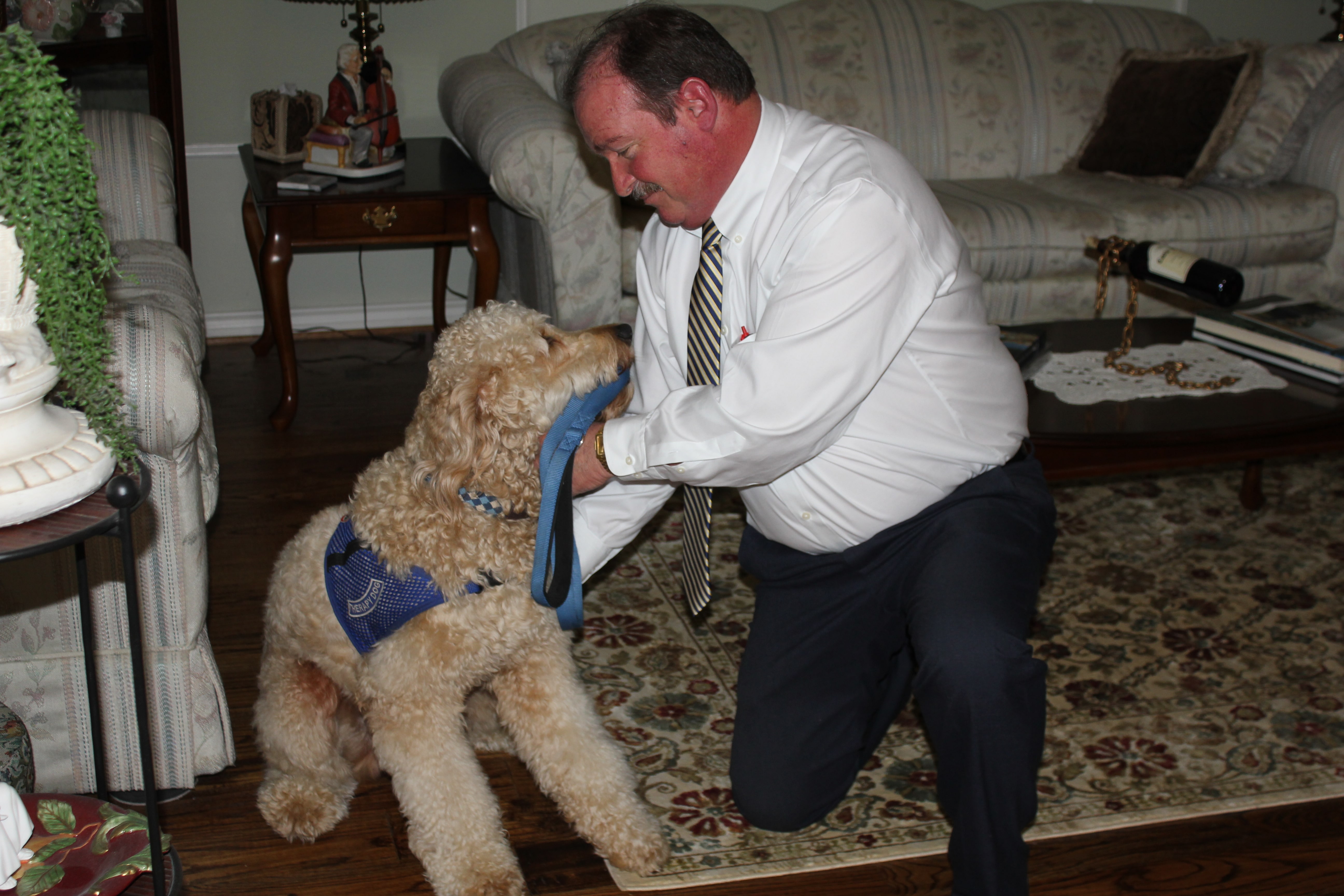 Unlike service dogs, who are specially trained to perform specific tasks to help people with disabilities such as blindness, therapy dogs are trained to provide affection, comfort, and love to people in various situations. The use of dogs for therapeutic reasons has been demonstrated by many people over the last few centuries, including Florence Nightingale, Sigmund Freud, and Elaine Smith. Ms. Smith, a therapist, founded Therapy Dogs International in 1976.
Brady works with the Denton County District Attorney's Office, where his sweet and affable disposition offers comfort to victims of crime. Along with his duties as the therapy dog of the DA's Office, Brady also visits nursing homes and other placement facilities where he brings joy and comfort to those he meets. District Attorney Paul Johnson decided in 2017 that he was going to get a therapy dog to offer comfort to those victims that may be suffering emotionally as a result of their experience.
Upon meeting Brady, Johnson found him a perfect fit. The friendly, soft-coated pooch has been beneficial in offering comfort to child victims as well as adult victims of violent crime.
At the beginning of the year, Brady was officially sworn as the Therapy Dog of the Denton County District Attorney's Office. "Brady will sit there with child victims while questions are asked and he has a soothing effect that calms them down," said Johnson. "We also bring Brady into the Grand Jury room when witnesses are testifying. It's amazing how uplifting a dog can be in the sterile environment of the criminal justice system," he added.
Mr. Johnson pointed out that Brady does not receive a salary, so he doesn't cost taxpayers any money. A woman who works in the office cares for Brady's upkeep and takes him home with her after each 8-hour shift. Having spent an hour or so with Brady it's easy to see the value in having him spend time with people who need a comfortable atmosphere during stressful moments. One thing's certain–Brady is so adorable he'd make anyone in his orbit feel truly loved.