Fennel Slaw
Servings: 6 to 8 | Total time: 20 mins.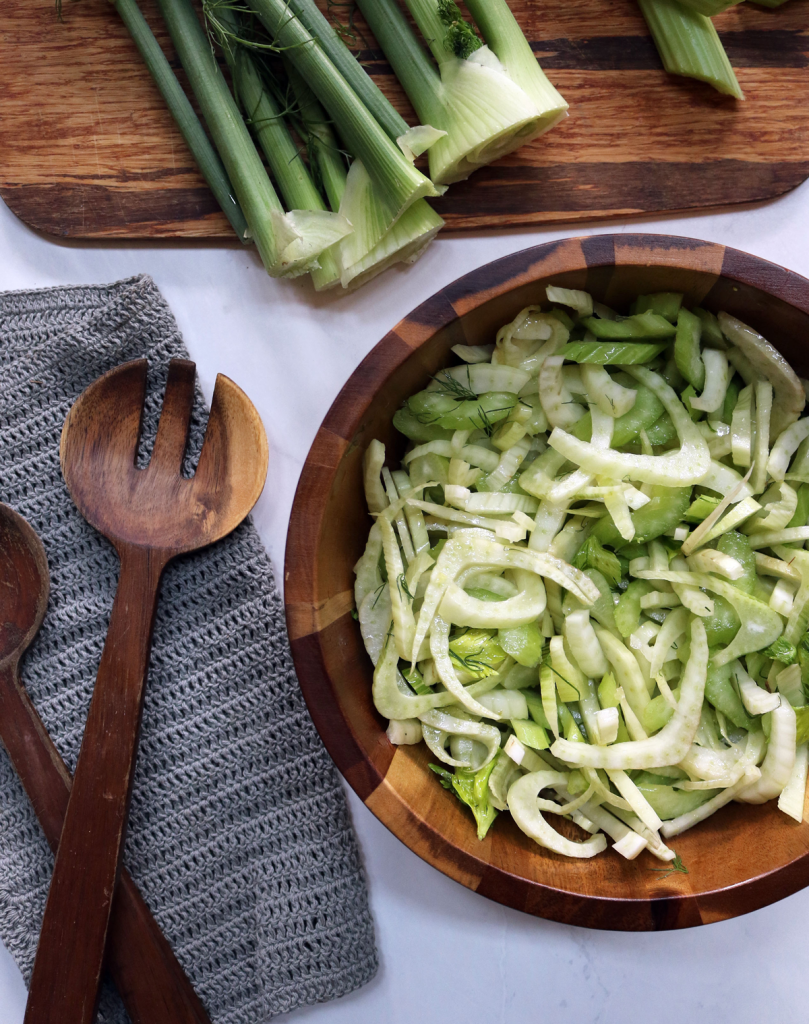 Ingredients: 3 Tbsp. olive oil | 2 Tbsp.
apple cider vinegar | 1 Tbsp. tarragon | 2 tsp. fresh lemon juice | ¼ tsp. sugar | 3 celery stalks, thinly sliced diagonally, plus ¼ cup loosely packed celery leaves | 2 small fennel bulbs, thinly sliced
crosswise, plus 1 Tbsp. chopped fennel fronds | Salt and pepper
Directions: Whisk the first 5 ingredients in a large bowl and set aside. Add celery, celery leaves, sliced fennel, and chopped fennel fronds to the bowl. Toss to coat and season with salt and pepper.
Inspired by Bon Appétit. Adapted by Melissa Tate.
Baked Feta Pasta
Servings: 6 to 8 | Prep Time: 25 mins. | Bake Time: 30 mins.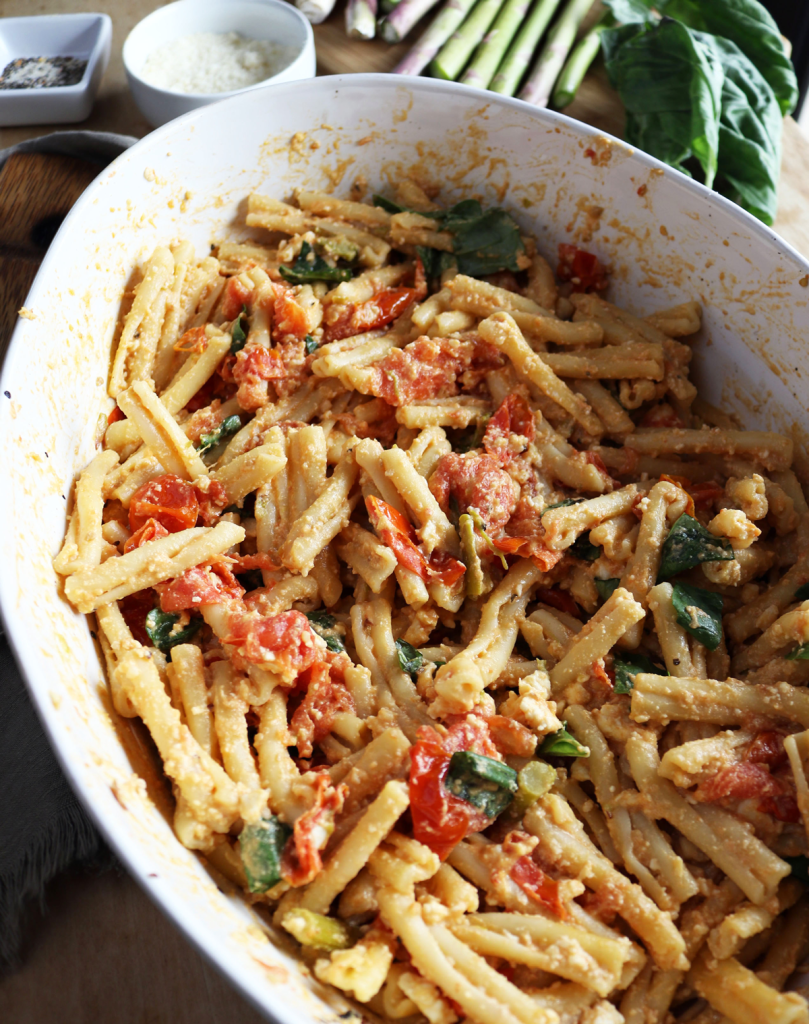 Ingredients: 16 oz. cherry tomatoes | 1 cup asparagus, diced | 2 Tbsp. minced garlic | 4 Tbsp. olive oil | 1 tsp. salt | ½ tsp. pepper | ½ tsp. red pepper flakes | ½ tsp. onion powder | 8 oz. block feta cheese | 4 to 5 cups cooked pasta of your choice | Fresh basil | Parmesan cheese
Directions: Preheat oven to 400°. Drain feta and add to the center of a 9 x 13-inch baking dish. Add tomatoes and asparagus around the feta. Sprinkle minced garlic over feta. Drizzle with 3 Tbsp. olive oil and cover with dry seasonings. Bake for 30 minutes or until cheese feels soft. While baking, boil water and prepare pasta as directed. Toss pasta in 1 Tbsp. olive oil and set aside. Remove feta dish when softened. Mash feta with a fork and combine with tomatoes and asparagus. Stir pasta into feta mixture, salt and pepper to taste. Top with parmesan and fresh basil.
Inspired by Hello Yummy. Adapted by Melissa Tate.
Strawberry Rhubarb Pie
Servings: 8 | Prep time: 15 mins. | Bake time: 45 mins.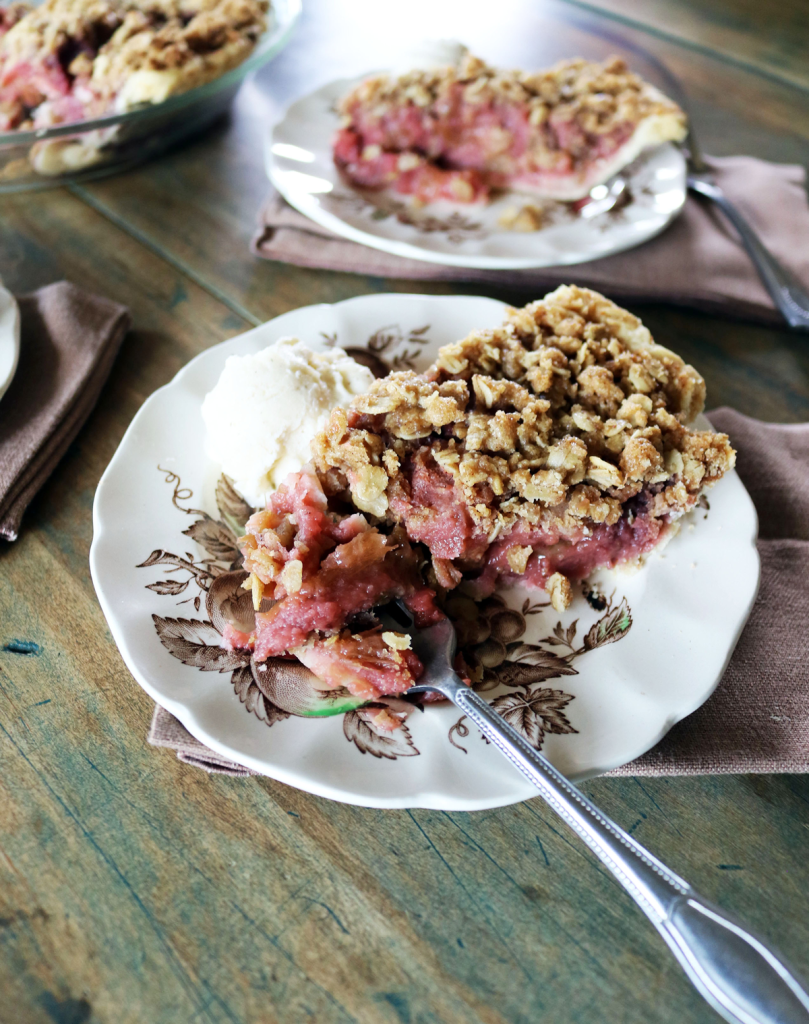 Ingredients: Dough for single-crust pie | FILLING: 1 large egg | 1 cup sugar | 2 Tbsp. flour | 1 tsp. vanilla extract | ¾ pound rhubarb ribs, cut into ½ inch pieces or 3 cups sliced frozen rhubarb | 1 pint fresh strawberry, tops cut off and halved Topping: ¾ cup flour | ½ cup packed brown sugar | ½ cup old fashioned oats | ½ cup cold butter, cubed
Directions: Preheat oven to 400°. On a lightly floured surface, roll dough to a ⅛ inch thick circle and transfer to a 9-inch pie plate. Trim crust to ½ in over rim of the plate. In a large bowl, beat egg. Beat in sugar, flour, and vanilla until well blended. Gently stir in rhubarb and strawberries. Pour into crust. For the topping, in a small bowl, combine flour, brown sugar, and oats. Cut in butter until crumbly. Sprinkle over fruit. Bake 10 minutes. Reduce heat to 350° and bake until crust is golden brown, and filling is bubbly, about 35 minutes. Cool on a wire rack. Serve with ice cream if desired.

*Tips and Tricks – If using frozen rhubarb, measure while still frozen, then thaw completely. Drain in colander but do not press liquid out.
Recipe by Taste of Home.
---
Photos & Food by
Melissa tate
To follow her cooking adventures visit MelissaTateTX.com or find her on Instagram at @melissatatetx.