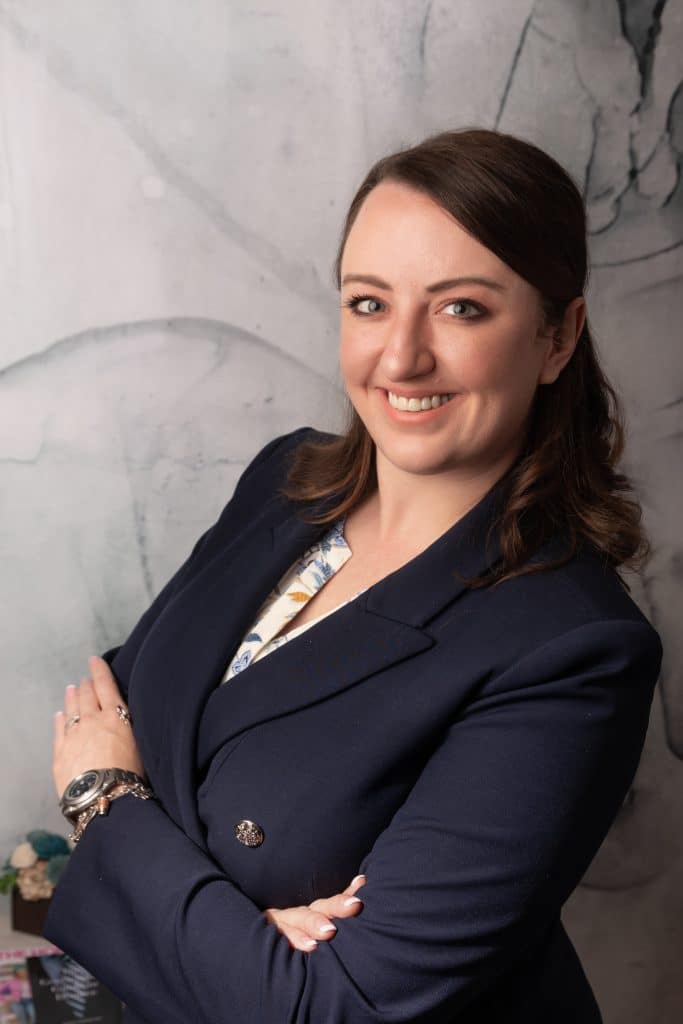 ---
Fairly early on, Rachel E. Barron knew that a career in law was a perfect fit. Her dad had a multiple-practice law firm she started working for as a receptionist in 2012. "It was the first thing that felt natural to me, and I was able to pick it up very quickly," she states. "I fell in love with the law, the work, and the sense of fulfillment that comes with serving others when they need help. I knew I wanted to be a lawyer within two weeks of starting at my dad's office."
After finishing her Bachelor of Science at Western Governor's University in 2017, Rachel obtained her Master of Arts in 2018 and her Juris Doctor in 2020 – both from Regent University School of Law. She became a certified mediator in 2013, and in 2018, she was Board Certified in Family Law as a Paralegal by the Texas Board of Legal Specialization.
However, not everything was smooth sailing – during her last on-campus semester, COVID hit and threw everything into chaos. "Suddenly, I was home-schooling my three kids in a 3-bedroom apartment, all while trying to juggle a part-time job and 18 doctrinal hours," Rachel remarks. "Thanks to my wonderful husband, we powered through, and I graduated with my JD on August 15, 2020, just under two years after I started the JD program. I sat for the bar exam in February 2021 (a week after the big freeze), and by God's grace, I passed the first time and was sworn into practice in April 2021. In January 2022, after a lot of therapy, thought, and prayer, I decided to start my own firm."
Making a Name for Herself
As a lawyer, Rachel participates in multiple professional associations, such as the State Bar of Texas, Texas Bar College, Montgomery County Bar Association, & The Woodlands Bar Association. She has also received several awards, including the Ronald L. Fick Book Award (2020), AVVO Client's Choice Award (2021, 2022), and just recently, Woodlands Living Magazine Reader's Choice "Best Attorney – Divorce & Family" (2022).
"I had no idea I was even nominated for this award," she laughs. "It came as a complete surprise when the envelope arrived in the mail. To have our community recognize my hard work and honor me with this award, it feels so good! It's the type of validation that makes people like me (Words of Affirmation is my love language) feel so wonderful. I actually cried, because it moved me so much."
It's clear that Rachel takes pride in her work and sees her job as more than just a job. "I believe very strongly that when you love what you do, it shows in your work and you excel in your field. Have I mentioned we love what we do?" she laughs. "Anyone that meets us knows that; it shows and we are proud of it!"
When asked about her favorite part of the job, Rachel found it difficult to pinpoint one specific thing. "That's a tough question because there is so much that I truly love about what I do," she explains. "Like anyone, there are days when it feels like work, but those are honestly rare. I love helping people during some of the most challenging parts of their lives. I love learning about the changes in the law and new practice tips. I love the amazing community of family law attorneys in Montgomery County (we have a wonderful group of family lawyers here). I love the team at my firm! They are amazing women, and I am fortunate to work with them. I honestly cannot imagine doing anything else."
In addition to having strong relationships amongst each other, the team at Barron Family Law Firm is all about meeting the needs of each and every person that comes in seeking their help. They care about their clients, listen to all their concerns, and above all, helping them through stressful and painful periods of their lives.
"I get the most fulfillment from helping people navigate what is usually the most difficult time in their life," she enthuses. "Helping people find common ground and resolve their differences without having the stress and financial strain that litigation brings is similar to a complex puzzle, and there's always a creative solution just around the corner."
The Barron Family Law Difference
This dedication to helping people is at the heart of The Barron Firm, PLLC. The firm is committed to providing clients with the highest quality legal representation in every case they handle. Their practice areas include divorce, child custody and child support, alimony, pre- and post- martial planning, and mediation. When clients hire this firm, they can expect compassionate and diligent representation. "We are great with the tiniest of details and focus on getting it right the first time because do-overs in family law are incredibly difficult, sometimes impossible," Rachel says.
"We talk through potential hurdles that may appear several years down the road to ensure our clients truly understand the potential outcomes of what sounds like a good idea. Our entire team is carefully curated to ensure we work well together and have the same overall style when we communicate with our clients and interact with the public."
"We focus on our client as a whole person, not just a legal case," Rachel affirms. Not only do Rachel and her team help their clients with all their legal needs but with any other problems they might have. "Whether the client needs a financial advisor, a therapist, a massage, or a new HVAC system, we have a network of vetted professionals to send them to. We work with hundreds of professionals in other fields to ensure that the client's legal needs are taken care of, and the client themselves is taken care of too."
In addition to spending time with her beautiful family – husband John and three children, Gabe (13), Lorelai (10), and Harrison (7) – Rachel's favorite activities are family game night with her sisters, and enjoying true-crime docu-dramas.