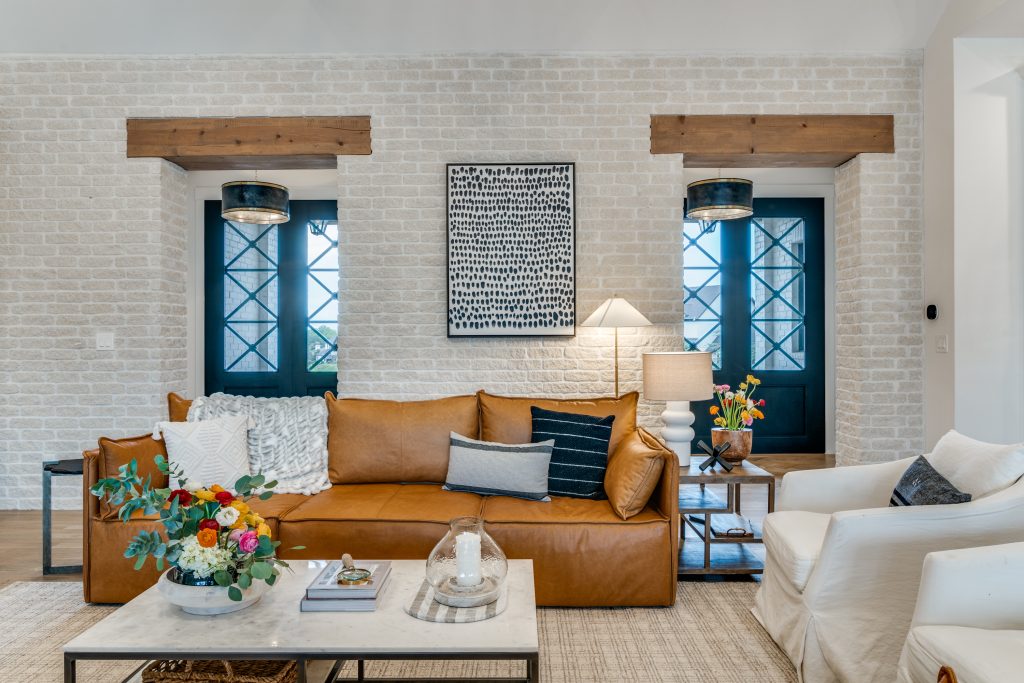 By
Courtney Warren
---
People assume that designing a space is just visual, and for a good reason. After all, what our eyes take in often plays a crucial role in the room. But you may not realize that our other senses are just as essential in creating an aesthetic.
But how do you incorporate the five senses into your space? Enter the StyleSense Design Quiz, a tool to assist you as you determine which one is most important and how to include all of them as you tell your story.
When You Walk Into A Room, What's The First Thing You Notice?
The onions simmering on the stove

The temperature of the room

Lamps or big windows that allow natural light in

The dining settings on the table

A space for quiet conversations
Think Of A Time When You Felt Uncomfortable In A Space. Which Of The Following Bothered You The Most?
A mysterious odor

The air was too warm or too cold

The use of harsh lighting

Absence of options for food and drink

The use of bold and busy colors
Which Of The Following Chores Do You Tend To Prioritize?
Cleaning everything

Vacuuming carpet

Painting and decorating

Arranging the kitchen

Setting up the TV and sound system
Your Bedroom Has To Have:
Linen spray

A plush blanket

A wall painted in a color that makes a statement

A glass of water on the nightstand

A noise machine
When You Do Spring Cleaning, What Do You Start With?
Disinfecting everything

Dusting

Decluttering paperwork — old bills, papers, etc.

Organizing the refrigerator and pantry

Fixing squeaky doors
Now tally your answers.
Did you choose mostly A's?
Consider incorporating more scents into your space.
Our sense of smell is a major player in the feeling of a space and is often overlooked. Think about when you walk into someone else's home. Can you tell that they just burned salmon or cooked broccoli? Or does the house smell musty and, as a result, feel dingy? Or is the mix of aromas warm and inviting? There is a reason why realtors bake cookies before a showing. Scents make a difference. To incorporate our olfactory sense into your home, utilize candles, diffusers, and sprays. My favorites are peppermint, lemon, citrus, lavender, and eucalyptus. To recreate a Zen hotel experience at home, dab essential oil inside a toilet paper roll before putting it on the holder or soak a cotton ball in a fragrant oil and place it underneath the trash bag. You will be surprised how pleasant the result is.

Did you choose mostly B's?
Consider incorporating more tactile sensations into your space.
Textures, surfaces, and materials are combined to create a feeling — good or bad — in a home. How would you describe a kitchen with long, slick countertops and bright white lights? Most people would say it feels sterile. Now, contrast that feeling with a cottage, soft sofas, fuzzy blankets, and a plush rug underneath your feet. You might say that space feels cozy. Notice I described the room's textures, and the result was a feeling.
Consider the textures of your sofa, bed, or comforter. How do your sheets feel? Are they pilled with little balls from wear and washing? What does not feel soft anymore? It might be time to invest in some new items that are soothing to the touch.
Did you choose mostly C's?
Consider how you've incorporated visual elements into your design style and bring them into focus.
Color is proven to impact mood and feeling. Businesses spend many marketing dollars and hours researching to determine brand colors that invoke a particular sense when people use their service. Similarly, color in your home can invoke the emotion you are striving to create. Blue suggests peace. Red, on the other hand, is used for strong emotions. A color wheel will give the specifics for every shade and can be a helpful tool to consult as you brainstorm what hues to use.
Did you choose mostly D's?
Consider incorporating more "taste" into your space.
Clearly, utilizing taste in design is not literal. Instead, it can be interpreted through how the space is set up to incorporate savoring food and drink. One of the most common offenders I see is a sitting area without tables to set a drink.
Ideas for adding taste include a coffee bar or mini refrigerator in the home office. Perhaps there is a small bowl of mints by the entry, or a bottle of water and a snack basket left in a guest room.

Did you choose mostly E's?
Consider what your space sounds like.
In college, I lived in a loft with upstairs neighbors who used rolling chairs to play hockey. Living beneath them was an explosion of sound that was fun for only the game's players. Do you live near a noisy road or train? Do you have neighbors who can hear you through paper-thin walls and vice versa? Do your floorboards creak, or does your HVAC shutter when it turns on? All of these contribute to the sound of your home. To create the background noise, you want and combat those you do not, grab a sound machine or a fan as a good starting place. Consider speakers or surround sound playing your favorite music.
While this quiz focuses on the sense that speaks most powerfully to you, take note of the other answers as well. Choose your favorite ideas from each category and incorporate them in a way that resonates with you.
---