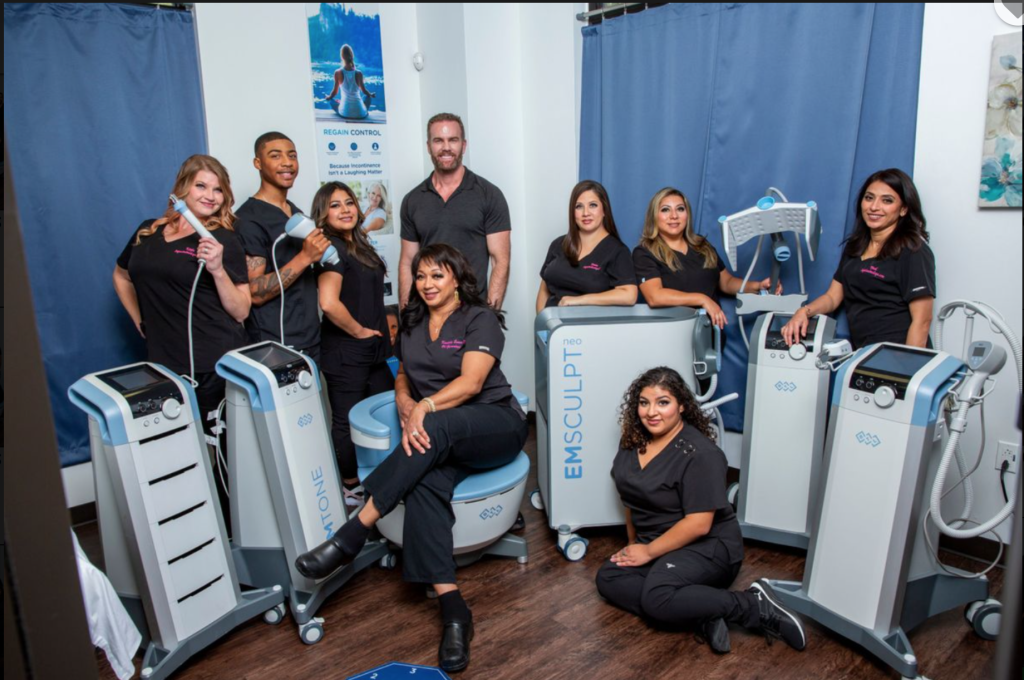 BY AUDREY SELLERS PHOTO BY KELLEY SWEET PHOTOGRAPHY
Dr. Kimberly L. Evans founded Sugar Land Medical Spa in 2014. She felt there was a growing need in this community to continue to look and feel better both inside and out. Dr. Evans knew medicine could only do so much to make patients feel great. So, she started her journey learning the best of the best technology and treatments. Her goal was to learn them and provide these treatments for her patients in ways most doctors could not.
If you want to be healthier, live happier, and feel sexier, talk to Dr. Evans at Sugar Land Med Spa. Dr. Evans is a board-certified gynecologist specializing in sexual health and aesthetics. With 20 years of experience, she has the training and knowledge to help you get the most out of your life.
"I opened Sugar Land Med Spa to provide a broad scope of treatment for sexual health and body aesthetics. I wanted to offer a higher level of care," says Dr. Evans. "My mission is to provide the best treatment and best care that will enhance our patients' lives."
Dr. Evans has acquired some of the most knowledgeable and trained staff. The team gets to know patients and takes care of them like family. Their goal is to provide that great experience and still make every one of their patients feel comfortable as an individual. Some of Dr. Evans' staff members have been with her for almost 10 years.
Sugar Land Med Spa has in-house ultrasound and labs for patient convenience. They offer many in-office surgeries and services. They also have expanded med spa hours available for late appointments and some Saturday mornings.
Whether you struggle with a gynecological condition, you long for a more fulfilling sex life, or you just want to feel more beautiful in your own skin, the expert team at Sugar Land Med Spa can address your specific concerns or conditions. This medical spa welcomes both men and women and offers a full suite of services, including full-body contouring, hormone therapy, laser treatments, and medical-grade aesthetic services.
Ground-Breaking Technology!
Another goal of Sugar Land Medical Spa is to offer the best in body-contouring technology. Through the years, the spa has acquired a suite of ground-breaking high tech award winning treatments. These cutting-edge treatments are both safe and comfortable, and the technology stands alone in research and advancements.
The latest is the EmScultpt Neo, and it is the first in Fort Bend County. Body contouring is the ability to non-invasively remove fat and tighten the skin cells. Dr. Evans wanted to offer this service because many of her patients did not want surgery or could not tolerate the downsides of surgery. Being able to non-invasively target fat in multiple areas is the key to the treatment.
The Emsculpt Neo also takes it one step further and builds muscle. Now you can remove fat, tighten the skin, and tone the entire targeted area simultaneously!
Combining the therapies means faster and more efficient treatment time. This amazing therapy is especially effective for legs, abs, and the buttocks.
Another revolutionary technology, the Emsella BTL, tightens the pelvic floor. This is important for non-invasively treating various conditions associated with incontinence for both men and women. Dr. Evans has shown in previous studies that this also helps treat sexual dysfunction in women.
An All-in-One Destination for Overall Wellness!
What sets Sugar Land Medical Spa apart is being able to offer multiple services under one roof. "We can truly customize our patients' experience," says Dr. Evans. "If patients want to lose unwanted pounds before the Emsculpt, we have the Clean Start Weight Loss program. This was voted the best in Fort Bend three years in a row." This physician-supervised program helps patients reset their appetite, reset their metabolism, and reduce cravings.For anti-aging of the face and body, Sugar Land Med Spa offers Botox, Juvederm, ViPeel, and radiofrequency to tighten the skin, fill wrinkles, and correct imperfections. To remove unsightly hair, the spa offers waxing as well as laser hair removal treatments. It comes as no surprise that Sugar Land Medical Spa has also been awarded Living Magazine's "Best Of Fort Bend" multiple years for Facial Treatments and Med Spa.
Meet Dr. Evans a.k.a. The Love Doctor
Dr. Evans has been practicing for nearly 20 years. She is a board-certified OB-GYN, however she has specialized in advanced training in cosmetic gynecology and treating patients for sexual wellness. With Oshot, Pshot, Bio-Identical Hormone Balancing, and gynecologist cosmetic surgery, combined with the numerous other non-invasive treatments offered, Dr. Evans is able to customize life-changing therapies for her patients. Through the years, she has helped hundreds of couples feel healthier and achieve a more fulfilling love life.
Dr. Evans is an active participant and leader in several professional organizations, including the International Association for Physicians in Aesthetic Medicine, American Medical Spa Association for Cosmetic Gynecology, Cellular Medicine Association, and American Medical Spa Association.
A frequent professional speaker, Dr. Evans has spoken throughout the country about non-invasive and regenerative techniques in hormone balancing and using these techniques to improve aesthetics and sexual function.
She is a legacy Biote provider and teacher for other providers for hormone therapy. In addition to Dr. Evans being an Oshot trainer, Sugar Land Medical Spa has received special recognition as a HiFem Academic Center, for their ability to offer this ground-breaking technology on a teaching level.
A More Fulfilling Life Awaits
You deserve to look and feel your best. Let Sugar Land Med Spa restore your confidence and rejuvenate your life with the safest and most innovative treatments available. Visit SugarLandMedSpa.com to book your consultation today.
Sugar Land Med Spa invites you to its open house on November 20 from 9-12. Grab your friends and stop by for light bites and special offers just in time for the holiday season. Visit SugarLandMedSpa.com for more details.
Contact
1441 Highway 6, Suite 200
Sugar Land, Texas 77478
(281) 277-7721
SugarLandMedSpa.com