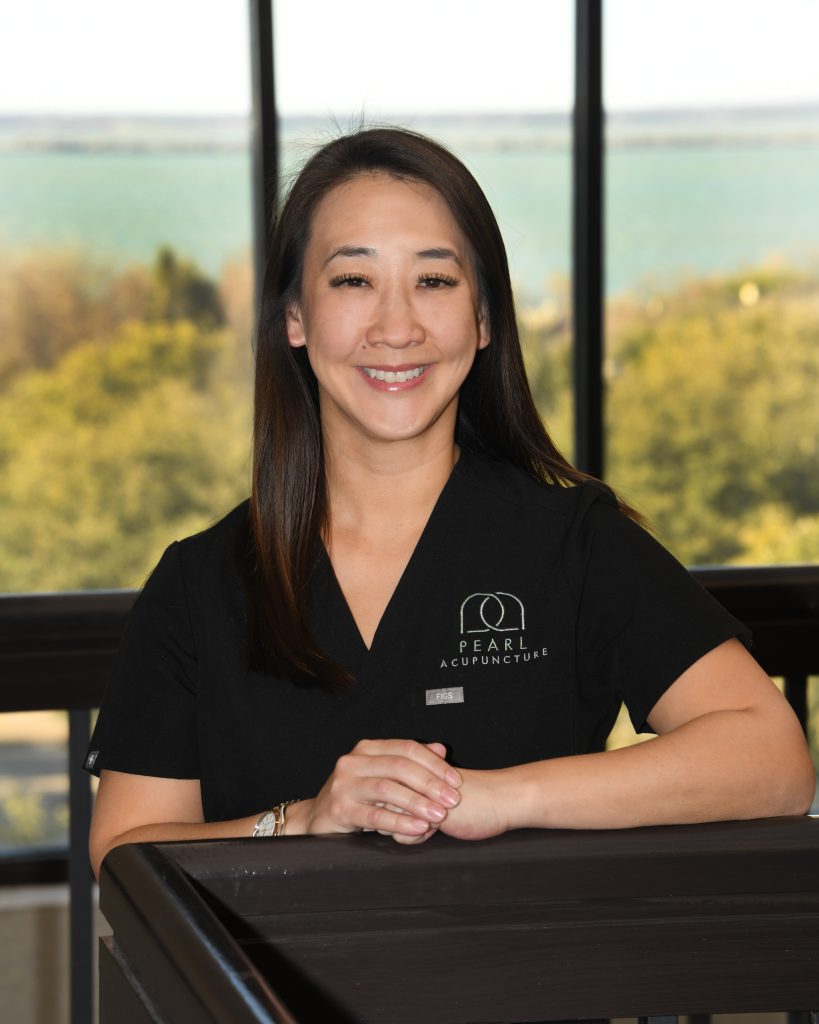 Photo By Lake Pointe Photography
---
Imagine having your chronic pain melt away, your stress subside, and your whole body feel balanced and harmonious. These are just some of the many benefits that can come from receiving acupuncture, an ancient form of Chinese medicine. Dr. Pearl Chang Russell established her practice, Pearl Acupuncture, to bring healing to those who need it. She specializes in pain, fertility, and maternal care but enjoys seeing patients of all ages for many different ailments.
"I love being able to help people, whether it's for pain, fertility, or digestion and stress issues," she says. "We often hear, 'You are my last resort. Nothing has been able to help.' Making a difference in people's lives is so rewarding."
After a successful 10-year career in the marketing industry, Dr. Russell felt called to change directions. Her grandmother, who worked as an acupuncturist for more than 50 years, was her biggest inspiration in learning acupuncture. Dr. Russell earned her Master of Science in Acupuncture and Oriental Medicine from the Texas Health and Science University and her doctorate at Pacific College of Oriental Medicine with a focus on diabetes prevention and management.
At Pearl Acupuncture, you and your loved ones — from babies to older adults — can find relief from common ailments like digestion issues, back pain, headaches, neck pain, and knee pain. Dr. Russell also helps many patients with fertility, whether they're trying to get pregnant naturally or through IUI or IVF.
She says patients often wonder if acupuncture will hurt. Since acupuncture needles are thinner than a strand of hair, the answer is no. "It just feels like an ant bite," Dr. Russell says. "The needles are thinner than what you might feel getting a tattoo or a flu shot."
The practice uses a combination of acupuncture, cupping, moxibustion, and other modalities, with the option of incorporating supplements and Chinese herbs. "In Chinese medicine, we look at the whole body. We figure out what kind of imbalances may be causing pain or fertility issues, and then we treat patients based on what we find," Dr. Russell explains. "The acupuncture points and herbs we use can supplement those deficiencies."
Wondering when you might see an improvement? "For fertility, we advise women to go through three cycles before expecting anything," says Dr. Russell. "If you're coming in for anything else, we recommend starting with three to five treatments, one or two treatments a week to see if there's any improvement."
There's no prep work required for an acupuncture treatment, and there's no downtime afterward. "Just come in with an open mind. There are no guarantees, but it doesn't hurt to try," Dr. Russell says.
Pearl Acupuncture is an in-network provider with Blue Cross Blue Shield, United Healthcare, and Aetna. The practice will contact your insurance provider to verify coverage before your appointment. You may use HSA and FSA funds to cover the cost of your treatments. Learn more at PearlACU.com.
---
CONTACT
2504 Ridge Road, Suite 104
Rockwall, Texas 75087
375 Municipal Drive, Suite 122
Richardson, Texas 75080