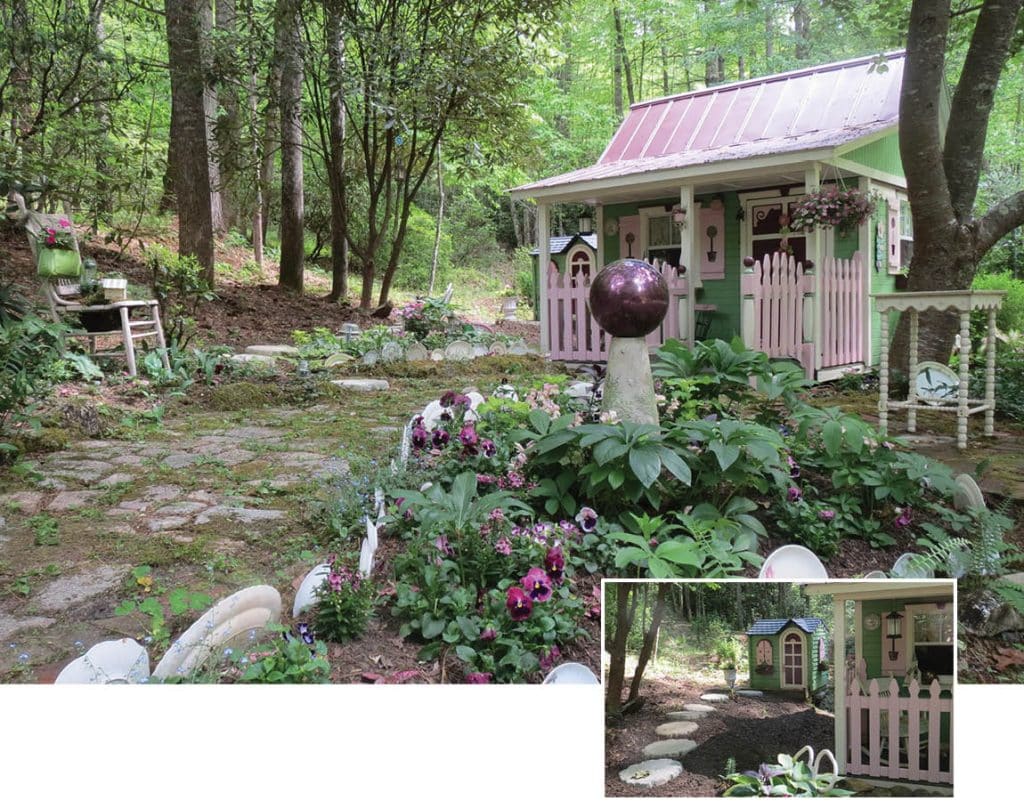 Women across the country are leaving stress and worry at their very own front doors
When I was a kid, I'd ask my mom the same questions every Mother's Day. "When is Kids' Day?" And every year she'd give me the same answer. "Every day is kids' day!" In the same way, I suspect if I were to ask my husband whether I shouldn't have a woman cave, now that he has his beloved man cave, he'd tell me that every other room belongs to me. (Yeah, me and four kids, two dogs, two cats, and untold dust bunnies.) But an encouraging trend is popping up all over the country—something that's been dubbed the "she shed"—a cozy little space set aside for Mama to do whatever Mama wants to do, without having to share the air with anyone; where she can spread out a craft project and leave it out; where she can read, write, paint, listen to music, exercise, practice yoga, or fiddle around with her plants in blessed solitude.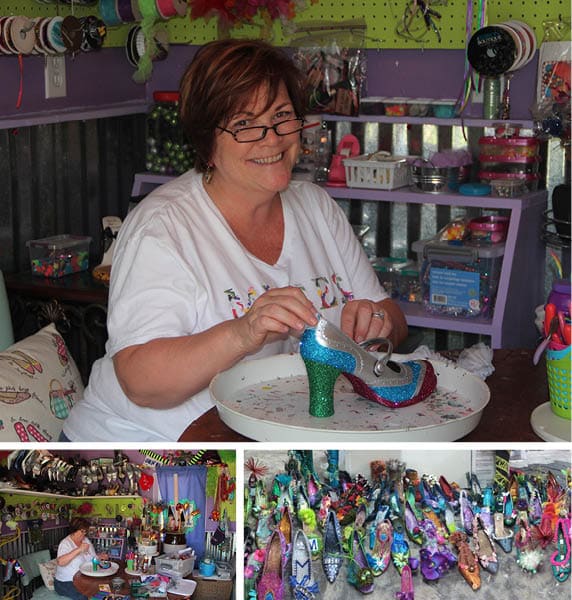 Tara's Glitter Palace
For Tara Slater of Abita Springs, Louisiana, it was actually her husband, Barry, who nudged her to make a place of her own. The vivacious paralegal and her electrical designer husband left the city of New Orleans when Hurricane Katrina destroyed their home, and moved an hour north to a sleepy little artist community. They built a home on the banks of a lazy strip of bayou and Tara dubbed her new digs "Taradise."
Well, you can take the girl out of the Big Easy but you can't take the Big Easy out of the girl. Since 2004, Tara has held membership in an all-woman Mardi Gras krewe called Muses, whose signature "throws" are shoes decorated to the nines. You haven't really experienced Carnival in N'awlins until you've gotten ahold of a Muses shoe. So Tara set about in her new home (which includes her four pampered dachshund fur babies) decorating her shoes with glitter, sequins, and other bric-a-brac. "The house was brand new and glitter was everywhere," Tara laughed. "Barry was finding glitter in places he never thought he'd find glitter."
Although they have a spacious covered patio, Tara just couldn't do her shoe decorating in the wind, heat, and Louisiana humidity. "Barry drew up plans for a 12'x12' building," Tara said. She named her she shed the Glitter Palace, and decorated it like a Bahamian bungalow—painted in blues, pinks, and lime green with palm trees, pink flamingos, and strings of shoe-shaped lights. Inside, a whimsical multi-colored chandelier hangs above pink and white checked flooring. The walls are purple, with lime green peg board proffering spools of sequins and ribbon, and the cabinets overflow with pompoms and crafty doodads.
"I have air conditioning, TV, music, and a fridge out here," Tara said. "I can have shoes in different stages and work from shoe to shoe without having to pack anything away. I can listen to whatever I want as loud as I want. In the winter and fall I decorate shoes for 15 hours a week. As Mardi Gras gets closer, I'm in the Glitter Palace six or seven hours at a stretch."
Some of the other Muses members have studios in their home they call "shoedios," or garages they've dubbed "glitterages." But Tara is at home in her Glitter Palace. "We had a workman at the house the other day who took one look at it and asked Barry if this was a portable snowball stand," she said, laughing.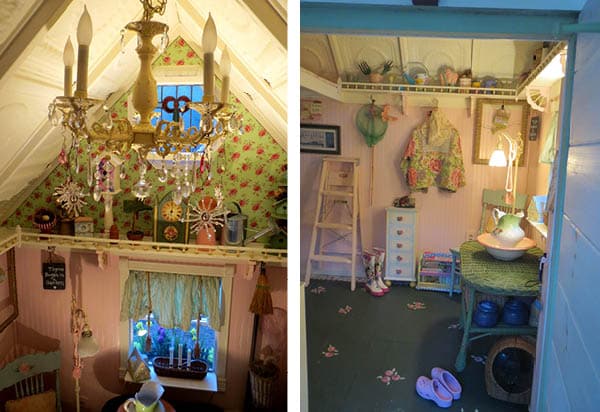 Barbara's Garden Retreat
Retired RN Barbara Stanley and her husband, James, live on 25 acres of God's country, on the side of a mountain in North Carolina, on land that's been in James' family since the 1940s. When the couple discovered they needed to dig a new well, it seemed to Barbara like the perfect opportunity to get something she'd always wanted.
"I love gardening," she said. "Since we needed to build a structure for the new well anyway, I thought why not make it larger than we need, and I could use the extra space as a potting shed."
She'd seen darling playhouses built by a local Amish community and bought one measuring 8'x10'. "It was already constructed, but it was unpainted, and the inside was just studs and siding—no insulation or walls," she said.
That's when the fun began. Minty green paint inside and out, pink shutters with flower pot cut-outs, gingerbread trim, vintage linens, and repurposed treasures galore transformed the simple structure into a fairytale cottage. To decorate the inside, Barbara hit local flea markets and thrift stores, determined to repurpose as much as possible. She stenciled the floor, wallpapered the upper reaches, and even installed a chandelier. Her antique tin ceiling was a Habitat for Humanity ReStore find, and a galvanized tin and maple potting bench was rescued from a school cafeteria.
"Originally all I planned to do was paint the inside and put up some shelves," Barbara said. "But we covered the walls in beaded board and installed fluted window trim, and it sort of snowballed from there. We found an old galvanized cooler. James drilled a hole, attached a drain and a brass showerhead we found at a landfill, and made it into a sink." They installed wiring and plumbing to bring electricity and running water, and even put in a picket fence and a little wooden bridge.
By the time all was said and done, the well was enclosed in a Little Tikes playhouse painted to match the she shed and positioned next door. Barbara entered her finished product in the Mother Earth News Great Garden Sheds Showoff where it won first place in the Most Colorful/Decorative Garden Shed category. And it's even featured in the newly published She Sheds: A Treasure Trove of Women's Creative Spaces (Simon & Schuster, 2016).
Other resourceful women across the country have turned abandoned playhouses into yoga studios, garden sheds into hang-out spaces for girlfriends, and prefabbed mini cottages into writing nooks or ceramic studios. Each she shed is as unique as the woman inhabiting it. Some are bare bones. Some are over-the-top elegant. Others are playful and whimsical. Some have been custom built, others are pre-fabricated. But all are a sanctuary in the convenience of the backyard, where Mama can get centered and return to the demands of the house refreshed and renewed. Because—as Tara and Barbara can attest—when Mama's happy, everybody's happy.
By Mimi Greenwood Knight