Connect with Nature in Jackson Hole, Wyoming
"I'm ready to move to the mountains," I told my husband via our late afternoon phone call after I'd been in Jackson Hole, Wyoming, for two beautiful days. This mid-March weekend had presented temps in the mid 40s and was so mild people were skiing in T-shirts.
Jackson Hole is known for its world-class skiing—in other words its extreme vertical skiing. Though there are some green slopes, the mountains are best enjoyed by intermediate to advanced skiers who feel comfortable on blue and black runs. As one local put it, "They've tried to green up the mountain, but we're in the Tetons, for crying out loud. These peaks are just teenagers in geological terms, very steep and not yet weathered. They aren't going to be tamed." And like a rebellious teen, they come jutting out of the landscape all drama, confidence and sharp edges, surrounding the town of Jackson Hole in unparalleled beauty.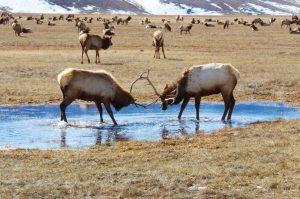 But skiing isn't the only thing going in Jackson Hole. To truly take in the area's majesty, one needs to get out. Way out. And the best way to do that is on the back of a snowmobile. I truly felt like an explorer out in the vast sunny wilderness—spotting bald eagles, moose and bighorn sheep—even though I followed the experienced guide and kept to the safety of the groomed trail. The guide said kids as young as nine have operated their own machine, with younger ones able to ride along with parents, making this an adventure the whole family can experience.
To get even closer to nature, embark on a sleigh ride (or wagon ride if the snow is melting) to discover the National Elk Refuge. Created in 1912 to protect and preserve habitat for the Jackson Elk Herd, the refuge consists of 24,700 acres of intermountain valley in the Jackson Hole area of northwestern Wyoming. The impressive elk (in herds reaching numbers in the 1000s), familiar with the sleighs and wagons, walk peacefully by—sometimes almost close enough to touch.
After a full schedule of vigorous outdoor activity, there is no better place to unwind than at Solitude Spa at Teton Mountain Lodge, which was named the number one spa in Wyoming and number 14 spa in North America by Conde Nast. The treatments are exceptional, but the spa's luxury tranquility lounge, opulent steam showers, hot tubs and a state-of-the-art fitness center set it apart.
STAY
[one_half] [one_half last="yes"]
I'm told summers can get crowded—must be something about the 80°F weather. To avoid the masses, we recommend staying in the Teton Mountain Village, rather than in downtown Jackson Hole. A three dollar bus ride takes you into town and then you can escape to the quiet of the village afterward. And lodging in the village during winter gives you the convenience and luxury of ski-in/ski-out access to the mountain.
[/one_half]
Families will enjoy the comfortable, laid-back atmosphere of the Teton Mountain Lodge and Spa. Massive, rough-hewn wood beams stretch across the lobby ceiling, giving it a genuine "lodge" feel. Large stone fireplaces, surrounded by comfy chairs and couches, flank either side of the room and in them warm, crackling fires burn at all hours. In the guest rooms, soft plaid blankets drape the foot of the beds and oversized, wooden rocking chairs beckon. Children will be delighted with the adorable stuffed grizzly teddy waiting in every room.
Those seeking a more modern vibe to their accommodations should consider eco-friendly (it's LEED-Silver certified) Hotel Terra. Sleek, contemporary interiors bring elements of nature inside with unique art, natural finishes and a fresh, clean color palette. The well-appointed rooms are spacious and the suites offer ample seating, ideal for in-room entertaining. Hotel Terra even has a rooftop hot tub where you can relax while soaking up panoramic views of Jackson Hole's rugged peaks.
EAT
Jackson Hole is brimming with good eats. Here are a few of our recommendations.
In the Teton Mountain Village:
Il Villaggio Osteria inside Hotel Terra – serves up mouth-watering wood-fired pizza and other fine Italian flavors
Spur at Teton Mountain Lodge – the place for an après ski nosh, with yummy lunch and dinner options
Couloir – a special dining experience at the summit of the Bridger Gondola at 9,095'
The Mangy Moose – a Jackson Hole staple since 1967, known for its live music and dancing
The Handle Bar – a classic pub with a modern twist and to-die-for appetizers
In downtown Jackson Hole:
Bin22 – the food and atmosphere combines the sophistication of NYC with the rustic elegance of the Italian countryside
The Wort Hotel's Silver Dollar Bar & Grill – this step back into Jackson Hole's colorful history pairs well with its traditional-gone-gourmet fare
The Million Dollar Cowboy Bar – downtown Jackson Hole's famous watering hole
Café Genevieve – a can't-miss for brunch
After my proclamation that I was ready to relocate, my alpine-loving husband began researching jobs opportunities and homes all along the intercontinental divide. But on the morning of my departure a chilling wind blew down from the artic, driving the mild temperatures into below zero levels—not something this southern girl expected. "Is this normal?" I asked through chattering teeth as the shuttle driver carefully maneuvered through the white blizzard. "Yup," he responded. While watching the snowy powder serpent across the road, while ice coated cars, trees—even the moose if they stood still long enough—I realized I might not be quite ready to move to Jackson Hole, but it certainly is an awe-inspiring destination to explore any time of year.
-By Abby Hoeffner