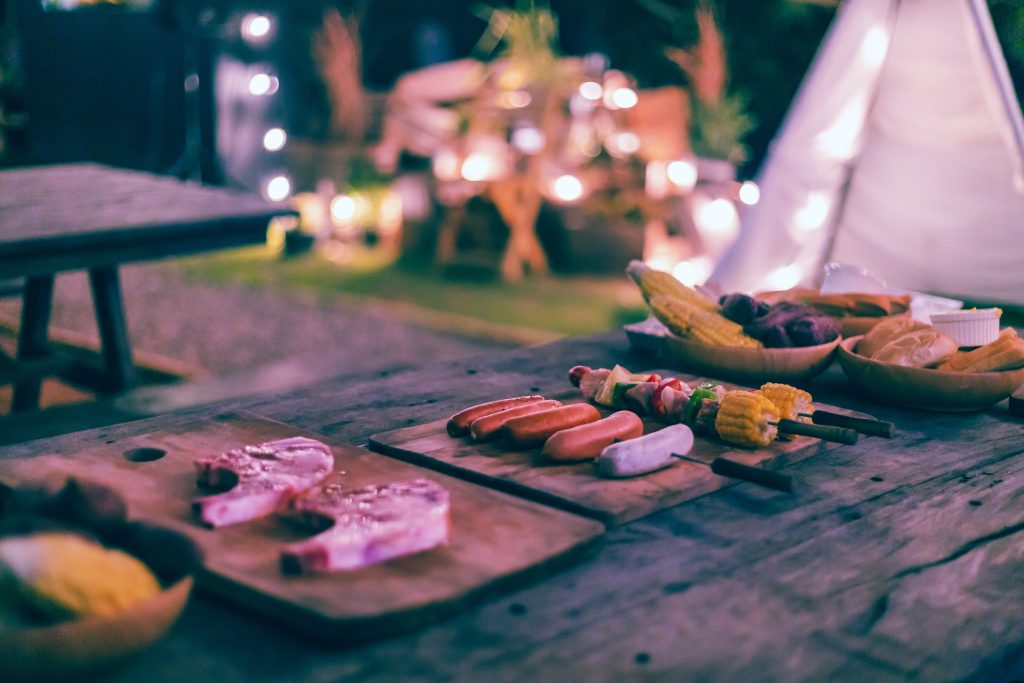 By Sydni Ellis
---
Texans are known for their amazing BBQs. Hamburgers, hot dogs, ribs, steak, chicken, baked potatoes, corn on the cob, pineapple slices, fresh veggies — it all tastes better after being marinated and seared on the grill. Summer is your chance to give the kitchen a break, eat your meals outdoors, and invite your friends and neighbors over for a cookout. With a little preparation, you can host the perfect BBQ.
Decide on a menu, then buy extra food. The cardinal rule of BBQs is you can never have too much food. Choose your main menu items — classic hamburgers and hot dogs, or perhaps something more elaborate like steaks and salmon, then factor in about ½ to ¾ pound of cooked meat per person. Always err on the side of buying more meat, so you don't run out. Plus, guests will love taking
home leftovers.
Don't forget the sides. It's not just about the grilled meat. Fresh fruits and veggies, homemade dips, a wide variety of chips, baked beans, potato salad, and plenty of sweet desserts can all help fill up your guests' plates. Make them yourself or encourage guests to bring enough to share. After all, BBQs have a community spirit, and most people love bringing something of their own to contribute.
Provide entertainment. It can take a while to cook all the food at a BBQ, so be sure to offer guests entertainment options. Encourage them to play volleyball in the swimming pool or cornhole on the lawn. Of course, blasting upbeat summer music is a great way to set the atmosphere, too.
Set the table. Since summer BBQs are casual, you don't have to worry about formal centerpieces or fancy seating. You can set up lounge chairs and picnic tables or bring out folding tables covered with cute outdoor-friendly tablecloths. Then, set the table with tons of napkins (to soak up the BBQ sauce, of course). Complete the aesthetic by lighting a few mosquito-repellant candles and hanging outdoor lights. Finally, pass around a Polaroid camera or encourage everyone to take pictures with their phones to commemorate the event.
Serve cold drinks. Help beat the heat on a warm summer evening with thirst-quenching cold drinks. Whip up homemade lemonade or a cool punch for non-drinkers, then serve beers, ciders, and wine coolers in a cooler with ice.
You can also offer sangria, like the White Wine Sangria with Summer Fruits from The Spruce Eats, made by mixing the following ingredients:
• 1 bottle of white wine

• Juice squeezed from one lemon, one orange, and one lime

• 1 peach, cut into wedges

• 1 cup sliced strawberries

• ½ cup lemonade

• ½ cup sugar

• 3 ounces brandy

• 1 can pineapple

• 2 cups ginger ale and ice added just before serving
Just remember, good food and great company will make your BBQ perfect — everything else is an added bonus.
---
[SPEAKING OF BONUSES]
10 Grilling Tips
Follow these simple grilling techniques by The Food Network:
Clean your grill. You don't want old food flavors and excess char mixing with your meat.

Flip less often. Most meats can be flipped just once.
Don't flatten meats. This will make it lose fat and juices that create delicious flavor.
Use a meat thermometer. After all, food poisoning is not a fun party favor, and neither is over-cooked dry meat.
Don't put cold foods directly on the grill. Let meat warm to room temperature first.
Slightly undercook foods. Meat, for example, finishes cooking for a few minutes off the grill.

Rest meat. Let it sit for five to 15 minutes after cooking before cutting and serving. You may tent it under foil to help keep it warm while resting.
Don't over-char. Cook thicker cuts of meats with bones on high heat first, then move to a lower heat. Or pre-cook in the oven for 15 to 20 minutes.

Keep it simple. Stick to just one to three different meat options.
---