Easy Dr. Pepper Sticky Wings
Servings: 4 | Prep Time: 20 mins. | Cook Time: 30 mins.
Ingredients: ½ cup Dr. Pepper | ½ cup soy sauce | 2 Tbsp. freshly squeezed lime juice | ¼ cup ketchup | 2 Tbsp. yellow mustard | 1 Tbsp. Worcestershire sauce | 1 to 2 chipotle chiles in adobo sauce, finely chopped | 1 Tbsp. garlic powder | 1 Tbsp. onion powder | 1 tsp. smoked paprika | ½ tsp. black pepper | 2 ½ pounds pre-cooked chicken wings | 2 Tbsp. butter | Salt to taste
Directions: Whisk together Dr. Pepper, soy sauce, lime juice, ketchup, mustard, Worcestershire
sauce, chipotle chiles, garlic powder, onion powder, smoked paprika, and black pepper until
well blended. Add the butter to a large pot and melt over medium heat. Add the wings to the pot and cover with marinade. Bring to a boil, stirring to make sure all the wings are coated, then cover the pot and turn heat to medium-low. Cook covered for 15 more minutes. Remove the lid, stir and cook 10 more minutes to allow the sauce to reduce. The wings are already cooked so remove at any time if you feel the sauce is ready. Add salt if needed. Cool a bit and serve with dipping sauce and veggies.
Inspired by Homesick Texan of Dallas. You can find more of Homesick Texan's recipes at HomeSickTexan.com
---

1-Minute Super Creamy Avocado Dip
Servings: 6 | Total Time: 5 mins.
Ingredients: 2 fresh avocados | 1 lime, juiced | ¼ cup evaporated milk | ⅓ cup mayonnaise | ½
tsp. salt | ¼ tsp. red pepper flakes | 1 ½ tsp. garlic powder | 1 ½ tsp. onion powder | ¼ tsp. black pepper
Directions: Place all ingredients in a blender and blend for 20 to 30 seconds or until the mixture is smooth and creamy. Transfer to a bowl and top with a sprinkle of red pepper flakes. Serve immediately or cover and place in refrigerator for up to two days. Enjoy with chips, carrots, bell pepper, tomatoes, or any veggies of your choice.
Inspired by Easy and Delish of San Antonio. You can find more Easy and Delish recipes at EasyAndDelish.com
Tips AND Tricks: This dip is also perfect for tacos, taco salads, and fajitas. It's a quick and easy way to add something extra to your meal.
---

The Best Healthy Banana Bread
Servings: 12 | Prep Time: 10 mins. | Bake Time: 45 to 50 mins.
Ingredients: 2 cups white whole wheat flour | 1 tsp. baking soda | 1 tsp. cinnamon | ½ tsp. nutmeg | ¼ tsp. salt | 4 bananas, mashed | 1 banana for the top of the bread | ⅓ cup maple syrup | ⅓ cup coconut oil, melted | 1 ½ tsp. vanilla | 2 eggs | ¼ cup dark chocolate chips
Directions: Preheat oven to 350°. Spray a loaf pan with nonstick cooking spray and set aside.Combine flour, baking soda, cinnamon, nutmeg, and salt in a medium bowl. Add mashed bananas, maple syrup, melted coconut oil, vanilla extract, and 2 eggs to a large bowl. Whisk together until combined and smooth. Pour the flour mixture into the wet mixture bowl and combine. Pour the banana bread mixture into the prepared loaf pan. Cut remaining banana in half and place outer side down in mixture. Arrange dark chocolate chips around bananas. Bake for 45 to 50 minutes or test by inserting a toothpick and remove from the oven if the toothpick comes out clean.
Inspired by Joyful Healthy Eats of Houston. You can find more of Joyful Healthy Eats recipes at JoyfulHealthyEats.com
Tips AND Tricks: You can also combine a cup of walnuts into the mixture and stir chocolate chips into the mix rather than placing them on top.
---
About our chef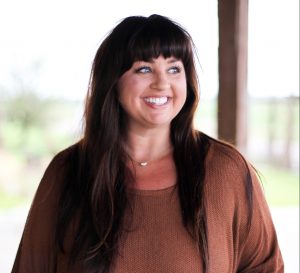 Melissa is a freelance food writer with a passion for hospitality and home cooked meals. Along with writing, she helps her husband run their working ranch and event venue in Rockwall, Texas. To follow her cooking and ranching adventures visit MelissaTateTX.com or find her on Instagram at
@melissatatetx.