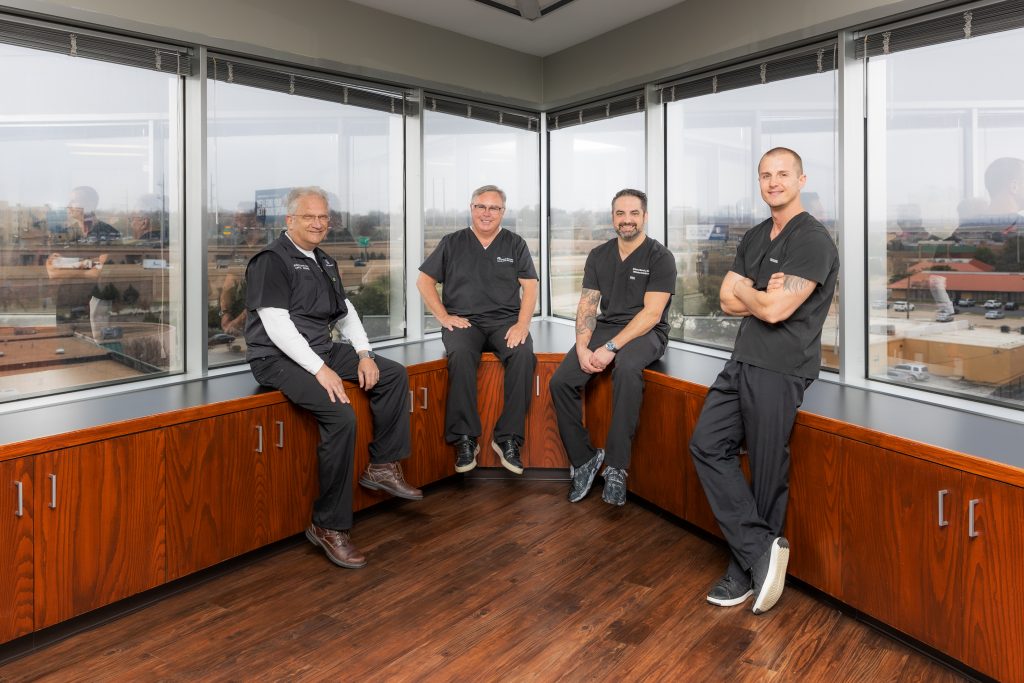 BY JORDAN KIFFER PHOTO BY KENNY RICHARDS
With its many decades of service and the newest technologies in medicine, it's no surprise that Ultimate Bariatrics was voted Best Of in Living Magazine's Readers' Choice awards. Ultimate Bariatrics is opening a new location in the Las Colinas area in November. "We are so excited about our new office," said Dr. Adam Smith. "We will be able to serve that area better while maintaining our other locations." The practice started in 2004, growing from one surgeon to four.Ultimate Bariatrics surgeons are Adam Smith, DO, DFACOS, FASMBS; Robert Snow,DO, FACOS, FASMBS; Jay Roberts, DO, FACOS, FASMBS; and Richard Novack,MD, FACS, ASMBS.
All four are fully trained in all areas of bariatric surgery. They are also involved in the Fellows of American College Surgeons and the Fellows of American Society of Metabolic and Bariatric Surgery. Ultimate Bariatrics specializes in all forms of bariatric and weight-loss surgeries. The center provides many procedures, including gastric sleeve, gastric bypass, and gastric balloon.
"There is a renewed interest in the treatment of obesity due to the pandemic. The public has realized that your health and quality of life are poorer if you are overweight," said Dr. Smith. "But weight-loss surgery is not just about appearance — it helps reduce the risk of diseases related to obesity, including Type 2 diabetes, hypertension, sleep apnea, and others."
Contact
2501 Parkview Drive, Suite 560
Fort Worth, Texas 76102
4370 Medical Arts Drive, Suite 10
Flower Mound, Texas 75028
6121 North Highway 161, Suite 225
Irving, Texas 75038
(817) 850-1100
UltimateBariatrics.com