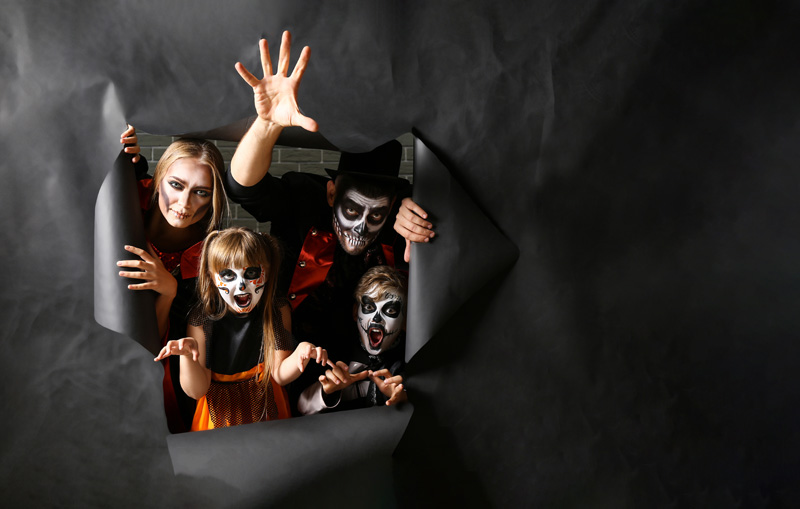 Ideas for Creating a Frightfully Festive Halloween for the Whole Family
By Audrey Ashe
While you can't literally travel back in time and bring those memories to life, sharing cherished traditions, treats, and a few harmless tricks with your own family can be just as special. Among hayrides, bobbing for apples, picking out or making new costumes, and decorating the yard, there
is an endless array of fun-filled activities to choose from. This spooky season, plan to create some new family traditions of your own.
Traditions Old and New
Wearing other-worldly costumes gets its roots from the old belief that on the final days of October and first days of November, when the veil between the spirit and human worlds was at its thinnest, all manner of ghosts and ghouls could be encountered. Lest they get confronted for their mortal nature, people donned ghastly masks to trick the ghosts into thinking they were fellow spirits. Since masks are great fun to make for people of all ages, gather your family 'round to make a new keepsake ghost mask each year. Include distant friends and family by making it a virtual gathering. Create the masks using paper plates and string. Go to town with markers, paint, glitter, feathers — you name it. Then each year, have everyone make a new type of ghost face, from pirate to Pokémon, to add to their collection.
Bonfires are a big part of the Halloween tradition for their warmth and making gooey goodies like s'mores. Why not take it up a notch and have an annual spooky cookout and campout? Roast your favorite hot eats and sweet treats under the stars, then get ready for a round of spooky stories and skits, ghost masks included.
Pumpkin carving is perhaps one of our most beloved Halloween traditions. You can get as fancy as you'd like using special carving tools and creating patterns of luminary holes with a power drill. But did you know the glowing, grinning face of Jack wasn't always out of his gourd? In the Middle Ages, the prototype for jack-o'-lanterns came primarily from Ireland. The tale is of a lost soul, Stingy Jack, who had tricked the devil multiple times and was doomed to wander the earth with his lantern made from a turnip. This, of course, led to pranks and copycats. Eventually jack-o'-lanterns found their way to the U.S. where more widely available pumpkins were used instead of turnips. With all that extra room, it was easy to kick the scare factor up a notch with a frightening carved face. And thus, Stingy Jack with his lantern went from an uninvited traveler to a welcomed character during modern-day Halloween.

You are Getting Sleepy, Very Sleepy…
As a metaphorical pendulum swings back and forth before your eyes, think back to your childhood and the magic surrounding Halloween. Inhale the crisp autumn air. Hear the rustle of autumn leaves. Admire twinkling jack-o'-lanterns peeking out from the dusk. Feel the weight of your treat bag full of sweet treasures.

Make an Eerie, Edible Haunted House
This haunted house is a great spin on the gingerbread classic. Simply buy or bake your own cookie construction pieces, then decorate your creepy cottage with edible decorations. Here are a few ideas.
Use orange and black food coloring to give the walls a festive makeover.

Make roof tiles from candy corn.

Place a few candy pumpkins around the doorway.

Create an iron fence using different pieces of black licorice. Try twisting and knotting it for a full effect.

Decorate marshmallows with ghost faces or make marshmallow mummy pops. Mount them on toothpicks or lollipop sticks to make them float.
Preserve Halloween Memories
Create a physical or digital scrapbook of photos, drawings, and memories you and your family can reminisce over each year.