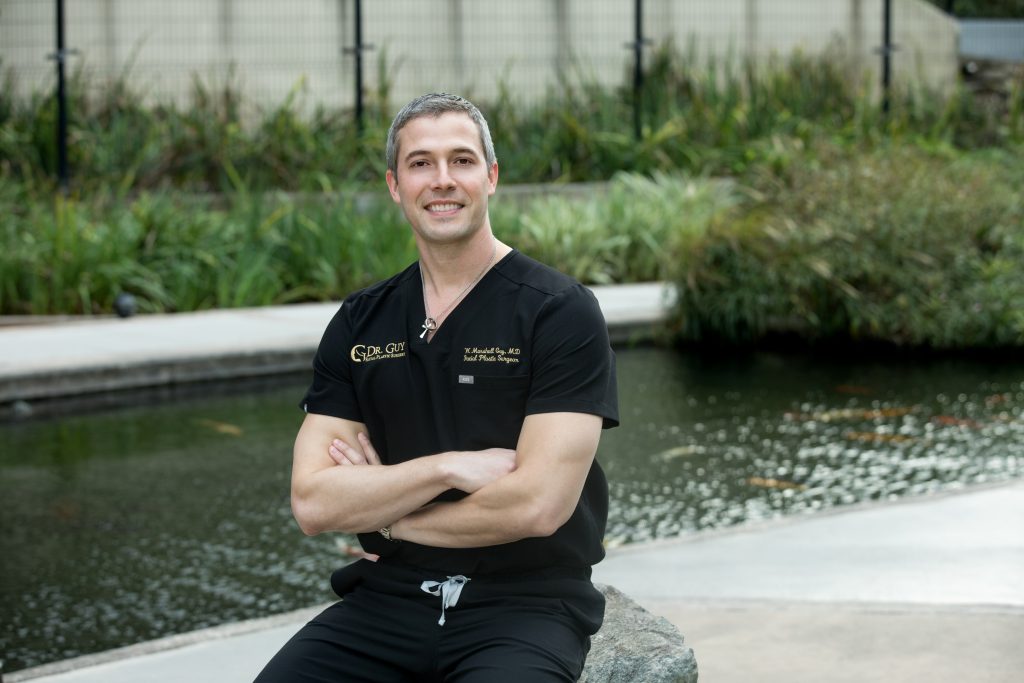 BY ANNETTE BROOKS PHOTO BY APRIL SANCHEZ OF TAYLOR MORGAN PHOTOGRAPHY
When you're a facial plastic surgeon dealing with the delicate intricacies of the face, perfection is measured in millimeters. Dr. W. Marshall Guy, a double board-certified and fellowship-trained facial plastic surgeon, strives for perfection and being the best in everything he does. He also has a refined sense of aesthetics, a penchant for paying attention to every little detail, and a personable demeanor combined with exceptional listening skills.
All this and more, including natural-looking results, make Dr. Guy an award-winning facial plastic surgeon. His accolades include being the recipient of two Living Magazine Readers' Choice awards, voted in Best Facial Plastic Surgeon in The Woodlands in 2020, and Best Plastic Surgeon in 2018. In an area with many plastic surgeons to choose from, awards like these speak volumes.
Yet for Dr. Guy, it's not about how many awards he and his team can collect. Their goal is to help you retain your unique facial qualities while discreetly reversing the signs of aging or addressing imperfections.
"I love getting to know my patients and talking about what brought them to see me," says Dr. Guy, who grew up in the Spring-Klein area. "We'll talk about your goals and priorities, then go through customized options, covering everything from the least invasive treatments to surgical services. I can show you what you can expect to look like using 3D imaging software, and we'll also discuss maintenance. This way, you can make an informed choice."
Look What's New
Dr. Guy continually evaluates new technologies, products, and techniques. He recently added Jane Iredale mineral makeup to his offered skincare products, but perhaps the most exciting addition is a new, exclusive collection of RHA dermal fillers with results that last up to 15 months.
"The beauty of the RHA filler collection is their natural feel and dynamic resiliency," explains Dr. Guy. Provided only in physicians' offices, to his knowledge, Dr. Guy is the only doctor in the area to offer RHA injectable fillers.
Impeccable Credentials
Dr. Guy graduated number one in his class in high school, college, and medical school. He was accepted into a highly competitive residency program in head and neck surgery at Houston's Baylor College of Medicine then completed a facial plastic and reconstructive surgery cosmetic fellowship at the McCollough Plastic Surgery Institute. Visit DrGuyFacialPlastics.com to read his complete bio.
There's No Better Time than Now
More than ever, we're focusing on self-care and investing in ourselves. Dr. Guy and his team will help you look your personal best. Services for the face and neck include a wide range of cosmetic and reconstructive surgical solutions and nonsurgical med spa treatments including but not limited to injectables, laser skin treatments, hair restoration, and advanced facials. Please call to schedule a consultation today. And rest assured, your safety and the safety of the staff are a top priority for Dr. Guy. COVID-19 protocols are in place and carefully followed.
Contact
128 Vision Park Boulevard, Suite 150
Shenandoah, Texas 77384
(832) 956-1040
DrGuyFacialPlastics.com