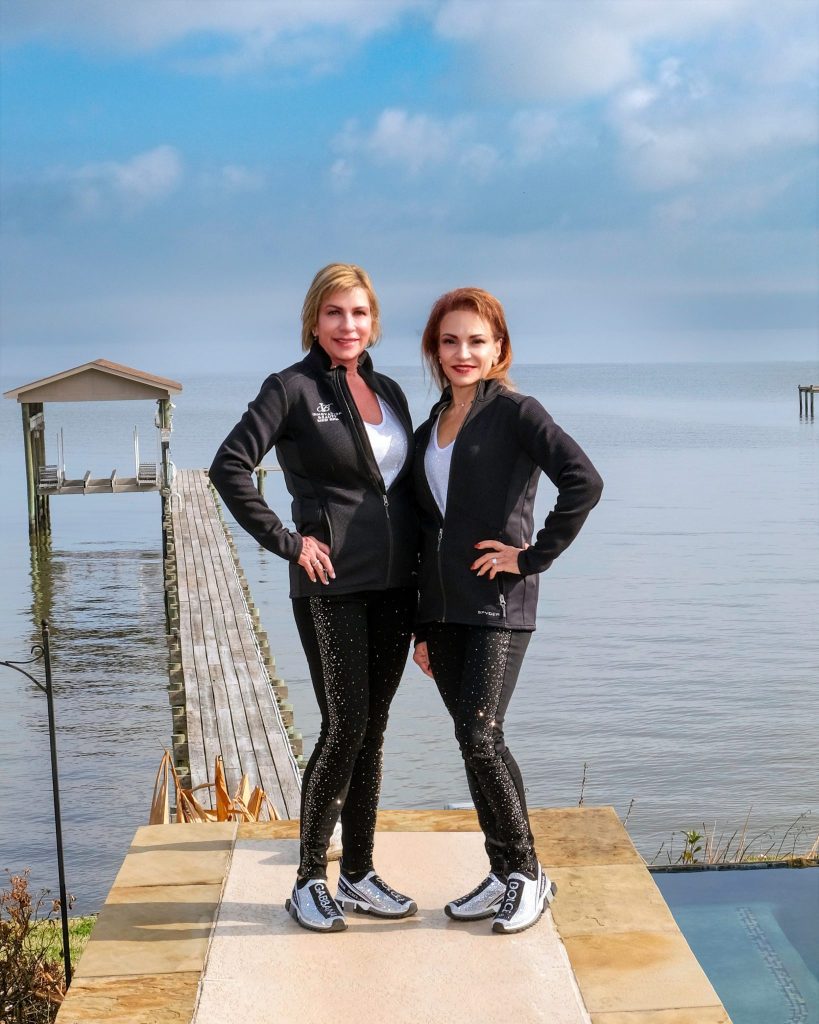 By
Meredith Knight
|
Photos by
Gulf Coast Imaging Studios
---
When Maureen Fuhrmann, RN and Susan Clawson, APN-C considered a name for their League City med spa, one word kept coming to the surface—innovation. Our company name, by definition, is all about new ideas, better methods, groundbreaking devices, novelty, transformation, and a pioneering spirit. Both lifelong learners and insatiable students, they knew they'd found their name—Innovation Beauty Med Spa. They set about applying their 50 years combined nursing experience, their natural affinity for caregiving, and their commitment to gathering the absolute best training from around the globe.
"We're both caregivers at heart," Maureen said. "Years spent in ER and trauma nursing gave us a breadth and depth of knowledge about human anatomy. We wanted to learn the science and art of beauty from the absolute best educators in the field." And that's exactly what they've done.
They began their studies under world-renown facial aesthetics expert, Dr. Raj Acquilla, in London, England and just returned from continuing education in Europe studying again at the feet of this globally respected expert. "The UK is lightyears ahead of the US in facial aesthetic technique and technology," Maureen said. "We just completed an addition master class with Dr. Acquilla focusing on the science and anatomy of beauty. Our goal is to offer our clients artistic beauty through the understanding of science."
The two women also recently traveled to LA to study under Dr. Arthur Swift from Montreal, Canada. A world-renowned expert and trendsetter in both the surgical and non-invasive fields of cosmetic enhancement, Dr. Swift focuses on the illumination of beauty through art and science. "It's an exciting time to be working in the medical beauty industry," Susan said. "So much is being learned and Maureen and I are committed to continually expanding our knowledge and our services, bringing our clients the latest, cutting-edge med spa treatments." Here are two of those innovations.
Help for Hyperhidrosis
Soggy underarms are embarrassing, no matter who you are. Of course, we all sweat when we exercise, when we get nervous, or when we're too hot. But if you sweat for no apparent reason or you sweat too much, you know how awkward that can be. Excessive sweating is actually a condition known as hyperhidrosis and it can affect your scalp, hands, feet, groin, and most often underarms. Not only embarrassing in social situations, but it can be expensive when you ruin your clothes with those awful pit stains (known as pitting). Hyperhidrosis is a medical condition with a medical solution.
"One client told us he was afraid to raise his arms in business meetings and had ruined numerous dress shirts and business suits with excessive pitting," Maureen said. "Female clients have ruined expensive, designer evening wear. Happily, we're now able to control hyperhidrosis with Botox injections that can curtail sweating for six to eight months."
Here's how it works. Botox injections use botulinum toxin to block the nerve signals responsible for sweating, stopping the sweat glands from producing too much sweat. (Some sweat is normal and healthy.) The nerves will regenerate over time, and clients will need to be retreated. But many find they can go longer and longer between treatments.
"The injections are generally well tolerated by patients," Susan said "Underarm treatments respond well. Clients usually see some results in two days, and full results after two weeks."
Relief from TMJ and Tension Headache Pain
"Although our main focus is on beauty, we also receive referrals from dentists for patients with TMJ-related pain," Maureen said. "Because Botox relaxes the jaw muscles, it can significantly decrease pain and increase mouth movements for up to three months. We're also able to offer relief to clients suffering with tension headaches by targeting the temples, forehead, and lower back of the head and neck to relax muscles and relieve pain. Most people need two treatments but some clients experience relief immediately and relief can last up to six months."
Exosome Therapy for Hair Restoration
Thinning hair can affect anyone—male or female. Whether you're noticing more hair in your comb or suffering from hereditary pattern baldness, there's a healthy, medical way to regrow hair and most people are good candidates.
"By injecting stem-cell-derived exosomes and growth factors into the scalp we can regenerate and regrow hair, especially in the earliest stages of hair loss," Maureen said. "I'm actually using the treatment on myself. It helps that I can answers questions about treatment and outcomes because I have firsthand knowledge. I've also been giving my husband Botox injections for hyperhidrosis."
"Exosome therapy may begin promoting natural hair growth in two to three months," Susan said. "New hair growth can continue over the course of a year, with the most noticeable results usually around six months after treatment. We typically reevaluate three to six months after treatment and assess if further treatment is needed. The results have been exciting and very encouraging for client who've been suffering with hair loss and are now seeing new, healthy hair growth."
---
Contact
3831 East League City Parkway, Suite D
(on the corner of 96 and Lawrence Road in front of Clear Fall High School)
League City, Texas 77573
(281) 967-1609
InnovationBeautyLC.com
IG/innovationbeautylc.medspa
facebook.com/innovationbeautylc.medspa