Recipes and photos by Melissa Tate
After a summer day, help yourself to hot homestyle dishes or chill out with cooled off versions—and enjoy different dimensions of the same family favorite foods.

Meatloaf Sliders
Makes: 10-12 sliders | Time: 20 minutes
For the meatloaf sliders: 1½ pounds ground beef | 1 egg | 1 onion, chopped | 1 cup milk | 1 cup dried bread crumbs | salt and pepper to taste | 1 package slider buns/sweet Hawaiian rolls | sliced pickles or other toppings as desired For the glaze: 2 Tbsp. brown sugar | 2 Tbsp. mustard | 5 Tbsp. ketchup
instructions: Preheat oven to 350˚F. In a large bowl, combine the beef, egg, onion, milk, and bread crumbs. Season with salt and pepper and place in a lightly greased 5×9 loaf pan or form into loaf and place in baking dish. In a small bowl, combine the brown sugar, mustard, and ketchup. Mix well and pour over meatloaf. Bake for 1 hour then let chill. Cut into slices and serve on toasted slider buns with ketchup, sliced pickles or onions, or other toppings as desired.
Hot tip!
If you'd like to have the traditional meatloaf dinner, stop short of chilling the meatloaf and prepare some classic sides like mashed potatoes and a green vegetable. If you've got leftovers you can always repurpose them as sliders the next day.
---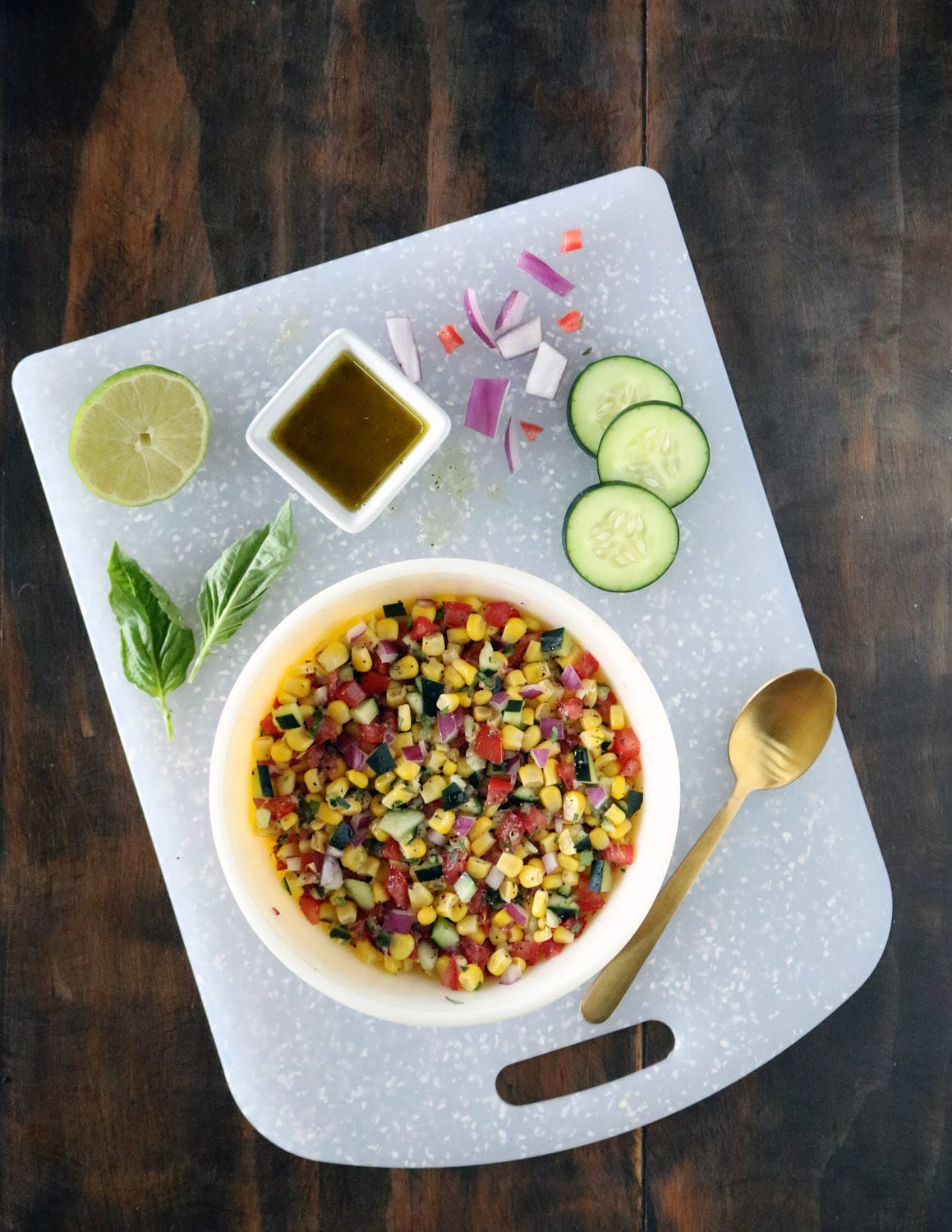 Cold Corn Salad
Ingredients: 1½ cups corn (drained, if canned) | 1 cup fresh diced tomato | ½ cup finely chopped cucumber | ¼ cup finely chopped red onion | 2 Tbsp. chopped fresh basil | 2 Tbsp. olive oil, divided | 2 Tbsp. fresh lime juice | ¼ tsp. salt | ½ tsp. black pepper | ¼ tsp. garlic powder
instructions: In a large bowl, combine corn, tomato, cucumber, red onion, and basil. Set aside. In a smaller bowl, whisk together olive oil, lime juice, salt, pepper, and garlic powder. Drizzle dressing over corn mixture and toss to coat. Let stand for at least 10 minutes before serving to allow the flavors to mingle, or refrigerate covered until ready to serve.
Hot tip!
For a warm corn dish, using the same basic ingredients, heat 2 Tbsp. of olive oil over medium high heat. Add onion and cook 3 to 5 minutes. Add corn and cook another 3 minutes. Add tomatoes and lime juice to the pan and cook 1 more minute. Remove from heat and add all seasonings, cucumber and basil. Serve warm.
---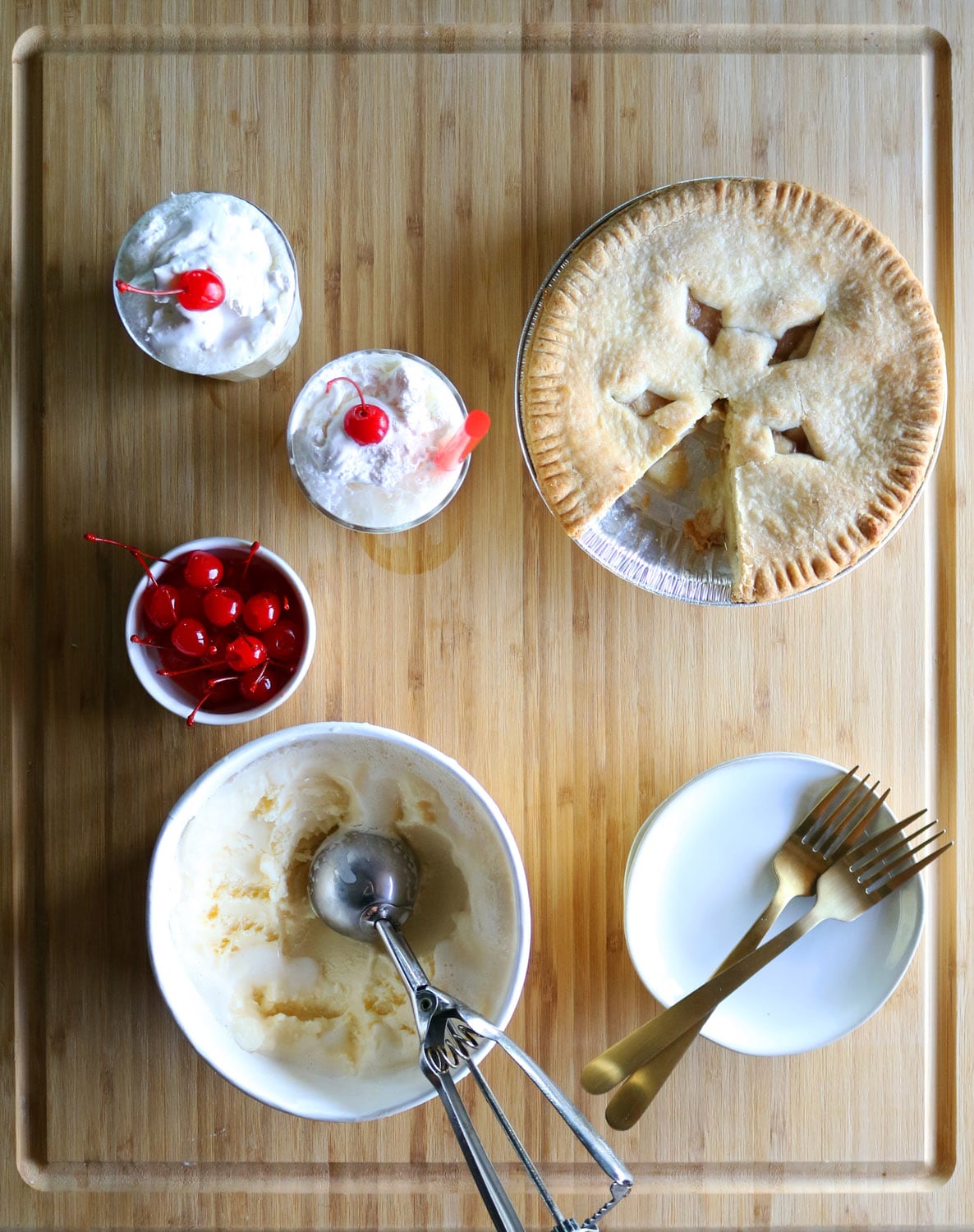 Apple Pie Two Ways
Makes: 8 slices | Time: 65 mins
Ingredients: 1 box refrigerated pie crusts | 6 cups peeled and thinly sliced apples (6 medium) | ¾ cup sugar | 2 Tbsp. flour | ¾ tsp. ground cinnamon | ¼ tsp. salt | ¼ tsp. ground nutmeg | 1 Tbsp. lemon juice | vanilla ice cream and milk (for the shake version)
instructions: Heat oven to 425˚F. Place one pie crust in ungreased 9-inch glass pie plate. Press firmly against side and bottom. In a large bowl, gently mix remaining ingredients; spoon into crust lined pie plate. Top with second crust. Cut slits or shapes at several places in top crust. Bake 40-45 minutes or until apples are tender and crust is golden brown. Cover edge of crust with foil after first 15 minutes of baking to prevent excessive browning.

A NEW TWIST!

Apple pie can be served hot immediately with a scoop of vanilla ice cream on top. But if you're feeling adventurous, let it get to room temperature, then add 1 slice of pie, 1 cup of ice cream, and ¼ cup milk to the blender—and make yourself a delicious apple pie shake (it's delicious, I swear)!
---
about our chef
Melissa is a freelance food writer with a passion for hospitality and home cooked meals. Along with writing, she helps her husband run their working ranch and event venue in Rockwall, Texas. To follow her cooking and ranching adventures visit MelissaTateTX.com or find her on Instagram at @melissatatetx or her blog.