Taming the untamed elements in your outdoor spaces
Can anything add more drama and intrigue to your outdoor oasis than the timeless elements of fire and water? The sounds and shimmer of water. The hypnotic undulation of fire. And for an unforgettable effect, the marriage of the two. From traditional fireplaces, artsy fire pits, and fire bowls to waterfalls, elegant water walls, and fountains, outdoor designers and contractors are finding new ways every day to introduce fire and water into their outdoor living designs.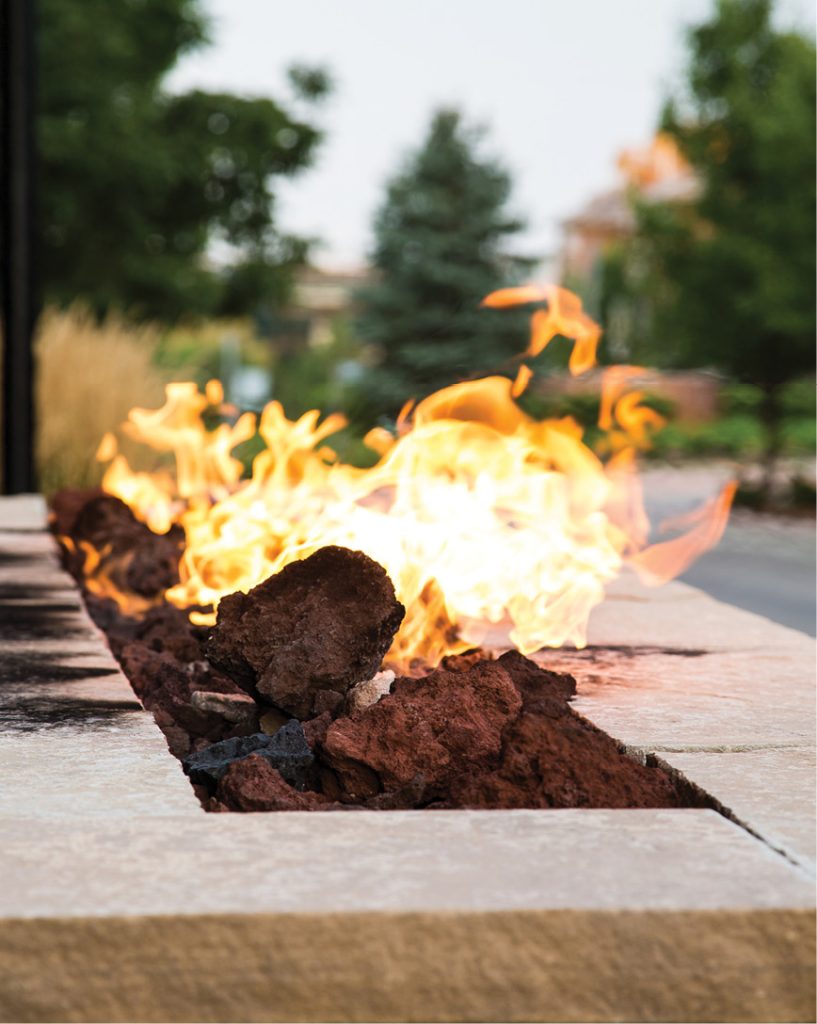 Hot Stuff
Our ancient ancestors used fire for warmth and cooking, and to keep unwanted animals at bay. Today we can answer our hardwired attraction to the beauty and warmth of fire with fire pits ranging from the humble, inexpensive Mexican-style chimineas found at most garden centers to sleek and modern fire pits made of concrete to stay put. There are even lightweight fiberglass options that can be moved from spot to spot. You'll find your guests as drawn to them as our prehistoric predecessors were. Backyard fire pits can be fueled through underground gas lines or refillable fuel canisters. And of course, there's always good old-fashioned firewood and kindling. While the gas options may be easier, nothing beats the smell of natural wood smoke.
Take the fire pit a step further with a fire pit table of natural travertine or other stone. Tables can be permanent or portable and often come with a lid to convert to a regular table when the fire pit isn't in use. A more dramatic option still is a fire bowl—this can be as simple as a metal planter in summer that converts to a container for a small bonfire each winter, or as complicated as copper bowls atop fountains jutting out into your infinity pool with the fire's reflection dancing on its surface. And for added intrigue, fill your fire bowls with crushed glass for dozens of fire reflections, or try volcanic rock that heats up and glows.
All Firewood Isn't Created Equal
When building a natural fire in your outdoor fireplace, fire pit, or other fire feature, opt for harder wood that will burn longer and conduct heat more evenly. Some good choices are alder, cedar, oak, hickory, mesquite, pecan, and fruit woods such as apple and cherry.
Softer, fast-burning wood such as birch, pine, spruce, and poplar will burn up too quickly, although they can be handy to get your fire started. Never burn pressure-treated wood, which may contain harmful toxins.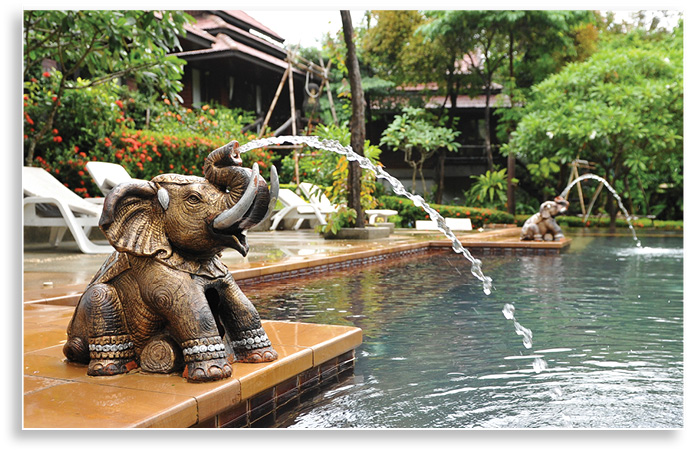 Healing Waters
Water may not draw people the way fire does, but nothing works like water to soften the environment. The sounds of running water soothe the psyche and work as a buffer for unwanted noise such as neighborhood traffic. Water surfaces reflect their surroundings, including the night sky, and can give a small outdoor space a feeling of grandeur. Start with the smallest bird bath or koi pond. Or go all out with streams meandering through your garden, waterfalls or water walls in your pool, and fountains visible from the house to lend their catharsis, even when you don't have time to go out and enjoy them.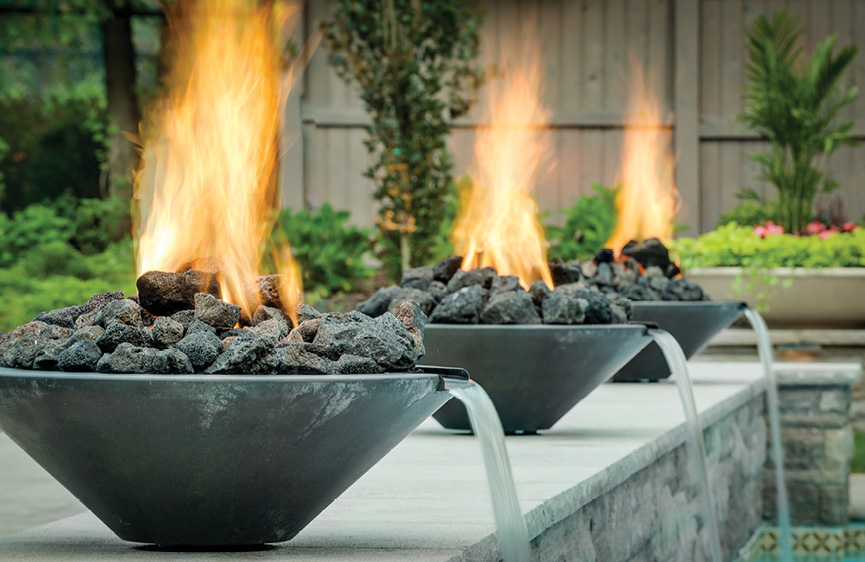 When Fire Meets Water
You can choose between a water or fire feature, but consider combining the two for exciting results! Run a gas line up inside a custom fountain, or add fire bowls to your pool design. There are also many ready-made combinations that are available at home improvement centers, and contractors and designers are more than willing to custom-tailor a setup to your specifications. As long as you can ensure fuel canisters or gas lines stay dry, you can enjoy the exciting combination of these two opposing elements to spice up your outdoor living experience. There's truly nothing like the marriage of fire and water.
Safety First
Part of the intrigue of fire is the danger involved. But backyard fires should always stay small and controllable and basic fire safety should be paramount.
Position your fire pit at least 10 feet from any structure or combustible surface.

Before lighting an outdoor fire, check the weather forecast. Avoid windy conditions that might disperse embers.

Stay informed of burn bans or burn ordinances in effect at different times of the year.

Pick up leaves and other combustible materials around the pit to ensure the fire doesn't accidentally spread.

Keep a container of water or a garden hose nearby before starting any fire.

Always extinguish your fire before you retire for the night.
By Mimi Greenwood Knight