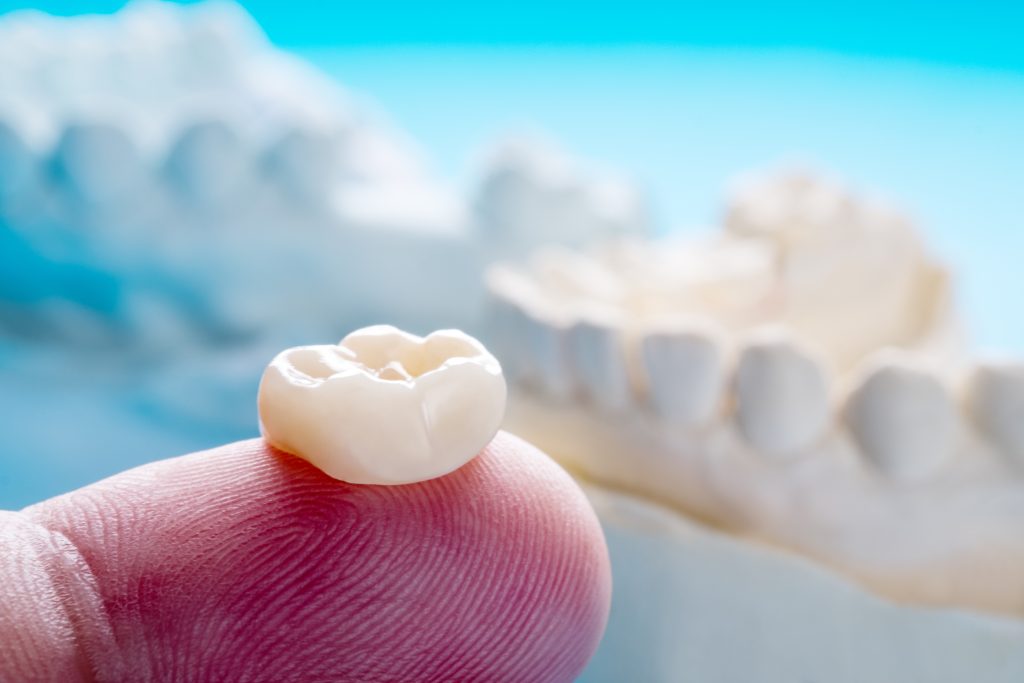 BY CHERYL ALEXANDER
Predicting what your next visit to the dentist will reveal is sometimes hard to imagine. Yet one thing is almost certain — you will likely encounter new dental technology that benefits your oral health and makes your visit more comfortable.
Dental crowns — small, custom-made tooth-shaped caps used to repair damaged teeth — have significantly evolved. They help protect and restore broken, worn-down, cracked teeth and can hold a dental bridge securely in place. Crowns are also used to top dental implant abutments.
Formerly, dental crowns were typically constructed with expensive metals. Due to technological advances, metal-free options that are strong and look like natural teeth are now available. Each material has its advantages.
Lithium Disilicate
Dentists may elect to use lithium disilicate crowns when aesthetics is paramount, such as repairs to visible front teeth. The unique crystalline structure of lithium disilicate, a glass-ceramic material, makes it durable yet incredibly opalescent and translucent, giving well-crafted, color-matched lithium disilicate crowns a remarkably life-like, appealing appearance. Lithium disilicate can form a full-contour crown and can be easily bonded into place.
Zirconium Oxide
Another popular option, zirconium oxide crowns, are typically stronger than lithium
disilicate crowns. This makes them more resistant to breakage, and they require less preparation due to their strength. They are considered an especially good solution for replacing teeth in the back of the mouth where the highest bite force is generated. High-density, biocompatible zirconium oxide crowns also resist corrosion, and, when adhered with clear cement, they offer greater translucency, making the crown blend more naturally with the other teeth.
Porcelain-fused-to-metal (PFM) vs. All-ceramic Crowns
The PFM crown contains an inner core of metal overlaid with tooth-colored porcelain. Providing both strength and a natural look compared to all-metal crowns, PFM crowns were immensely popular until all-ceramic crowns became more widely available. Sixty percent of the crowns installed in recent years are all-ceramic, with many all-ceramic crowns reaching the 15-year mark and still in place and functioning. Dental offices may offer both PFM crowns and all-ceramic crowns, but a growing number prefer to use all-ceramic (porcelain) crowns for many reasons. All-ceramic crowns are:
• More natural-looking
• Hypoallergenic
• As strong as or stronger than PFM crowns
• Long-lasting
• Do not create a dark line at the gumline as a PFM crown can
One-visit Ceramic Crowns
A newer option, same-day ceramic crowns are designed and created in your dentist's office while you wait using computer-assisted technology such as the CEREC (Chairside Economical Restoration of Esthetic Ceramics) system.
There are many benefits to this type of crown, including:
• Same-day procedure. Conventional crowns require wearing a temporary for several days while a lab fabricates the crown. With single-visit crowns, dentists use computer-aided design and manufacturing (CAD/CAM) to capture digital images of the patient's tooth and jaw, design a crown, and then create it using an automated milling process all in the office the same day.
• Appearance of the crown. Because there is no metal involved, these all-ceramic crowns look more natural and closely resemble surrounding teeth.
• Strength. All-ceramic crowns tend to be sturdy and abrasion-resistant, which helps ensure their longevity.
Other Considerations
Some dental insurance plans may cover the entire cost of a crown, while others may only pay a portion when a crown is deemed medically necessary. Crowns placed for purely cosmetic reasons typically are not covered by insurance. If your insurance doesn't cover all the costs, you may be eligible for an in-house payment plan through your dental care provider or be eligible for financing through CareCredit or a similar service.
Dental technology is advancing rapidly, so keep in mind the importance of finding a dental professional you not only trust to give you the best care but who can also provide state-of-the-art dental technology as part of the process. Stay informed on what dental trends are available and ask questions to make sure you understand the pros and cons of all dental procedures and the options you have for everything from preventive care to crowns and more.